JOSIENNE CLARKE & BEN WALKER – Fire & Fortune
aaamusic | On 15, Jul 2013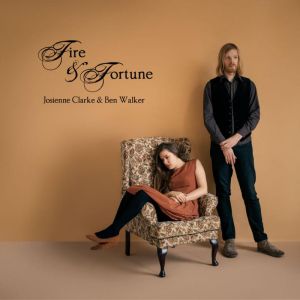 Having already released three albums since the start of their music making together in 2009, (One Light is Gone, their debut album was released in 2010), folk duo Josienne Clarke & Ben Walker are charming audiences across Europe and releasing their eagerly awaited fourth album, Fire & Fortune in just one month. Winners of the 'Isambard Folk Award' last year, the classically trained duo are contributing to the aural tradition with passion and sensitivity. Josienne and Ben capture the old magic of songs from times gone by and communicate the stories and melodies delicately with attention to detail, adding just hint of the new to keep them alive.
Fire & Fortune is a wonderful medley of old and new; a beautifully crafted album which offers stark, plaintive numbers such as 'The Month Of January' in which a single drone accompanies Josienne's sparkling voice and recorder introduction, alongside richer arrangements as heard in 'Sycamore Tree' involving other instrumentalists on violin and cello. The title track 'Fire and Fortune' is quite a contrast to the rest of the album in which we see the fruity side of Josienne and Ben; a funky arrangement with an introduction of a vocal ostinato over a steady groove, building momentum into a Spanish-style guitar solo from Ben, again demonstrating his versatility.
Ben's guitar playing is reminiscent of Martin Simpson and José González; the guitar really sings, not only through technical prowess but through feeling and poise. He allows space, providing an unobtrusive but engaging accompaniment to Josienne. Her voice is both enchanting and hypnotic; it radiates out of the music and penetrates the heart. The inflections in her voice are as subtle as wisps of smoke, and yet add so much to her light, clear tone.  In this respect she reminds me of the Danish folk singer, Helene Blum; both voices have a very clean, bright nature but precise articulation and ornamentation add an almost percussive element to them.
As a duo, the two artists are completely in synch. For me, the most magical aspect of their joint musicianship is that they have not overcomplicated the songs. Between the two of them they have found the perfect balance and play exactly what the music requires. Much like Boden and Spiers, or Lady Maisery, they capture the energy of the songs but simplicity, especially in Fire & Fortune, is key for Josienne and Ben.
An album well worth buying after seeing them play live at The Forge, London for their album launch on the 19th July. A gorgeous compilation and Josienne's voice will haunt you long after the last track, 'When A Knight Won His Spurs'.
Heather Ryall