DOUR FESTIVAL 2013 – Live Review (Part 1)
aaamusic | On 25, Jul 2013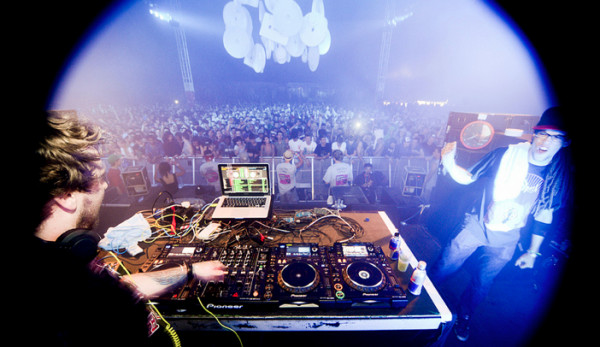 The problem with the European festival industry, in my opinion, is that they so often end up catering for and relying on the British festival goer. When a small, independent European festival decides it wants to step it up a level, it starts to program bigger international bands, including those currently popular in the UK, in a bid to become a more international brand. With the bloated UK festival scene suffering from a lack of exclusive bookings coupled with a 'been there, done that…' attitude (and not to mention unpredictable weather!), Brits started looking to Europe for something a little different. All of a sudden festivals like Exit (Serbia), Sonar (Spain), Melt (Germany) and Benicassim (Spain) all became –mass-targeted by Brits, and in return the festivals started expanding and pulling in more acts to cater for their new audience. Last year we started to see the bubble burst on a lot of these European festivals – the Brits have started to get tired of the now corporate and Brit-dominated Euro festies. It seems us Brits get tired of there being too many Brits in one foreign location, in the same way I'm sure the locals do, and so some of these festivals have started really struggling with securing interesting lineups and sufficient attendees (e.g. Benicassim and Exit).
What was astonishing about Dour Festival (location: Dour, Belgium) is that I had never heard of it before. Nor had anyone I knew. In fact, I didn't see or hear another fellow Brit throughout the four-day festival. This is despite the best alternative lineup I have seen in years, and the fact that this was the 25th Dour Festival. It's as if Dour as managed to remain a secret to the international festivalite, and the whole celebratory vibe was all the more pleasant for it.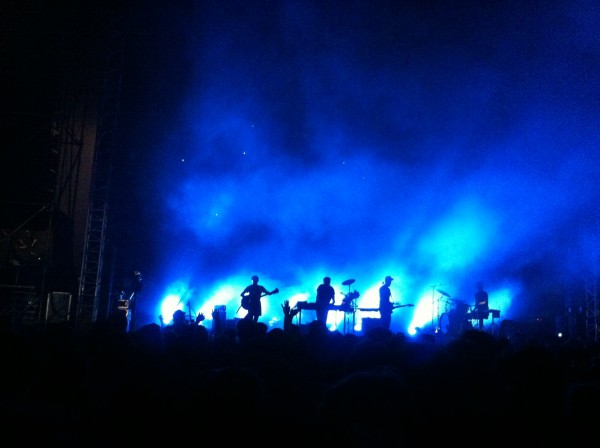 Thursday
We had hoped to start the festival off by catching Badbadnotgood, but sadly we didn't make it to Belgium in time. So first off for us was The Horrors, playing in a mid-sized tent called the Jupiler X Marquee to what is perhaps a tenth of their normal festival crowd. Frontman Faris Badwan remains terrifying thin, and the early part of their set lacks energy, but when they unleash a couple of new, synth-pop tunes the band and crowd wake up, and a blistering rendition of 'Still Life' goes down as one of the rock highlights of the weekend.
Over on the main stage (called The Last Arena), Mike Patton's alt-metal project Tomahawk is going down a little awkwardly, especially given how charismatic a frontman he is. Perhaps it's their relatively early slot. It's then back to the Jupiler tent for one of the live electronic music high points: the new Trentemøller show. Backed by spooky lighting and some spinning-baby-alien-pod art props, Anders Trentemøller and band (smaller but tighter than his last touring band) power through new and old tracks, with the grooving, evil bass of 'Vamp' being the standout cut.
It's then over to the main stage for Yeah Yeah Yeahs, who look like they've loosened up and are enjoying themselves more than a few years back. As such, they don't sound as polished as they once did, but Karen O's constant smiling and dancing is a joy to watch, and their setlist is near-perfect, with the tracks from It's Blitz ('Heads Will Roll', 'Runaway', 'Zero') being the best – although new single 'Sacrilege' goes down a storm. After they finish with a punky 'Date With The Night', we rush over and catch the majority of Modeselektor's live AV set in Le Petite Maisons Dans La Prairie stage. The Berlin duo look and sound better than ever, with a less hectic and more consistent set than their recent London Roundhouse show. 'Evil Twin' is such a live banger.
Live hiphop has always troubled me. It's just never that good, no matter the calibre of artist. I think it's the whole MC(s) backed by scatchy DJ set up that most hiphop artists stubbornly stick to. I've seen hiphop acts use a live band (Jay Z, Dizzee Rascal, The Roots) and sound electric, but when rappers just MC over backing tracks it just gets a little tedious after a while. Wu-Tang Clan, headlining the main stage, have always suffered from this. There's no doubt that they sound better tonight than they did a few years ago, and there's no denying the greatness of the lyricists, producers and personalities involved (especially RZA, Method Man and Raekwon), but it's all a bit routine and, dare I say it, lazy. Still, 'Gravel Pit' remains one of the best ever hiphop-crossover hits.
We check out a bit of Skream feat. Sgt. Pokes' disco set before realising: (a) Skream's disco sets are pretty boring every time you see them, and (b) it's bed time. Day one: over and out.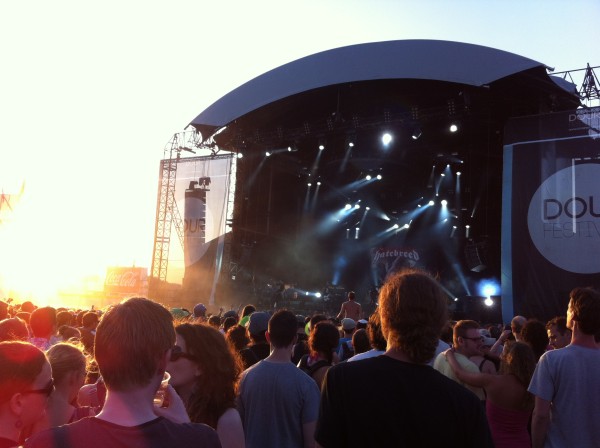 Friday
The morning heat in Dour is beyond anything London has felt over the past couple of weeks. When an camper emerges from the front of their tent, they do so gasping and scrambling for any square foot of shade. It makes the next day get-go pretty gruelling. Soldiers that we are, we head early(ish) into the main site and over to the aptly named Cannibal Stage for UK instrumental post-rock band Maybeshewill. It's the first time I've ever seen them, and they exceed my expectations. Relying fairly heavily on 2011 release I Was Here For a Moment, Then I Was Gone, they sound more post-hardcore live, with almost metallic guitars and more accentuated keys and electronics.
After a food break (note to Dour: the only area you need to improve on is the catering!), it's back to the Cannibal Stage for one of the UK's strongest live metal bands – the mighty Skindred. There is no better frontman than Benji Webbe; his presence, his vocal range, his ability to get even the most ambivalent crowd member bouncing like a maniac…he always has the crowd eating out of his hand. Over the last few years they have perfected their 'ragge-punk-metal' sound to become the most unique enjoyable mash-up, (nu)metal band. All their songs are well received, but none more than 'Pressure', 'Trouble', 'Warning' and a massive 'Nobody'. The best metal band of the weekend. They're followed by Pelican, the US instrumental sludge metal band, who are extremely powerful, but are a little bit of a buzz-kill after the fun-loving Skindred.
Over on the main stage, Hatebreed unleash their formulaic but proven brand of metalcore, with frontman Jamey Jasta breaking up the pummelling nature of their break-down, shout-heavy music with humble attempts to show gratitude, as well as successful stabs at getting crowd participation. None of the new tracks are yet to become fan favourites, but 'This Is Now', 'Live For This', 'Perseverance', closer 'Destroy Everything' and, of course, 'I Will Be Heard' mark this out as an unlikely main stage triumph.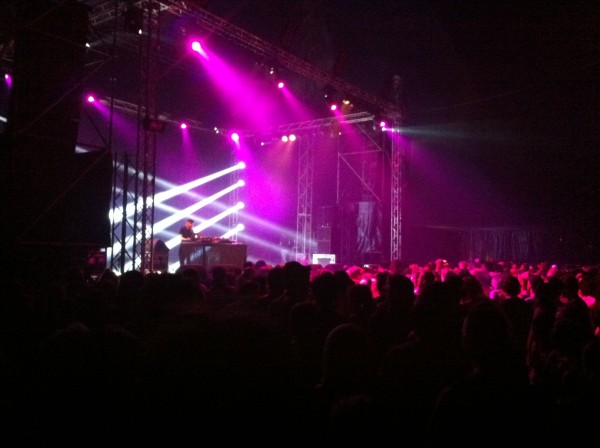 Having had our full of heavy metal for the day, we rushed over to the Boombox stage to catch Cashmere Cat – a Norway born DJ/producer who I was gutted to miss at Worldwide Festival in Sete last month. Tonight he bulks out his witchhop productions with added trap, smashing out a bass and groove-heavy set with remixes of mainstream artists such as Drake. I feel like I've made a brilliant new musical friend.
Deciding that hardcore didn't really count as heavy metal, I went back to the Cannibal Stage (on my tod) to catch half of Converge's manic set. The hugely influential US hardcore band's first few tracks fall a little flat, sadly, due to poor sound, but once the microphone is turned up frontman Jacob Bannon dominates the stage, barking and growling at a relentless pace. It's fast and intricate, but that's exactly what you want from the most intelligent band in hardcore.
Over on the Dance Hall stage, Amon Tobin unveils his Two Fingers DJ project to varying degrees of success. Best known for smart, futuristic beat music, Two Fingers is essentially his excuse to let loose with some dubstep and bass-heavy, industrial drum'n'bass. It's mindlessly aggressive, with the dubstep bordering on brostep (a la Skrillex), but Tobin looks like he's having a hell of a time just playing tunes, rather than sat within some enormously ambitious AV show (anyone see ISAM? If not, shame on you…). It's all worth tolerating just to hear the bass hook of his 'Stripe Rhythm' track from Stunt Rhythms – the best dubstep track of 2012? We catch a bit of Sub Focus' ever-expanding circular light show, but as blindingly hypnotic as it is, his bass-driven, commercial drum'n'bass gets tiresome very quickly. The night is finished off (at least for us) with a huge Rustie party set in the Boombox tent, in which the Scottish producer subs out a lot of his futuristic synth lines from debut Glass Swords in favour of trap and more conventional instrumental hiphop. Trap, trap trap…..
…Please click here for Saturday and Sunday (Part 2)
Review: Clive Rozario
Photos: Steph Hollox