BABYSHAMBLES – Sequel to the Prequel
aaamusic | On 05, Sep 2013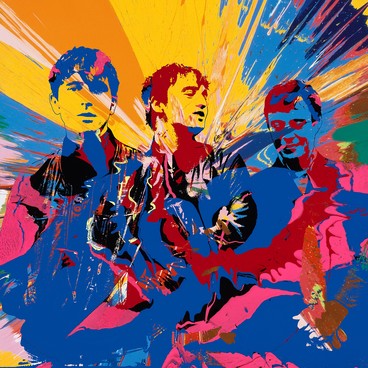 Babyshambles return after almost six years with what could be their most 'mature' record since their formation in 2004 with the oddly named Sequel to the Prequel. Consisting of 12 tracks that seemingly weave in and out of musical genres the band have come along way form the their Indie-Rock days.
Fittingly described as "Their most accomplished and collaborative work to date." The album even features artwork from acclaim artist Damian Hirst. Despite any preconceptions society may have of the ever-arrogant frontman Pete Doherty it's hard to argue this album isn't a well-written and informed showcase of good song writing.
Opening the new album is first track 'Fireman', not wasting any precious album time the song quickly falls into a fast paced Punk feel. Reminiscing of bands like The Buzzcocks the track almost (sub-consciously or not) seems to pay homage to good-old English music. From this point on the album successfully seems to transition between genres at it's own free will showing off the bands elective taste and influences. Second track and first single, 'Nothing Comes To Nothing' is a more subdued affair, coincidently as Jamie Morrison joins the line-up (Drummer for Stereophonics) the track adopts a very similar soft Rock sound.
From here the bands experimental side begins to crescendo, with tracks like 'Fall From Grace' with its clear Americana-County feel to 'New Pair' that resonates with a melancholy stain mainly from the tracks wailing tremolo throughout an un-settling chord progression. Then 'Maybelline' which on the surface unmistakeably falls into the Indie-Rock box, has these clever pushes, stabs and drum grooves (I'm sure which some music elites would disagree) that would seem more at home on a Motown record.
The title track 'Sequel To The Prequel' is a standing example of these musical ideas and creativity. Beginning with a grainy recording of Pete playing by himself, a clear throw back to the Blues, the track slowly fades in with a bouncy-swung feel with Pete's poetic and brash humour following the melody line. With beautiful sparse moments of fluttering keys filling the spaces, the dare I say, 'show-tune' track unfortunately comes to a quick but light-hearted Rock-n-Roll 'Jazz hands' finish to round things up sublimely.
The latter half of the album further expands on this music creativity from Didgeridoos in 'Penguins' to Fiddles in the Irish-Folk infused 'Picture Me In A Hospital.' One particular song that needs a mention is track 8 'Doctor No.' Further pushing their musical limits 'Doctor No' is unquestionable a Dub song, with the iconic 1-drop and off-beat rhythm Babyshambles pleasantly put their own spin with an eerie Melodica, think Gorillaz's – 'Clint Eastwood'.
For any music fan this bridge building between genres whilst pushing the boundaries of any artists own place within the music industry should always be a welcomed changed, after the surge of Indie bands within recent years It's a pleasure to see Babyshambles return with a more mature, informed work of art that should hopefully influence more artists to push their limits.
Daniel Garnham