BOWLING FOR SOUP – Lunch. Drunk. Love
aaamusic | On 05, Sep 2013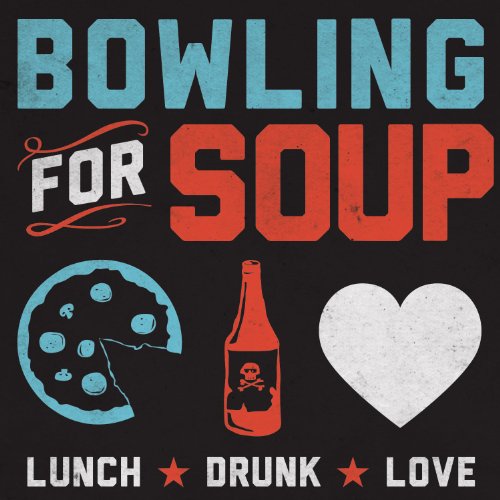 Bowling For Soup have been around for what seems like forever. Formed in 1994, Bowling For Soup are more renowned for their 2002 album Drunk Enough To Dance, with the hit single 'Girl All The Bad Guys Want' released from it and earning them a Grammy nomination and a firm place on all music channels worldwide.
The band Bowling For Soup, have since had various singles which have been in circulation for at least a decade on music TV, and have been back and forth across the pond, from their home state of Texas for a number of years now. However, it was recently announced Bowling For Soup would do their last UK tour in October 2013 naming it Farewell UK Tour.
However, all that being said, Bowling For Soup are releasing a new album at the end of September, to presumably, coincide with the farewell UK tour, and to let fans rock out with them one last time on British Soil.
Kicking things off on Lunch. Drunk. Love is 'Critically Disdained', a song that is full of the usual pop punk riffs and boyish tongue in cheek vocals from lead singer Jaret. Always ready to poke fun at the world, the album is full of fun and great lyrics to listen to cheer up one's self.
Of course throughout the album, there are the usual swear words, as to be expected from most pop punk bands, but Bowling For Soup have made this sound and characteristics work for themselves through the years and showcase it well in albums such as this.
Track number four, 'From The Rooftops' is a really great song, which would be excellent to hear on the radio this autumn, and sing along to with the 'Woah's' in the bridge of the song.
Many of the songs on this album have a real variety in the musical style, just like the other albums, there are plenty of songs which could easily be released as singles, to sing along with and dance around to at any given moment. For example number five 'Circle' is a paced down track, where as the next song on 'Normal Chicks' has the usual punch of a punk rock song, with what will surely include plenty of pogo-ing in October on stage.
The rhyming in track nine 'And I Think You Like Me Too' is a well thought out, that is describing a first date, like the line "You ordered jello shots, and I stuck with a beer. You tried to punch the waitress, so I said 'Let's get out of here!'" Is hilarious lyrical content from Jaret Reddick.
The new offering Lunch Drunk Love from Bowling For Soup is really great, if you want to relax into the weekend and push away the stress of the past week, whilst having a chuckle at some brilliant lyrics. Such a shame a long standing band will be no longer on our shores, but really good to hear a new album before they leave us.
Sam Panasuik