MAX RAPTOR – Mother's Ruin
aaamusic | On 28, Oct 2013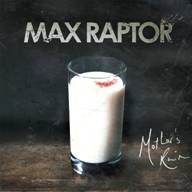 Max Raptor formed in 2006 and come from the Midlands. They combined a punk rock type of sound, along with raw guitars and shouting vocals, to acquire their sound. Their new album Mother's Ruin is their first full studio album, after the 2011 mini album release Portraits. It's a 10 track offering which has a lot of loud, high energy riffs and vocals which are thrown out at the listener; both help the album progress throughout for a true punk vibe.
Mother's Ruin Kicks off with the high volume song 'Back Of A Barrel Wave', which sets the tone for the rest of the album, with its screaming vocals and set back drum kicks. Great start to the Midlands punk's new release. 'England Breathes', the third track on the album, has a melody to kick off, which seems to its predecessors and has a little less attitude of a punk song, and is more listeners friendly.
Many of the songs on Mother's Ruin, have little stories in its lyrics, and tells the tale through the words and the music mirrors the feelings the characters hold. Take 'Grace And Favours' which is song number four – it has the character at odds with the law and the music builds throughout, to feel the feeling of being trapped, almost.
As track seven starts, it is something completely different to everything else on the album. The song is titled 'Heavy Hearts' – it is a slower paced, and more heartfelt recording from Max Raptor, and it is a definite stand out and favourite on Mother's Ruin. The vocals collide together and the guitars and music fit perfectly together, to form the perfect song for a new fan to hear.
After the interlude from 'Heavy Hearts', it is back to the fast paced and pounding songs of the rest of the album. Following next is 'Must Work Harder', and then onto number nine, which is named after the album's title: 'Mother's Ruin'. This has a stand out bass sound throughout and talks of hardship in their life.
A track named 'Pioneers' is the song to end Mother's Ruin, and it lashes out in full force, to give a good ending to the punk assault on listening ears. Where in which Max Raptor seem to give their all, poured into this to end their first release.
This is a standard punk album, brought to us from Max Raptor, where some mates have picked up a guitar and banged some drums, as many bands do. Mother's Ruin is getting the bands message out to anyone who will listen and has many venomous words spat out. It is a good punk rock album, for the lover of that genre.
Sam Panasuik