Portico Quartet – Live @ The Newman Rooms
aaamusic | On 28, Oct 2013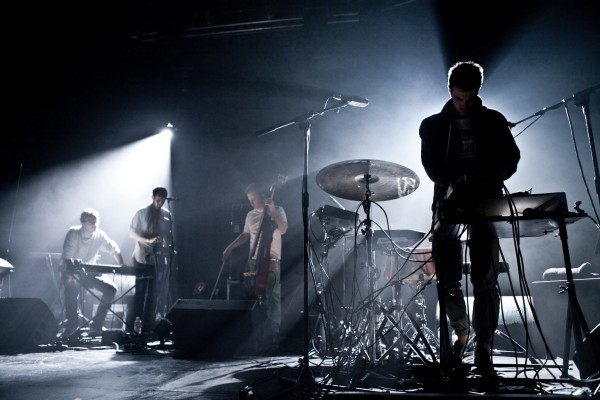 Friday 25th October, Oxford
London-based modern 'post-jazz' group Portico Quartet are inspired by dance,  ambient, classical and electronica.  Their distinctive and innovative sound comes from the use of the curious Hang, a 21st Century percussion instrument where music is created from electronic pads.  They've been compared to Radiohead and The Cinematic Orchestra.
Members of Portico Quartet are Jack Wyllie (soprano and tenor saxophone), Duncan Bellamy (drums), Milo Fitzpatrick (double bass) and Keir Vine (hang and percussion). Their name stems from an early gig where they took refuge by playing under a portico in heavy rain. At one time they were regularly found busking outside the National Theatre.
Portico Quartet are extremely inventive and spontaneous in mixing audio textures. Listeners are taken on a mysterious, atmospheric journey where strange, hypnotic rhythms enter a futuristic world. It's fresh, beautiful and very dramatic. When exciting Swedish vocalist Cornelia joins them on 'Steepless', the irregular pulse of the song creates a mood of fragility and unease. At other times the intensity disappears and the mood becomes rich, warm and joyful. Cornelia sounds a little like Bjork.
Perhaps Portico Quartet will journey somewhere even more gentle, abstract and impressionistic. Possibly they'll travel even deeper into the infinite depths of cyber space, loosing some fans through bizarre experimentation but gaining others through adventurousness and creativity.
One woman in the audience constantly moaned that they weren't 'what they used to be', but stubbornly refused to leave, whilst her husband sat in reception to avoid her complaints. I love quirky and amusing experiences like this that make reviewing so rewarding.
Anthony Weightman
Click to read our review of Portico Quartet's headline performance at KOKO, April 2013…