TIGRAN HAMASYAN – Shadow Theater
aaamusic | On 11, Nov 2013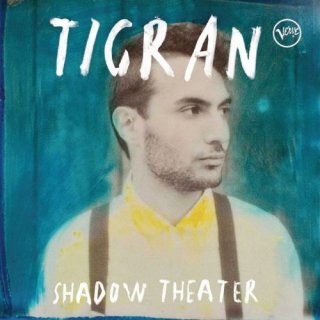 Tigran Hamasyan is one of those young music geniuses, and rubs our nose in it once more with his last album Shadow Theater. His style is a smart mix of Armenian folk tradition, experimental music and jazz of course, giving us something genuinely original and well worth listening to.
Hamasyan has got many prizes in the world of jazz music, like for instance the first seat at the "Thelonious Monk Institute of Jazz", under the direction of influential jazz figure Herbie Hancock; he has also been noticed by Avishai Cohen Trio, Chick Corea and Brad Mehldau, to give a few names.
This album is a quality modern jazz work, starting effectively with 'The Poet', a track introducing perfectly the versatility of the album. The drums' irregular accompaniment, its variation, the superposition of voices and the Middle-Eastern influences all contribute to an impression of blurred imaginary landscape, both unsettling and attractive. The second and fifth tracks, 'Erishta' and 'The Year Is Gone', follow the same vibe.
Other pieces are very serene and sobre, such as 'The Lament', number three, 'Pagan Lullaby', number eight, or 'Holy', number eleven, which give dreamy and 'Ave Maria'-like atmospheres, the cello being more present on these ones. The tenth – 'Alternative Universe' – is notable for the piano part: here Hamasyan is put on the foreground with a long ad-lib and gives us an insight of his great talent.
From this category, one of the key tracks of the album is by far the sixth one: 'Seafarer'. It has a simple arrangement and melody, with a background of bass lines from the strings alternating with a wavy pattern by the tenor saxophone and piano, making us easily feel like a sailor in the middle of a restless sea thinking of home. This piece sounds very noble and solemn; it just shows how all the great things in life are simple.
But for the most fiery of you, there are also a few devilish tracks with jerky rhythms such as 'The Drip', number four, and 'The Collapse', number nine; interesting dark pieces, with oriental touches here and there as well.
The album leaves us with another great piece, 'Road Song', again with original rhythms and sometimes almost Japanese tones, on a background of restless wavy piano. A very positive energy emerges from this one track; something fresh, like a re-start in one's life. It then ends quietly, leaving us with a feeling of curiosity for new things…this is what this album does to you.
★★★★★
Marguerite Gallorini