Trentemøller – Live @ The Forum
aaamusic | On 10, Nov 2013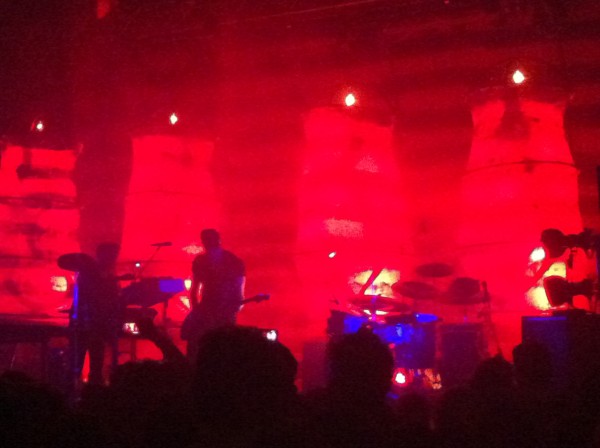 Thursday 7th November, London
Although they seem to navigate through divergent scenes and soundscapes, the career trajectories of Nicolas Jaar and Trentemøller are comparable. Both emerged producing "techno" music (of sorts), which was lavished with praise and "future of techno" hyperbole, before veering off into instrument-led, post-rock influenced electronica; a move that, although appearing both reactionary and unappreciative, loosened the constraints of their initial categorisation. Also, both of these men love a bit of wet reverb!
Anders Trentemøller, the Great Dane who'll turn 40 next year, is back in London armed with a new album (Lost) and a new live show (of which I saw a preview of at Dour Festival in the summer). Last time I saw him headline a show in London it was at The Roundhouse in 2010, in support of his second album Into The Great Wide Yonder, and although it was very good, the change of direction still hadn't quite sunk in, and the cavernous venue didn't really suit the introspective nature of the show (the band spent a lot of it obscured behind retractable screens of material).
Tonight's show is at The Forum, and although the dingy theatre is a much more appropriate setting for Anders' music, it's the restructuring of Trentemøller's stage show and band that makes this a considerably more engaging show. Whereas before band members were partially hidden and restricted to a particular area, either flanking or behind Anders, tonight the musicians are all in a line near the front of the stage. Tonight's band is a more cohesive unit (fresh from supporting Depeche Mode on the European Tour), and although Anders is centre stage surrounded by engineering equipment and various instruments, he often let's his band make all the music, while he simply taps a tambourine or hits a crash cymbal. This band includes an incredibly precise and inventive drummer and a number of multi-instrumentalists, as well as singer-guitarist Marie Fisker, who provides the live vocals this evening.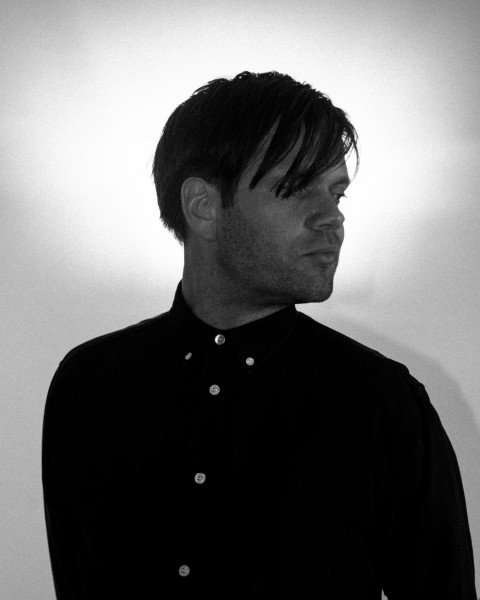 In terms of aesthetic, this is a pretty stripped back affair. As per usual, there is endless dry ice, and the lighting is dim and predominantly shines up from below. The band are backed by a banner of simple horizontal stripes. It's all very post-punk. There are no AV screens featuring disturbing contemporary art clips, which is pretty much the norm these days for "experimental" electronic music. This is rather refreshing. Later in the night, strange pods rise behind the band containing what looks like spinning alien foetuses. Fair enough.
The opening track, the excellent 'Still On Fire' from Trentemøller's latest album, sets the tone for the whole of tonight's gig. Dark, pulsating bassline, solid New Wave drumming, synth hooks, and eerie effects and electronic bleeps. It may sound nothing like techno, but it's a clear progression from the surf and post-rock undertones hidden away in his earliest productions. Much of the music is along these lines, such as highlight 'Trails' (in which a couple of mimes appear in what is a particularly weird visual sequence), with a break of welcome but jittery electronica, and a menacing rendition of live favourite 'Vamp' from The Last Resort. Even the ambient electronics of 'Miss You' (also from The Last Resort) build to a full band, post-rock explosion.
Anders' passion for that wet reverb sound most closely associated with surf and psychedelic rock makes much more sense in a live environment than on some of his recordings (particularly the unsubtle presence of it on his second album). Tracks like 'Shades Of Marble' and 'Past The Beginning Of The End' shine tonight, and even the questionable new track 'Never Stop Running' featuring Jonny Pierce from The Drums (absent tonight, of course) sounds great live; Marie Fisker's vocals make a better fit that Pierce's overbearing vocals, and the guitars mask the misguided dubstep beat of the recorded version.
A special mention must be given to Fisker. While the eyeliner clad Anders is certainly the focal point, jumping around and throwing his hands repeatedly in the air, Fisker's Beth Gibbons-esque voice is becoming increasingly integral to the Trentemøller live experience. The '80s new wave of 'River Of Life', surely Anders' most accessible song, the dream pop of 'Gravity', and the trip hop of 'Candy Tongue' (of which Fisker is the featured vocalist on the album version) are all propelled by her haunting vocals.
The closing couplet of the main set provides two of the most thrilling and danceable songs. First, the crazy, Eastern carnival of new track 'Constantinoble', with drumming like a strange mix of '60s rock'n'roll and an evil military marching beat, and then a mash-up of The Cure's synth-heavy 'Lullaby' with 'Moan' from Trente's first album, culminating in blasts of erratic distortion. Then comes the inevitable encore of '…Even Though You're With Another Girl' and the stomping surf rock of 'Silver Surfer, Ghost Rider Go!!!'.
You can't argue with the setlist – an agreeable mix of old and new (seven from Lost, four from Into The Great Wide Yonder and three from The Last Resort), and the sound is near-perfect, particularly the drums. Trentemøller is no longer that underground, semi-techno producer and DJ that club-land fell in love with, but a rock-electronica fusion project concerned with songs and collaborative chemistry; not sampling, mixing and ego. This Trentemøller is far more exciting. Can't wait to see what Anders does next.
Clive Paris Rozario 
SETLIST: 
Still on Fire
Shades of Marble
Past the Beginning of the End
Candy Tongue
River Of Life
Vamp
Gravity
Miss You
Trails
Never Stop Running
Constantinoble
Lullaby/Moan
…Even Though You're With Another Girl
Silver Surfer, Ghost Rider Go!!!
Trentemøller: Candy Tongue (feat. Marie Fisker) (Official Video) from Anders Trentemoller on Vimeo.