A CHAT WITH: SHEILA E.
aaamusic | On 14, Nov 2013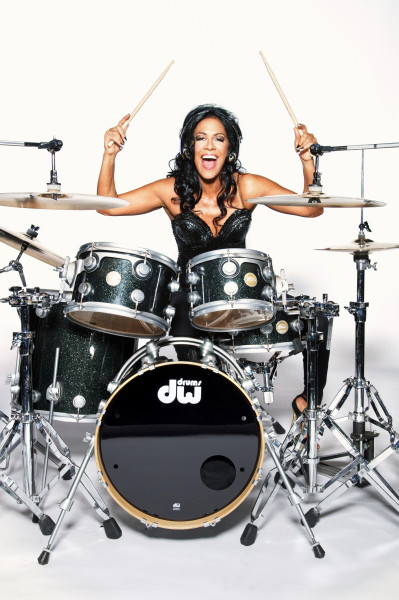 Grammy nominated singer-songwriter and actress Sheila Escovedo, known by her stage name as Sheila E, is also a well-known drummer and percussionist. She was musical director for President Obama's Musica Latina at The White House and her collaborations include Prince and Ringo Starr. Interviewer Anthony Weightman chatted to her in California ahead of her European tour.
Anthony Weightman: Firstly, my congratulations to you on the release of your latest album Icon. Would you like to say a few words about this album?
Sheila Escovedo: Yes. It was a great experience writing and recording the songs with my band and other writers. We had a fantastic time. I've finished my book which will be out next year and some of the stories I felt should also be in song form. When I decided what I wanted to talk about, I realised I had written other songs earlier on that would fit onto this album.
Anthony Weightman: Are you looking forward to your forthcoming tour in Europe to France, Germany and the UK?
Sheila Escovedo: Oh absolutely! I always look forward to travelling to Europe. I love it. I've fans there. I've got a great fan base. I  purposely wanted to release this record in Europe first because we know how much the European fans love music. It's not going to be released in America till next year.
Anthony Weightman: Someone once described you as the 'Helen Mirren of music'. Helen Mirren has been called erotic, sensuous, talented and restlessly creative, so I suppose that's a compliment. But how would you describe yourself?
Sheila Escovedo: I have no idea. I can only be me and how I represent myself and how you see me as someone who basically works really hard. I love what I do. I have a gift that God has given me to be able to share all over the world. I don't take that for granted, at all. I try to be a blessing as much as I can. I do have my moments of not always feeling happy. Life itself gets stressful sometimes. You take that moment and go outside and take a breath of fresh air and listen to something soothing and move on.
Anthony Weightman: I know you were musical director for President Obama's Musica Latina at The White House. I think we're all aware of  President Obama's public image. The eloquent man with a fine sense of humour who's a very inspiring speaker. Has your personal contact with him led to a greater insight into his personality?
Sheila Escovedo: I do have to say that he's an amazing man. I think that what you see of him is the same person off the podium. The only thing you don't get to see more of is how funny he is. He's very, very funny. He loves life and trying to help people and figuring out better ways of doing things. He's just an amazing man. I really care for him.
Anthony Weightman: I remember well how exhilarating the music of Santana was. That experimental fusion of Latin, rock, jazz and psychedelia which was so explosive. It was hugely exciting to me as a child. They've now won 11 Grammy Awards. Both your father and uncle were part of Santana. What are your personal memories of the group?
Sheila Escovedo: It was a fantastic time. Being able to get around that music at an early age and being born in the Bay Area of Oakland, California. We were privy to a lot of great artists and musicians. That's what was so amazing about the Bay Area. To have Carlos Santana and my Uncle and Dad in that band. I remember Woodstock and jamming and playing and then the rehearsals. My Dad being out on tour, in Europe a lot as well. He told stories about the many things they did and how much they loved it. It was a great time. A lot of big hair, big shoes and big pants.
Anthony Weightman: And possibly on tour again in 2014, I gather!
Sheila Escovedo: Could be.
Anthony Weightman: I know your charity Elevate Hope Foundation brings music and art to children to help them as a form of therapy. In the UK there are many gifted young musicians who are finding it exceedingly difficult to finance their studies. Good charities like Awards For Young Musicians are doing their best to help. Do you feel the work of charities like this is important?
Sheila Escovedo: I think every charity is important. Elevate Hope has been able to do a lot for a lot of kids. It's been amazing and a blessing to see. Being able to put a smile on one of their faces and being able to help them. Being able to have them express themselves in a way that they're able to communicate and break down that barrier. Giving them an opportunity to feel great about themselves and encourage them and give them hope. So, I love that we get to do that. It is my passion. I know that all charities we're involved with, not just my own, do so many charity events. We're all trying to help and it really is important.
Anthony Weightman: I know you have strong feelings about child abuse. In the UK media at the moment some new allegation seems to be reported almost weekly.  There's constant press coverage that you can't escape. In this situation do you feel that there's a danger that the public may lose interest in a subject which is really very important?
Sheila Escovedo: Well, abuse is very important. I wrote about it in song and in my book because it freed me when I started talking about it. The problem is, if you sit in a room with ten people, seven or eight will have been abused in some way. To me it's an epidemic. It's something that's almost common. It's a shame that it's OK to treat each other in this way. Very abusive, and what's adding to it is television. Not always great things to watch for our kids. So many 'reality' shows are taking over. All they do is yell and scream at each other. That's still a form of abuse. The way we treat each other. Men and women still walk around with things they don't talk about. That ends up eating them and killing them. They're not able to live the life they should be living. In order to do that they need to talk about what has happened, to get free of that shame or guilt.
Anthony Weightman: I was at a performance of Tania Maria , the Queen of Latin Jazz, in London the week that the Iraq War began and she told the audience that 'we need good music for bad times'. So, would you agree that we also have to recognise the therapeutic effect of music on adults too.
Sheila Escovedo: Well, absolutely. To me music has been about healing. I'm a witness to it healing me. It's a miracle in my life that I've also seen it heal kids. Positive ways and positive music. Everyone has a different way of expressing themselves. Some of it is dark or different or cursing through bad language. What inspires you or what helps you feel better about yourself… there's a lot of great music that helps you do that.
Anthony Weightman: You always seem to speak with fondness about your family and the musical interests that you all share. What's a typical family gathering like for you? Are there many differences of opinion on music?
Sheila Escovedo: That's a good question! Actually, yes and no. The family gatherings are crazy. It's always a lot of us. We have a huge family. We have a blast. Very competitive. If we were talking just about music we'd say that that artist was better than that other artist. We'd agree or disagree.  We all have the same flavour of artist we love from The Bay area. That's definitely what made us who we are as musicians. When we were growing up we listened to nothing but Motown because that's all that was on the radio. In the Bay Area  you had Creedence Clearwater Revival, Cold Blood, Boz Scaggs, Jefferson Airplane, Sly and the Family Stone and Grateful Dead. That formed us. We listened to all types of music. My Dad asked us to play different instruments. I took up violin and my brother started piano. It's very eclectic, the music that we listened to.
Anthony Weightman: I was watching the last ever performance of Tito Puente, 'Oye Como Va". The outward going and flamboyant nature of his personality is clear, but what are your memories of him as his god daughter? 
Sheila Escovedo: Many. He and my Dad were friends since 15 years old. It was a big deal when he came to our house to have dinner because the whole city or neighbourhood would know. They never told me, because I was a young girl, that I was not able to play percussion. When Tito was playing in The Bay area he'd get me to sit in and play. Some of the other musicians who played traditional Latin salsa music were very serious about the 'clave'. Traditionally we never grew up learning this. We were more Latin jazz. It allowed us to express ourselves outside the 'clave'. Tito always said 'you just be you'. That was wonderful to hear from him. He allowed 'me to be me'.
Anthony Weightman: Can you remember a performance which has been particularly demanding for you in terms of advanced planning?
Sheila Escovedo: I was musical producer and director for the first Latin Grammys for all the commercials. It was very cool to be able to do that. Also, being able to play drums with Ringo Starr. Being asked to be the drummer. Trying to break down all the parts. I had to learn how to play drums like him and sound like The Beatles. It was so complicated. He often did a fill after a lyric and that was his way of speaking or singing. I really had to listen to a lot of music. When I went to rehearsal the first day I knew what I had to do. It was a lot of fun.
Anthony Weightman: Is there anyone you'd like to play with that you haven't played with so far  
Sheila Escovedo: Garth Brooks is amazing. Probably Bruno Mars as well. I love his music.
Anthony Weightman: Has there ever been one particular bit of advice that stands out as being the most important you've ever received as a musician?
Sheila Escovedo: Probably what my father always told me at the very beginning. Be respectful to other people and be on time. On time to him was being 15 minutes early. To be early meant  half an hour early. Know exactly what you're supposed to be doing when you walk into a situation. Be prepared. That allows you to be free. Walk in comfortable, confident and at ease. It allows you to enjoy yourself.
Author: Anthony Weightman
Sheila E. plays Under The Bridge, London, November 23rd. Click here for more info.
And Sheila E.'s new album Icon is released November 25th…