The National – Live @ Alexandra Palace
aaamusic | On 17, Nov 2013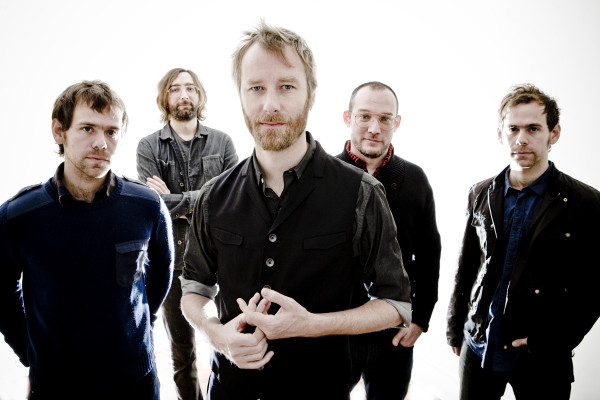 Thursday 14th November, London
Alexandra Palace is a tough nut to crack. Despite considerable efforts in recent years to make it a more streamlined concert venue, the cavernous, standing-only space (that can host up to around 10,000 punters – the largest standing capacity in London) is hit or miss in terms of sound quality and atmosphere. Many arena-ready bands have fallen victim to the vacuous vulnerabilities of Ally Pally, as its affectionately known. Any apprehensions that a band as introverted and personal as The National might not be able to command a venue of this size are brushed aside as soon the Brooklyn-based indie rockers start playing the relatively energetic intro to opener 'Don't Swallow The Cap'. From the off, the sound is perfect; better than on record, and better than any other band I've witnessed grace this stage.
Tonight, the five-piece are bolstered by some additional musicians: two multi-instrumentalists, back left, who add all the horns, and, when needed, a string quartet at the back right. The brass and string elements, which are layered down pretty low on record, are extenuated tonight, as are other hidden or subdued components from their albums, such as the lead guitar intricacies and drum fills. Tracks such as 'Pink Rabbits' (from latest album Trouble Will Find Me), with its squealing solo, and the extended drum intro of 'Squalor Victoria' (from Boxer) showcase more confident performers.
It's only singer Matt Berninger who appears to have retained his reticence, at least for the early segment of this sprawling 25-song set. When he's not singing, eyes shut and wrapped around his microphone stand, he's got his back to the audience, seemingly anxious as he prowls back and forth in front of the drum kit. Berninger's performance actually intensifies as he seems to acclimatise; perhaps partly fuelled by his swigs from a bottle of a wine, he loosens up, directing his baffling, melancholic poetry straight at the audience. On record his voice never strays far from his distinctive, warm baritone, but live, during the more heated moments of a song, his delivery is often elevated to a bark or even a scream – such as towards the end of 'Squalor Victoria' and on fan-favourite 'Mr. November', during the encore. He also indulges in his trademark crowd running (managing to storm halfway across Ally Pally at one point) and violence towards his instrument, whether that being knocking the mic against his head or throwing it and/or the mic stand on the floor during moments of vocal downtime. Berninger; no, the whole band, are much more aggressive in a live environment, and all the more captivating because of it.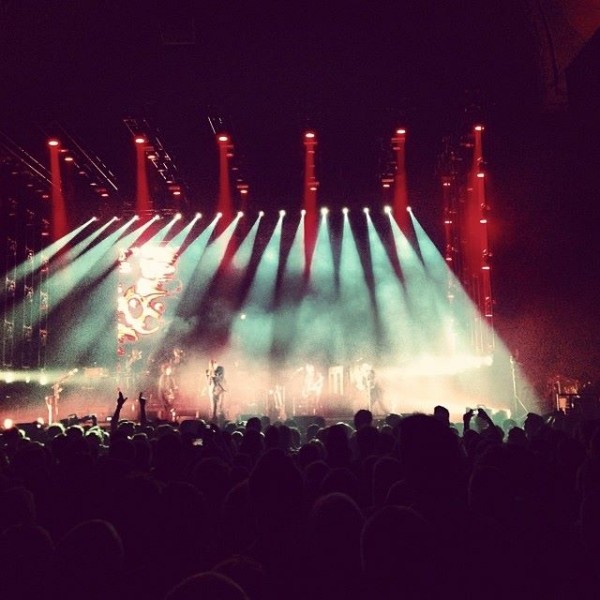 One thing notably different from their past tours is the level of production tonight. Engulfed by an enormous, 75-strong lighting rig (25 on either side, and 25 above), and backed by an immense screen of interesting, vivid but unimposing visuals, The National look, for perhaps the first time, perfectly at home in this kind of arena setting.
The setlist is predominantly picked from their latest album and the one that changed it all, 2010's High Violet. 'Bloodbuzz Ohio', aired early on, and Boxer's 'Slow Show' predictably get a massive crowd reactions – particularly the rush of the latter's second movement – but it's the more menacing tracks like 'Afraid Of Everyone' (personal highlight) and 'Sea Of Love' that are the most stirring. New song 'Lean', from the second Hunger Games movie, sounds fine, and a couplet from 2005's Alligator – 'All The Wine' and an impassioned 'Abel' – are electrifying.
The National are occasionally accused of being one-dimensional – in terms of their unchanging post-punk, piano-laced indie sound – so it's a testament to the strength of their performance that they can hold the audience for two hours. Of course, it helped that they saved big hitters until the final segment of the show, like 'Fake Empire', which closed the main set, and the aforementioned 'Mr. November' plus 'Terrible Love' during the encore. The final song of the night is the customary acoustic rendition of 'Vanderlyle Crybaby Geeks', with Berninger singing at a distance from his microphone, inviting an overwhelming contribution from the audience.
The National are no longer that underappreciated, underdog American indie band. The multitude of followers they've amassed over the last three years are just as adoring as the few fans they had on board via their first four albums, pre-High Violet. As tonight's extraordinary show proves, the band are still very much hungry; still striving for development in both sound and performance. And, crucially, they're striving for themselves, not us. They may have always felt entitled to increased fame and appreciation, but The National never compromised anything for. We've just finally caught up with and aligned ourselves with their genius, and it's all been on their terms. Long may their artistic vision continue to progress solely on their own terms.
Clive Paris Rozario
SETLIST:
Don't Swallow the Cap
I Should Live in Salt
Anyone's Ghost
Bloodbuzz Ohio
Demons
Sea of Love
Slipped
Afraid of Everyone
Squalor Victoria
I Need My Girl
This Is the Last Time
All the Wine
Abel
Slow Show
Sorrow
Pink Rabbits
Humiliation
England
Lean
Graceless
Fake Empire
Encore:
Exile Vilify
Mr. November
Terrible Love
Vanderlyle Crybaby Geeks