Hidden Orchestra + Floex – Live @ The Scala
aaamusic | On 22, Nov 2013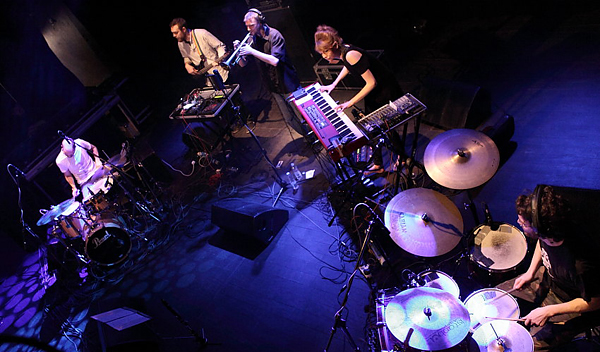 Wednesday 20th November, London
With both of their 'Orchestras' programmed into this year's London Jazz Festival – Submotion Orchestra last week and Hidden Orchestra tonight – Soundcrash (and the Soundcrash extended family) are safely riding 2013 out on a high, a year in which they have both cemented their status as London's premier alternative event curator and significantly expanded their sphere of activity. Having been part of the Soundcrash fabric for some time (this reviewer first saw them supporting Daedelus at his 2011 Soundcrash KOKO show), this is Hidden Orchestra's largest ever headline show in the capital – it initially was meant to take place at the diminutive Cargo before demand prompted a swift upgrade to The Scala.
First up tonight, however, is a very special supporting guest: Czech producer-composer Floex (aka Tomáš Dvořák) and his band, for what is apparently the band's first show in London. And Dvořák couldn't looked more elated to be here; his big beaming smile and humbled body language implies that if he could extend his arms around each and every attendee for one giant hug, he would. Accompanied by a full live band – including a solid drummer, bass clarinettist (who also utilises some kind of 'wind controller') and female singer – Floex shows just why he's an artist's artist, and what London has been missing by his absence.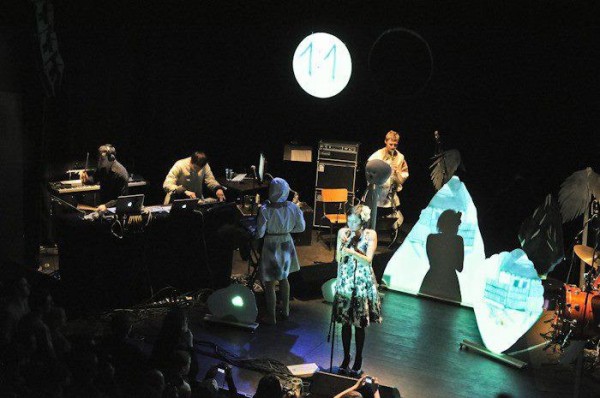 Dancing (literally) between electronic equipment, keys, percussion and his trusty clarinet, Dvořák and co. plough through extended versions of his Warp/Nina Tune influenced compositions. 'Gone' and 'Nel Blue', with their ethereal female vocals and trip hop underbellies, clearly influenced by Bonobo, are nice and chilled, while 'Precious Creature', with its pulsating woodwind groove, and a warped version of 'Self Portrait #7', which closes the set, best showcase the originality of their clarinet integration. At one point Floex is joined by members of his "favourite band" Hidden Orchestra, who he considers to come from the "same universe" as Floex (indeed he's right!), but adding trumpet lines to dual clarinets results in a bit of a muddled sound. Instead, the highlight comes courtesy of a revved-up rendition of 'Mecholup' from his 2011 Zorya album – it boasts the finest and most melodic clarinet lines of the evening, a grumbling, bassier undertone, and an inventive techno beat via Dvořák's manipulation at his production desk. Soundcrash, please get Floex back to London for a headline show ASAP; they are more than worthy.
Hidden Orchestra have come armed with a new AV show – and no, this doesn't mean a white screen with projected images of landscapes or computer generated patterns, something that has become customary for live electronic music. H.O.'s show is the most inventive I've seen in some time: several groupings of white discs – some stacked horizontally and some placed in front of the band's central desk, with one big disc placed high in the background – display intelligent, morphing images such as speakers, eggs, candles and live footage of the band, all controlled by an onset live AV manipulator.
As interesting as the visuals are (and they are very interesting), what marks Hidden Orchestra out as a truly memorable live band is, of course, their music and choice of instruments. Mainman Joe Acheson (bass) and Poppy Ackroyd (violin, keys) are set up behind a desk of electronic equipment, from which they also control the mixing and samples, etc, as is their touring trumpet player who joins them for much of the set. Flanking the desk are two drum kits set up to face each other, from which drummers Tim Lane and Jamie Graham either fire different layers of intricate hip hop beats at each other, or, when the music is at its most climatic, hammer their drums in unison or take turns to smash out erratic fills or mini solos.
The band kick off with the opener of their 2012 album Archipelago, 'Overture' – a track that sums everything about H.O., from the brooding bass, trumpet murmurs, melodic strings and Portishead-esque beat; all of it slowly building from a quiet intro to a crashing, post-rock crescendo. From here on the setlist is pretty much perfect – the menacing dramatic movements of personal favourite 'Reminder', the bass-heavy wobble of 'Tired and Awake' and 'Flight', the latter containing oriental flutters, and the melodic contemporary jazz of 'Seven Hunters' are all played with perfection. The chords, pacing and effects on 'Spoken' are melancholic in a fine, Thom Yorke sort of way. Ackroyd's little dances with her violin bow and shuffles when on keys are a joy to watch, and Acheson is convincingly genuine in his repeated 'thank yous' to the crowd.
One of the set's highlights is when Hidden Orchestra are joined by Floex (the man not the band) on clarinet for 'Hushed', a song they co-wrote "over the Internet". The other highlight is main set closer 'Antiphon', from their debut 2011 album Night Walks, which is hypnotic in a Portico Quartet kind of way, but with added classical drama – the dual drumming in the last movement is beyond thrilling. They reemerge to deliver what is fast becoming their standard encore, a little known B-side called 'The Revival', which boasts hypnotic violin squeals, rock drums and an aggressive bass core. This performance is nothing short of a triumph for Hidden Orchestra, a forward-thinking jazz-electronica fusion band who not only deserve their billing at year's London Jazz Festival, but deserve to be commanding bigger audiences at grander venues.
Clive Paris Rozario