Christian Scott – Live @ Ronnie Scott's
aaamusic | On 26, Nov 2013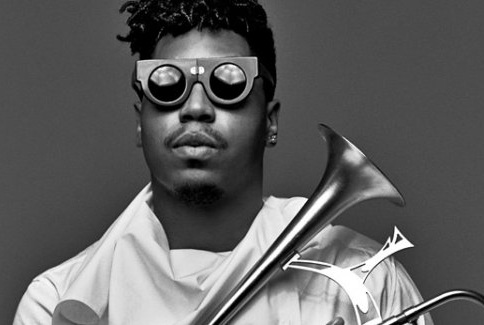 Thursday November 21st, London
The EFG London Jazz Festival 2013 has seen some of the new breed's most exciting artists, but none finer than American trumpeter Christian Scott. Tonight's Ronnie Scott's concert is by far the most exciting and memorable of the whole week; a singular triumph that encompasses both the true spirit of classic jazz and the fiery ambition of contemporary jazz. In an age where our young jazz performers are closing their craft in on electronica, RnB and post-rock, it's beyond refreshing to hear an artist work in inventive ways without compromising the core elements of the genre's beautiful history.
Christian Scott, just 30-years-old, is one hell of a stage presence. Hailing from New Orleans, he fills this prestigious, intimate venue with his confidence; all hip hop swagger, steely eyes and sultry smirks. As a band leader, he is authoritative yet surprisingly generous, often allowing his guitarist (Matthew Stevens), bluesy double bass player (Kris Funn), formerly of Kenny Garrett's band, and snare-loving drummer (Corey Fonville,  just 23-years-old! ) to dominate proceedings while he nods in approval.
Scott explains that he's rather emotional, as tonight is the penultimate gig with guitarist Stevens, his collaborator of 11 years, who is off to start his new band. The influence of Stevens on both Scott's recorded music and show is considerable, as his melodic, near-indie guitar lines are a large part of what makes Scott appealing to those unaccustomed to the trumpet jazz greats. There are almost as many guitar solos – which are incredibly intricate and at times border on avant-garde rock – as there are trumpet solos, and the second track aired tonight, 'After All' from 2010 album Yesterday You Said Tomorrow, was actually written by Stevens.
When Christ Scott does solo, it's explosive and visceral in a way that this reviewer hasn't heard since…ever. He is this generation's greatest jazz trumpeter, in my humble opinion. He plays his instrument, which is bent facing up, in a trance, and the sounds are transportive, often aggressive, without ever leaving the attendees behind. His rendition of Herbie Hancock's 'Eye of the Hurricane' is sublime, as is his dedication to his wife, 'Isadora'. Scott's personality and humour shine through his many anecdotes, none more sincere than when he talks about his wife, who actually joins the band to sing Emily King's 'Georgia'. There is no love-drunk hyperbole in his declaration of her talent; she has a huge, soulful voice, and it's delightful to see them riff off each other, staring adoringly into each other's eyes.
The highlight is main set closer 'K.K.P.D.' from Yesterday You Said Tomorrow, a politically charged composition referencing Scott's encounter with immoral police back home when he was younger. It's extraordinarily heated, with Scott's notes erupting from his gut; occasionally he turns his back to blow his trumpet down into a second microphone facing up from the floor. It wasn't just the highlight of the set, but the highlight of the entire festival.
As an encore, Christian Scott invites the audience to join him on stage as they chant a 'traditional New Orleans Indian call and response' song – this includes the mighty pianist Robert Glasper who sidled in halfway through the set (only at the London Jazz Festival!). An intriguing finale to a storming set; Scott is in league of his own.
Clive Paris Rozario