Vans Warped Tour 2013 – Live @ Alexandra Palace (Saturday)
aaamusic | On 25, Nov 2013
This slideshow requires JavaScript.
Saturday 16th November, London
Attila ★★★★★ (West Stage) open up the West Stage with their brand of Hip Hop / Metalcore with simplistic lyrics clearly done. If you have written this band off because of some of their lyrical content then you have made a big mistake, this is a band with a lot to offer and over the day and even the weekend ended up to be one of my top picks. They have a steady riff ridden adrenaline fueled performance that ends up with the guitarist giving his guitar to a kid in the crowd. If you have not heard Attila before then you should listen to the track 'Middle Fingers Up', which is a song that you just can't stop playing and their were plenty of middle fingers in the air when they played this at Vans.
Crossfaith ★★★★★ (East Stage) are an export from Japan and they go crazy today, with every member of the band jumping about. It is very strange for the first two bands on to be so good and really set the bar for the other bands on the bill. Tamano Terufumi climbs on his keyboard and shows how daring the band is and the dramatics don't effect their electrifying set, which Koie Kenta leads with his precise vocals. This is a band that just get's better and better and is one to watch in the future.
The Wonder Years ★★★★★ (West Stage) have never been a band that I cared much for – they are Pop Punk mixed with Post Punk led by a guy with the beard that thinks he is in the American sitcom. I am wrong though not to take note and I can see why people do like this band. They have a good sound and perform it well on the big stage and a lot of people really seem to like them, so I am really impressed by their performance.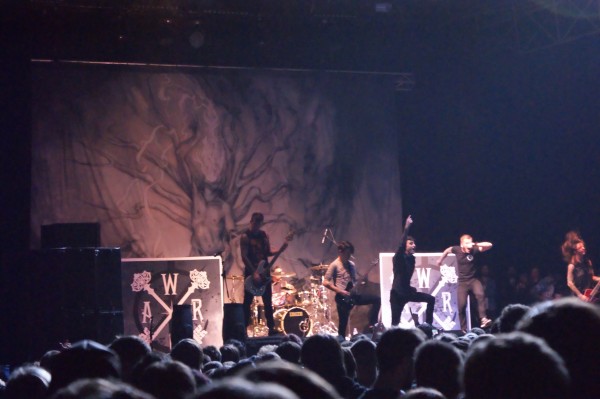 We Came As Romans ★★★★★ (East Stage) are one of the most hyped bands on the bill over the weekend, so I am really looking forward to seeing what they can produce. It's just strange that thee highlight of their set is a cover of 'Glad You Came' by the boy band The Wanted. They do have a good stage presence and the two singer thing really works well for them. The clean vocals do sometimes seem like they are more suited for the Pop World than for a band that are really coming from of the new heavy scene sound. They end their set with the brilliant 'To Plant A Seed' and you realise this is a band that needs to be taken note of.
The Maine ★★★★★ (West Stage) are the biggest disappointment of the weekend. I have heard lots about this band and even checked out a song or two – I just didn't think a band could be so dull. Ok they do have some good songwriting in their material but the way they produce it just wants to send me to sleep. I have no idea why they have been put on three times over the weekend.
Mephis May Fire ★★★★★ (East Stage) always bring out a steadily good set and today is no different – they fit very nicely into a slot on the East Stage straight after We Came As Romans and launch out with steadily perfect performed songs. I do think they are a little complacent and don't really deliver anything new. They are a band that do what is said on the tin and produce a performance that resembles the albums that they have released. They move through songs like 'Without Walls' and 'The Victim' in a set that just goes by too fast.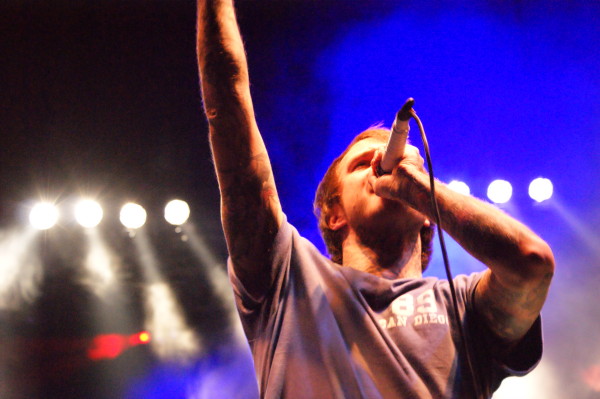 Chiodos ★★★★★ (West Stage) are always great live and with a frontman like Craig Owens how could you not be. He leads the band with piercing long screams and a great swagger. Blasting through the set in a fiery way like he was born to be there and when they blast into 'The Only Thing You Think About Is You' by his other band Drugs you are already hooked in. They always have great intensity and know how to deliver a good and polished set.
The Defiled ★★★★★ (Jagermeister Stage) are a strange addition to the Vans Warped Tour and would fit better on a more Metal orientated bill than what is present on this bill today. They have really excelled themselves with brand new album 'Daggers', which see's the band catering more for the American Metal market. AVD stage presence is getting better and Vincent is crazy as always while Stitch D mixes up clean and heavy vocals. These clean vocals are a little monotonous on 'Call To Arms' but they make up for this with the brilliant 'Blood Sells' and 'Sleeper', which shows how they are progressing with the new material.
Like Moths To Flames ★★★★★ (Jagermeister Stage) performance suffers a little from them being put on the Jagermeister stage today. The sound for them is not the best and some of the songs are hard to make out, but the band burst through this and try to bring out a set that any band would be proud of. This is a band you really need great sound for because they mix up complexities with killer riffs and an aggression that can't be ignored.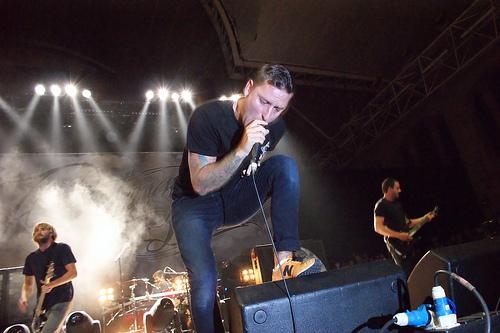 Parkway Drive ★★★★★ (East Stage) are for me the main headline act even though Rise Against finish the day off and seem biggest crowd of the day. In the last few years Parkway Drive have been growing in status and popularity with quite a few people in attendance today just to see them. Opening with 'Dark Days' from their last album Atlas, which has already done really well for them, but for me their best album was the one before – 'Deep Blue' – which showed the band can mix up Metalcore / Deathcore with commercial Metal in a really appealing way. They have loads of smoke and confetti come up in certain songs, sometimes a little too much; I think they were working on a small budget and sometimes some of their material is a little to generic and slow but they are quite enjoyable to watch and go down really well.
Rise Against ★★★★★ (West Stage) This is the first time I have seen this band in quite a while, and I have not been overly impressed the last couple of times with their laid back approach to Hardcore / Punk. They sound a bit like a cross between Bad Religion and AFI so I should really love this but there is just something missing for me. They open with 'Chamber the Cartridge', which vocalist Tim Mcllrath is without his guitar for and he works the stage quite well getting the set into motion in a frantic way. The pit is crazy as they break into the next number 'Re-Education (Through Labour)', which is a very popular song for the band. Other great songs in the set are 'Give It All' and 'Ready to Fall', but they just don't really keep my attention and I don't think they really work as a headline act.
Check out our review of Day Two of Warped Tour: Sunday…
Words: Ays Kura and Dan Devour
Photos: Dan Devour