Hard Rock Hell VII (Thursday + Friday)
aaamusic | On 20, Dec 2013
This slideshow requires JavaScript.
November 28th-December 1st, Hafan y Môr Holiday Park, North Wales
Thursday
The Crazy World of Arthur Brown ★★★★★ seems to pop up all the time on my travels with his craziness and bizarre stage show, which today includes giving himself a fake blow job with his microphone under his long robe. He runs through hits from 'Fire' to his Screamin Jay Hawkins cover of 'I Put A Spell on You'. I know he is really influential, but I have seen him a few too many times now and he always does the same thing, so everything is a little predictable. He is wacky but now it seems like a forced wackiness. If you have seen him before then you will get the same old thing; if you haven't seen him before then you will really enjoy this.
Friday
Skindred ★★★★★ (Acoustic) do a great acoustic set to start the day off in a nice way for the late risers. This set is full of new versions of classic songs, plus fun and banter by Benji and guitarist Mikey; they feel really at home in their country of origin and you take them in like an old friend. It's a great short set of material you might have never seen in this way before.
Skarlett Riot ★★★★★ are really coming of age as a great live act and their material is just getting better and better. Singer Chloe Drinkwater oozes charisma as she breaks into a set that is full of Emo / Rock anthems. Their single 'Villains' is one of the best songs in their set and people already know the lyrics to it, showing the band is growing in popularity. I just think sometimes they are aimed at the wrong crowd. They have had a lot of exposure including playing at this year's Reading Festival and have not really got to the heights they should have. I really hope that Skarlett Riot have not missed their chance because they are a great little band and Chloe looks a picture today, showing off her new hair colour and tattoo. If you don't know Skarlett Riot do check them out at a town near you soon.
Sister ★★★★★ are treading on the heels of Wednesday 13 with their brand of Horror Punk. Their sound is very similar to the Muderdolls frontman's material but more credible and dark and less silly. The band have great stage presence and are very chaotic and start their set off in a puff of smoke, then smash you in the face with a full explosion of Rock from start to finish. I think for quite a few people Sister are the high point of their trip to Wales and I can see quite a few Sister patches on jackets in the audience, so they are gaining a following. One of the things I notice about Sister is the amazing drums by Cari, who leads the death tone beat of the band; they are really furious from the start of the set, they leap at you like a snarling big cat and say 'we are Sister and we are here to stay'.
Enuff Z'nuff ★★★★★ are a legendary band and, sadly, quite boring today even though they have a great body of work to pull from. Chip looks as good as he always does sporting wicked pink sunglasses and a full Glam outfit. Jonny Monaco makes you feel you're at an Elvis Costello concert and that everything is just middle of the road. The sound though is not very good for them; just not loud enough. They run through a set including classic material for the delight of a lot of diehard fans. This is who the set is for: the diehard fans, people who wanted to remember when they saw them twenty years previous.
States of Panic ★★★★★ are treading on the heels of bands like Avenged Sevenfold and Black Veil Brides – they have a great image and need to gain more live experience and then they will be a very prominent band in Rock. It's great to see a new band with such promise and they really have a determination to impress on the small Jagermeister stage. Like Skarlett Riot, I don't really think this is the bill for them and they should have got the Black Veil Brides tour support rather than Heaven's Basement, who don't fit on that tour at all. I will check out an album by this band and watch them again in future because they are really enjoyable.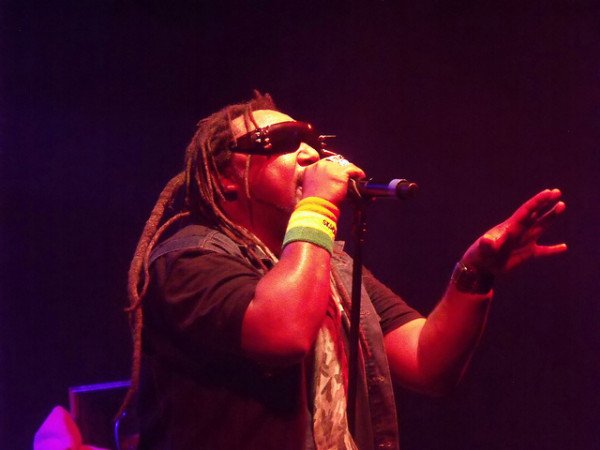 Skindred ★★★★★ are promoting their new album Kill the Power by this rare and exciting headline slot tonight. They come on like soldiers of fortune and the fortune for them is playing back home for a change. 'Babylon' lifts off spirits in the crowd like a rocket and launch time and later in the set the Newport Helicopter really causes chaos. The Newport Helicopter is when you swing your coat or jumper round your head like a… helicopter – a little in bad taste with the crash in Glasgow, Scotland but sill looks really cool. New song 'Kill the Power' is really great and is an instant hit for the band, so looks like they might do well with the new album. 'Trouble' is also a song that is greeted like an old friend. With Benji wearing a Metallica T-shirt on tonight he breaks the band into the beginning of 'Sad But True' to the delight of many people and then toys with Rock genres as the band play riffs from well known songs in between their own. They end the set off with their hit 'Nobody' before coming back on to the riffs of 'Breathe' by The Prodigy and ending on their mega hit 'Warning'. You can see why Skindred are so popular – because they put on a great live show and are simply just fun. So catch them when they tour the UK next year.
Striker ★★★★★ are quite a good band but coming on late doesn't really do them any favours. They have a great guitar sound and are led by skilled guitar playing by Tim Brown and Chris Segger; they don't hold back like Annihilator when I saw them earlier in the year. This is technical Thrash Metal / Classic Rock in it's best form and the sound is really good. Sometimes for me the guitars really take over from the front vocals too much and dominant the set, so one song seems a little similar to the next for the untrained ear, or for someone who doesn't know the band, but this was a good try by them.
Words and Photos: Dan Devour and Ays Kura