AAA Music Approved: Ruth Koleva
aaamusic | On 07, Feb 2014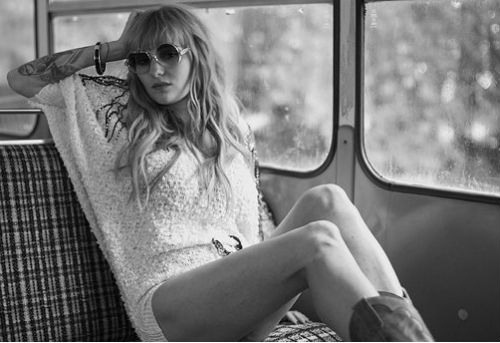 AAAmusic: Who are you and where are you from?
I am Ruth Koleva, born in Bulgaria. I spent my childhood living in India, Thailand, Bahrain and the US. I started singing when I was a child and started writing my own music when I was 13. My first steps were in the underground hip hop and drum 'n' bass scene in Eastern Europe.  Later on I formed my own band, and we started performing mainly nu-jazz and nu-soul. My debut album came out when I was 19. I am 23 right now.
AAAmusic: What inspired you to get into music?
My parents got divorced when I was around 10, and music was my salvation. I found peace in it, and a way to express my feelings. I fell in love with music when I started listening to A Tribe Called Quest, Jill Scott, Erykah Badu… It just felt natural. Later on, because of drum 'n' bass and a broken beat, my taste emerged. Combined with my love of jazz and soul, that's what I finally got – nu-jazz.
AAAmusic: What have you done?
Well, I am proud that I bring this fresh eastern European vibe to the nu-jazz genre. I am extremely happy that Mark Ronson picked my new album and said that it's "Amazing". I am flattered that GRAZIA magazine made me "Woman of the year" in 2010, and that so many people I am inspired by, gave positive feedback on R U T H.
AAAmusic: What are you like live?
I always say that the best thing about music is performing it live. I like doing studio work as well, but nothing compares to the reaction you get from the audience. It's pure magic. Probably the best shows I've done are not the most "crowded" ones. I sang in front of 60K people back in 2009, and it was unbelievable. I've opened for Frank McComb, N'dambi, Method Man & Redman, Jenna G, London Elektricity, Mad Professor, DJ Cam.  But the show I'll never forget was in the small city of Burgas, where there are almost no venues. The capacity of the place was around 160 people, and there was more than 300 inside. That was single-handedly the happiest, most inspiring audience I've ever seen. It was incredible; I didn't want to leave the stage!
AAAmusic: What makes you different?
I am quite sincere in my songs. I really put my heart into it, and I believe people can relate to my music.
AAAmusic: Physical vs Downloading vs Streaming…How do you listen to music?
Honestly, I mostly listen to music digitally (I buy from iTunes). I also buy CDs, but it's more about collecting them. Sooner or later everyone will mostly buy (or stream) music, that's the direction that the music business is going in. Countries like South Korea don't sell physical CDs anymore. For me – I just feel different about the music I have on CDs and vinyl. When you can touch it, it just feels more special.
AAAmusic: What have you been listening to?

I really like Hiatus Kaiyote's album. I just discovered Esta from San Diego, a few weeks ago. Loved it. Flako is in my playlist as well.
AAAmusic: What are your aspirations for the future?
My album R U T H is out February 20th. Keep your ears out for it! First single and video 'Turn This Around' out February 3rd.
Questions answered by: Ruth Koleva…