St. Vincent – Live @ Canal+ Studio
aaamusic | On 20, Feb 2014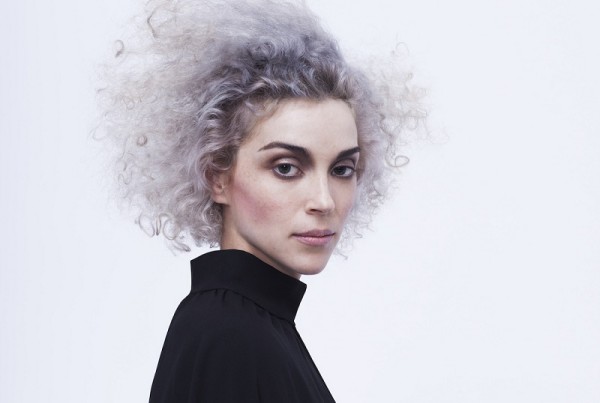 Wednesday 19th February 2014, Paris
Annie Clark alias St. Vincent is on tour for the release of her fourth album, St. Vincent, due to be released on the 24th of this month. Tonight's a show for the French channel Canal+ before she hits the road to London; she will then be performing in Manchester and Dublin, before flying back to the US.
The NY-based musician and songwriter has already issued three albums, with which we have been able to get to know her diverse influences – folk, pop, rock, electro – making up her own trademark. In this Parisian show, it was especially the rock-electro aspect of her work that stood out, with a strong use of keyboard and electric guitar.
Annie, followed by her musicians, came on stage with shaggy white hair and a white and red dress – an Alice in Wonderland look broken down as soon as the music started. It's with the robotic 'Rattlesnake'  that the band opened the show, putting the mood for the rest of the performance.
Some songs offered a more "classical" Indie rock sound, like 'Digital Witness', a song with happy harmonies that make you want to dance – as the singer tells herself: "what's the point of even sleeping?" – so was the last title, 'Bring Me Your Loves', lifting you away in a happy place. The fourth song, 'Regret', opened with a very punchy and powerful movement, alternating regularly with a milkier, softer chorus; overall giving a very good dynamic to the track.
The third title, 'Birth in Reverse', with its distorted guitar effects and kick drum here and there, had somehow a Franz Ferdinand touch; a retro feeling integrating itself well in Annie's world. On another song, 'Huey Newton', its outer space feeling in the first part was then contrasted with a heavy, gritty bass guitar that made one think of rock band Rinocerose's famous song 'Cubicle'.
The sixth song 'Prince Johnny', with its heavy use of keyboard voices in the background, was especially noticeable for the great guitar solo by Annie: accessible and well in the tone, without being simplistic either and played at a good pace, it was an enjoyable moment.
The standout song of the concert though, both for its content and its style, was the fifth one, 'I Prefer Your Love'. This song is a statement of love dedicated to Annie's mother who has been sick last year, where she sings "all the good in me is because of you" and "I prefer your love to Jesus". This song was also striking in its likelihood with some of Sinéad O'Connor's songs, such as 'Song to the Siren', with a similar eerie and transcendent musical arrangement and singing. It was an overall programmed but nonetheless enjoyable show, concluded with enthusiastic applause.]
Marguerite Gallorini