CENTIMENT – Streets Of Rage
aaamusic | On 21, Feb 2014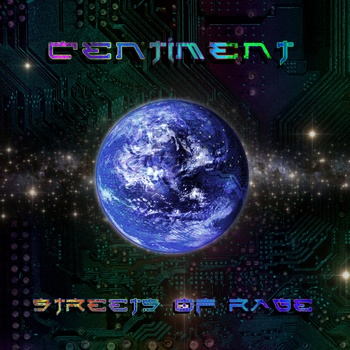 Centiment have finally unleashed their highly anticipated debut album, Streets of Rage: a release loaded with nine masterfully melodic tracks heavy enough to make you risk jumping into the pit with Adam, Axel and Blaze.
Streets of Rage pays homage to early video games you may have played if you ever had a Mega Drive. It only takes a quick look through some of their YouTube videos or their Facebook page to get the general theme. Or a listen through the album.
If you close your eyes whilst listening, you might feel a bit like you're in a retro arcade with a metal album blasting into your ears with an earphone in a bit loose. Strapping Young Lad or perhaps InMe (the comparison had to be made, I'm sorry, Dave McPherson's voice is just too unique!) on your iPod (or your original Sony Walkman), surrounded by buttons, joysticks and screens. It may be because I only recently watched it, but this album could easily be a metal remix of the Wreck it Ralph soundtrack. Centiment refer to themselves as Geeky Gamer Tech Metal, which is pretty accurate. Nail on the head, actually.
Whilst there is some emphasis on the influence of retro gaming and the associated sounds, there is also a lot of modern electronic music influence. Songs such as 'The Kraken' and 'Bloodshot' (yes, it's named after the Mega Drive game) have introductions which feature glitching and drum samples. This style is repeated throughout the whole album, but is not overpowering and it doesn't take away from the retro game sounds that also feature throughout. Tracks ''S.O.S  and 'Acheron' have the almost-cheesy-sounding retro noises simmering away under the powerful voice of Dave, loud enough to hear but not too much. Any louder and they would possibly ruin the feel of the album; the mix is spot on.
Cleverly titled 'Hollow Grams' opens with a pulverising guitar pattern, thundering drums and digital gunshots straight from a 16-bit space shooter. The screamed vocals that occasionally nod to Devin Townsend indicate that Centiment mean it when they say they're a metal band. The complicated guitar riffs later in the song prove that Greg and Gazz are competent guitarists, bringing the tech in full force. A solid rhythm section provided by Neil and Mark on bass and drums respectively, they have a lot of complicated rhythmic patterns to keep tight. But as I mentioned at the start, this release is chock-a-block with melody as well as being heavy and techy.
For me, the standout track that shows off the melodic side to Streets of Rage is 'Defenders of the Oasis' (another song named after a Mega Drive game), which has a huge chorus and catchy lines sung throughout. Not to mention there's some impressive rapping in the first half of the track. The structure of this track is also quite interesting, it goes straight into the chorus after the intro and only has one (what I would call) verse. Saying that, each song on the album has a fairly interesting and unique structure to it.
Streets of Rage is not like anything you will have heard before and is worth a listen if you have an interest in metal or retro games. Or you just appreciate great compositions and interesting fusions. Out now, stream or buy it here…

Jake Parker