Chvrches + SOAK – Live @ The Junction
aaamusic | On 14, Mar 2014
This slideshow requires JavaScript.
Wednesday 12th March, Cambridge
It's a chilly, misty evening in Cambridge and the Junction is completely sold out tonight for the trio from Glasgow. Chvrches includes Lauren Mayberry on vocals, Iain Cook on synths, guitar and bass, and Martin Doherty on synths, samplers and also on vocals for two songs. I don't like to pigeonhole them as bright electro popsters, because there is more to them than that particular genre suggests, especially with their wrenching, biting lyrics and massive melodies, not dissimilar to M83 or The Knife.
First on though is SOAK, who is the alias of Irish 17-year-old Bridie Monds-Watson, a self-assured female singer-songwriter recently signed to Chvrches own label. SOAK performs a simple set of haunting, acoustic melodies not unlike Laura Marling. Her set was understated and like a calm, before Chvrches took to the stage. It was a real pity that most people were not paying attention and loudly chatting, which she dealt with by just carrying on playing her gorgeous tunes. Whatever, she's definitely a fabulous new talent to look out for over the next few months.
Chvrches come on to the stage surrounded by strobing white lights and launch into the anthemic beats of 'We Sink'. Each number thereafter is enhanced with brilliant, glittering lights, showering the band in waves of bright white, shards of electric green and shafts of blue – Mayberry punching the air with her fists throughout 'Lungs', and occasionally flicking the mic cord and tearing down the air in the highlight of the show, 'Tether'. Mayberry's vocals were sublime and the clarity pierced through all this lovely electronic noise with ease. Doherty turns lead vocalist on 'Under the Tide' and although rather a weak singer, he made up for it with some wild loony dancing and you could see how he was totally and utterly into his moment.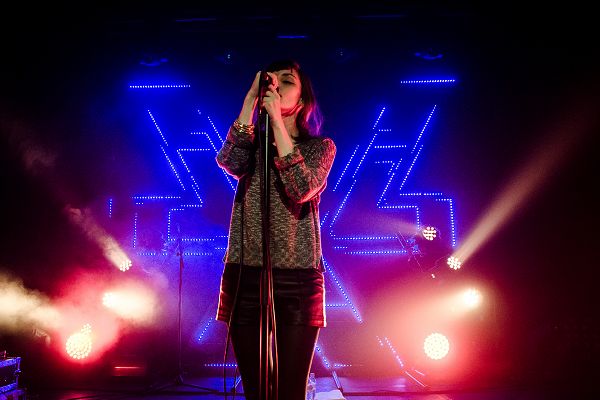 Half of Mayberry's charm is her chatting away animatedly on any subject too, such as how life on stage is basically their day job now, to brilliantly putting down a rude and loud punter flailing around and making derogatory remarks in the direction of Mayberry, totally pissing everybody off around him. I don't think they quite realise how massive they are now and still have the charisma of a band who is still trying to make it, and still have a caring attitude towards their fans. Unlike a lot of bands, Chvrches make a point of personally writing everything on their Facebook and Twitter accounts.
They finish their two song encore with the haunting, beautiful 'By The Throat', and I could have stayed, mesmerised for another hour at least, because the chilliness had turned into a warm glow!
Reviews and Photos: Nige Nudds
SETLIST:
We Sink 
Lies 
Lungs 
Gun 
Night Sky 
Strong Hand 
Science/Visions 
Recover 
Tether 
Under the Tide 
The Mother We Share 
Encore: You Caught the Light 
Encore: By the Throat