Natasha Atlas – Live @ Ronnie Scott's
aaamusic | On 02, Apr 2014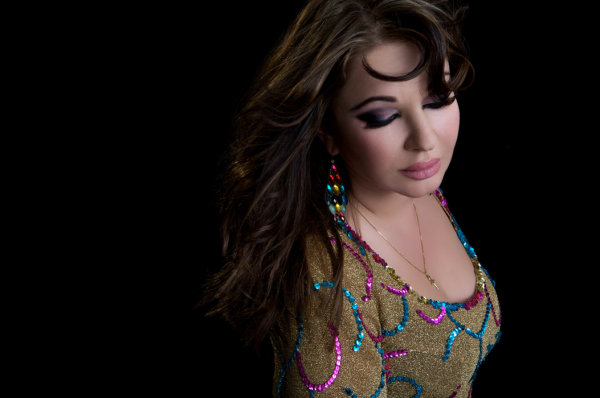 Sunday 30th March, London
Anglo Egyptian vocalist Natasha Atlas is widely respected for her inventive fusing of Western and Middle Eastern music and she combines cutting-edge electronic beats with Arabic songs and instrumentation. She's worked extensively with artists like Peter Gabriel, Nigel Kennedy and Nitin Sawhney and her album Gedida won the Victoire Award.
This evening Natasha's band comprised Louai Henawi (flute), Samy Bishai (violin), Alcyona Mick (piano), Ivan Hussey (cello), Aly Abdel-Alim (percussion), Vasilis Sarikis (drums/percussion) and Andy Hamill (bass). Guest Tanya Wells also contributed with distinctive and imaginative vocals.
There was a hint of Bollywood on the atmospheric 'Camel Driver', but a moody 'River Man' was probably a tough act to follow the charming pastoral feel of the original by Nick Drake. 'I Put A Spell On You' was a fine version of the 50s blues ballad and James Brown's 'It's A Man's World' thoughtfully observed the relationship between the sexes. 'Mon amie la rose', from the poem written by Cécile Caulier and Jacques Lacombe, was originally performed by popular French singer Francoise Hardy.
Natasha has radically evolved from a multi-cultural background and she's influenced by many styles including jazz, hip hop, reggae, Arabic and classical. Samy Bishai said their music can move to a "verbal equivalent of Salvador Dali" and there are certainly some bizarre, striking and refreshing moments. Like those extraordinary avant-garde paintings, they capture something hypnotic and eccentric.
Presently Natasha Atlas is composing music for a ballet inspired by One Thousand and One Nights, for the international French choreographer Angelin Preljocaj.
Anthony Weightman