BAD COMPANY – The 40th Anniversary
aaamusic | On 20, Apr 2014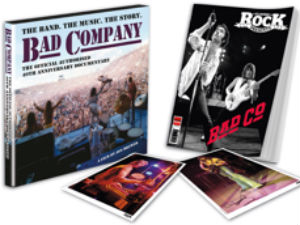 "Welcome to this very special Limited Edition Collector's Pack, celebrating the 40th anniversary of Bad Company. We hope you like the DVD as much as we do. It's our story, and though sometimes it's not pretty, it is heartfelt and true –the way we've always made our music. And it's our gift to you for all your support these past 40 years." –  Paul Rodgers.
40 years have passed since the first album from this legendary British rock band. The synonymous Bad Company was released in 1974 and it started a brilliant career for Paul Rodgers and his mates. Bad Company are now celebrating their anniversary with a biographic movie, the only fully authorised documentary about the band, directed by Jon Brewer (director/producer of Bad Company). Bad Company: The Band. The Music. The Story showcases the adventures of the band from the beginning until now, moving from Paul Rodgers's Free and Mick Ralphs's Mott The Hoppie to live concerts, TV performances and unplugged versions of their hits. The pack also contains a magazine with interviews, unseen pictures and albums reviews.
Bad Company have changed lots of members during their career, but they are currently made up of Paul Rodgers (singer-song writer), Mick Ralphs (guitar/keyboard), Simon Kirke (drums), Howard Leese (guitar) and Todd Ronning (bass). They have left an indelible stamp on rock'n'roll music with songs such as 'Can't Get Enough', 'Shooting Star' and above all 'Bad Company', the song that named the band and the album, a signature song that positioned Bad Company as rock'n'roll outlaws and as symbol of timeless rock.
Camilla Pascucci