Hot 8 Brass Band – Live @ Village Underground
aaamusic | On 20, May 2014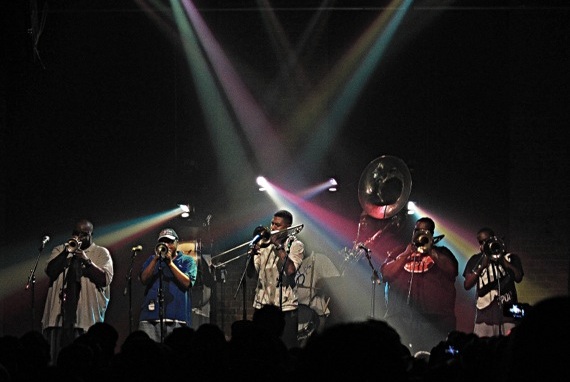 Sunday 18th May, London
A brass bonanza which will leave you breathless. For an hour and a half, they will wear you out, without a pause, a rest, or time for inhaling and exhaling. You will be swept away by the frenzy of the moment and, inevitably, forget about the rest. The Hot 8 Brass Band are more than a music ensemble. It is a state of mind, a condition.
It is a rutilant, glowing and sparkling mood, which catches you from the first trumpet acute and will only let you go long after the last one. The octet – which have, time by time, become a New Orleans institution, regarded and revered as an integral part of Louisiana's imagery, despite the several formation changes and tragic events which have marked its history – are always a reference point of brass band and live music extravaganza. They have a lineup that can count on a tuba player, three trumpeters, two trombonists, a saxophonist and rhythm section to "blow the house down" as ordinary administration.
They start inviting the participation of the audience by reviving the George Clinton classic 'Atomic Dog', refreshed years later by Snoop Dogg. And even before the chorus "bow-wow-wow-yippie-yo-yippie-yay", the public are already swooned, wired and wild.  The Village Underground turns into a small-scale carnival parade. People dancing, jumping, screaming in every corner. No downtime allowed. If there's a definition of 'party', a Hot 8 Brass Band gig easily fits into it too.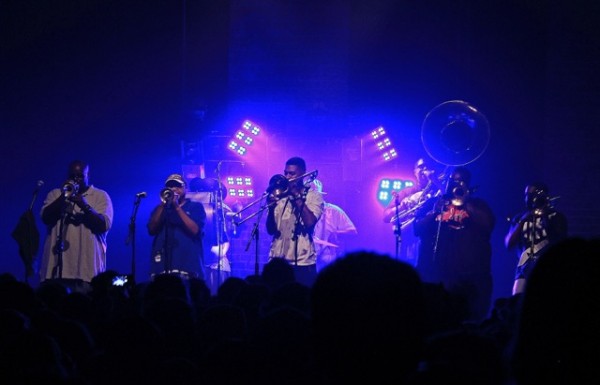 The concert follows a striking and adrenalising set list, juggling between covers and originals; between classics and recent tunes. And the success is assured. The band's unique and astonishing skills, their overall impact and unity, their extroverted characters are all sure hits when it comes to engage an audience. So, even with small flaws and some bum notes the outcome is literally glorious.
The New Orleans ensemble also knows how to butter up their fans. With few beats down to the end, they brush up the most British song in their repertoire. And it's another big win! When the trombones indulge themselves repeating that unmistakable riff; when the trumpets begin to scream out the melody, the fans already know exactly where the band will drive, and they sit down at the table. The Special's timeless hit 'Ghost Town' is played, singed and intoned by all the venue. Almost a national hymn.
But it's not over, because the band want all and want it now. To take leave, they decide to romp the victory. And the best way to do it is giving the crowd what they have come for: 'Sexual Healing'. They just need the first notes and chant, "baby I'm hot just like an oven" to hammer down their triumph. The Marvin Gaye oldie is also the closing salutation of a once in a lifetime gig. Or, at least, until next time Hot 8 Brass Band play in London.
Marco Canepari