AAA Music Approved: Ginger And The Ghost
aaamusic | On 16, Jul 2014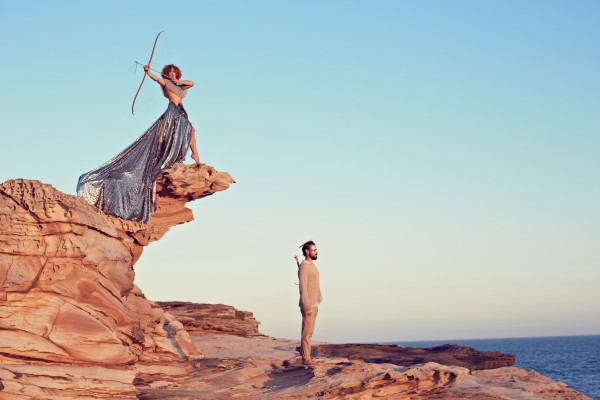 AAAmusic: Who are you and where are you from?
Daniel is my name and I'm from Sydney Australia. My background is quite eclectic. I taught myself to play my Mum's old classical guitar when I was a kid. In my teenage years I was exposed to the jamming scene in Brisbane where I picked up a few tricks on a verity of instruments. My theory is: if it makes noise then I can make noise with it and if it sounds good, then it is… right? Ginger And The Ghost formed when Missy (Ginger) approached me and asked If I would like to collaborate on a project she had been dreaming up. Our musical chemistry revealed itself as a spontaneous explosion of imagination which surprised the both of us…We felt like we were on to something special so we embraced it and let it flow naturally.
AAAmusic: What inspired you to get into music? 
There was a house in the suburb of Red Hill that literally never slept. You could go there at any time of the day or night and someone would be jamming. I'd just pick up the nearest instrument and join in. I can honestly say my peers have been my biggest musical influence.
What is our genre? hmmmmm thats a tough one. How does "Theatrical Pop" sound?…. no I'm not sold on that either :) We don't think about what we write as any kind of genre. We write very quickly and let the song evolve in its own way.
AAAmusic: What have you done?
We have been very fortunate and have had some great experiences. We have released two EPs and four singles, each with their own video clip which we are both very proud of. We have travelled our show to many corners of the globe playing shows in festivals and venues. Our most consistent feedback is "wow, that was intense" and that feels great because we put a great deal of effort into making our live show memorable. There is nothing better than creating a short-term relationship with your audience, taking them on a journey and in the process creating this symbiotic connection that we can all experience together.
We have been remixed by some great producers. The biggest impact was from TA-KU with our track 'One Type Of Dark'. Diplo put that track on his summer playlist. We recently colaborated with Indian Summer for their new single 'Shiner' and we have a few secret collaborations in the pipeline. BUT, one of the biggest highlights was opening a small festival in the middle of Australia called Wide Open Space. We played on a platform suspended four meters in the air in a 700 year old gum tree while a pole dancer dressed as unicorn performed below us in the red dust of the desert!
AAAmusic: What are you like live?
Our live performance is dramatic. We wear costumes and project imagery onto ourselves and the set we have built before the show. Some tour highlights are SXSW in Texas, CMW in Toronto, CMJ in New York and The Great Escape in Brighton. These are all showcase events where you play to the music industry surrounded by your peers. It's very inspiring. One of the biggest highlights was a show we did at Südpol in Luzern Switzerland. We collaborated with artists Husmann/Tschaeni to create a large scale stage production. Weeks of planning, three days to build, one day to rehearse for a 45min show!
AAAmusic: What makes you different? 
I think I've already answered this one…
AAAmusic: Physical vs Downloading vs Streaming…How do you listen to music?
Well… lets just say the system isn't really set up for the artist. It's great for exposure but If you want to make money as an artist you need to play shows. I usually shy away from this debate but I will say that I listen to music in any of those formats and it's great that music is so accessible these days… but nothing quite compares to vinyl.
AAAmusic: What have you been listening to?
I've been enjoying St Vincent, Bat For Lashes, Bokka and Little Dragon, to name a few.
AAAmusic: What are your aspirations for the future? 
The future? Well, we are releasing our debut album soon which is really exciting. I'd love to sink my teeth into the festival circuit and play some big shows and I'm also looking forward to more collaborations with more artists, musicians, producers… anything creative really.
Questions answered by: Daniel (aka The Ghost) of Ginger And The Ghost…
Check out our review of the band's new Call Up The Whales EP here…