Goat – Live @ Roundhouse
aaamusic | On 06, Oct 2014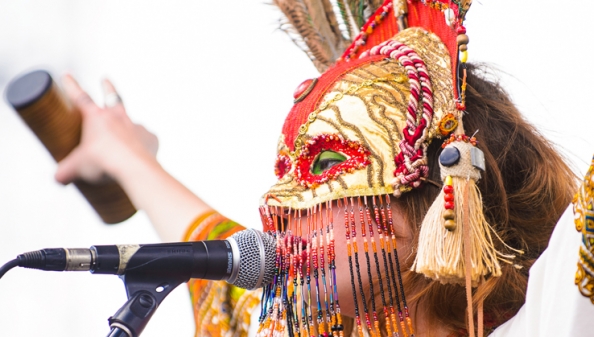 Friday 3rd October, London
Between goats, llamas and tame impalas, it appears much of the current psychedelic rock revival dominating the UK music scene is of the cloven-hooved variety. Their anthropomorphic agenda aside, it has been a pleasure to see this much-maligned genre making a comeback across all corners of the globe in recent years, decades after the likes of Pink Floyd traded in their plate reverberators for a saxophone and Procol Harum collected their last royalty cheque for A Whiter Shade of Pale.
The strength of this resurgence was demonstrated at London's Roundhouse in Camden on Friday night, where Goat concluded their first ever European tour in typically unconventional style. The anonymous Swedish band were joined by support acts Les Big Byrd and Lay Llamas, ensuring an evening of back-to-back kaleidoscopic thrills.
Following the release of their highly recommended debut World Music in 2012, the buzz surrounding Goat exploded in to the mainstream last year with their televised appearance at Glastonbury festival. Their musical credentials aside, the sheer spectacle of watching this band live is enough to make them a talking point. Camden was no exception, the band running on stage dressed in various guises and launching into frantic show opener 'Talk to God', one of the highlights of the band's new album, Commune.
Perhaps the main attraction of Goat is the sheer audacity of what they are doing; there's a lot going on here, Afrobeat infusions, tribal drums, bilingual (English and Swedish) chanting and a whole raft of other genres stirred into a psychedelic blend that gets the crowd moving on their feet. As the two female singers dance possessed around the stage to 'Let it Bleed', shaking ceremonial sticks at the audience, it's hard to think of many other bands sporting this look in 2014. I couldn't see Kasabian's bassist donning a Hajib.
Goat haven't strayed far from their acclaimed formula on Commune, and after a while it becomes difficult to differentiate as each hypnotic, swirling performance melts into the other. If Tame Impala is music to walk home by, then this is music to lose your head to. Mad, disorientating, a double encore of 'Golden Dawn' and guitar-driven 'The Sun The Moon' saw the band through the home strait of its two-hour set.
And yet, for all the enigma surrounding Goat, it was Lay Llamas that proved to be the most intriguing addition of the night. These Italian psych rockers are perhaps not as innovative as their Swedish counterparts, but their brief slot was just as captivating. Their brooding, slow-building sound is more introspective, a little darker, but just as visually exciting – with eerie bass and pounding drums complimenting flickering strobes and a crimson backdrop. Its real Barrett-era space rock, more Careful with That Axe, Eugene than Lucy in the Sky, and it sounded phenomenal. It's a strong start for a band that, with any luck, could one day carry the Roundhouse on their own terms.
Tom Goulding