Transgressive Records 10th Birthday – Live @ The Barbican
aaamusic | On 06, Oct 2014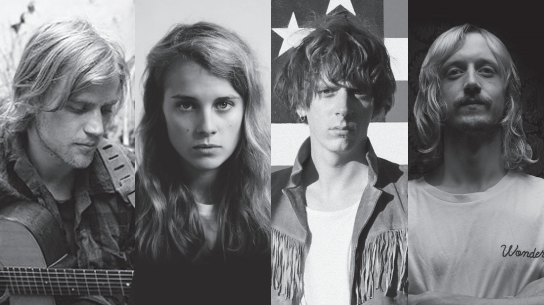 Tuesday 30th September, London
Tonight marks a momentous occasion for the British record label, created by duo Tim Dellow and Toby L at the spritely age of 19. Not only is it the regal and formal interior of the Barbican which makes it feel special, but also the added hosting duties of Radio 1 DJs Huw Stephens and Jen Long.
The first of the four acts on is Marika Hackman, accompanied by her guitarist and percussionist. Her set is short but sweet, but packs a punch nevertheless as 'Bath Is Black' opens, showcasing her virtuous voice as each word is sung with such clarity. The delicate intricacies of instrumentation on 'Mountain Spine' cuts sharply through the space; the acoustics enhancing the moody and at times dark atmospheric qualities of Hackman's music. Her endearing sense of humour is as ever-present in between songs, even labelling one as "jazzy", as she is drenched in blood-red lights. Whilst the pounding drums and psychedelic guitar build to an explosive chorus, one that is majestic and just a significant indication of the growth she has had over the last year.
To supplement the celebrations, in between set changes there are music videos from various Transgressive artists, ranging from Foals' 'Spanish Sahara', Esser's 'Headlock', to newer signings in the form of Fist City's 'Blow' and Famy's 'Ava'…just a few of the examples exhibited. Highlighting the breadth of amazing artists the label is home to, as well as their thirst to select unique acts that will push and challenge the boundaries of independent music.
Dry The River produce a stunning performance full of heart-swelling harmonies and genuine emotion, which enchants and moves the audience as at points you can feel utter silence in the hall. Their songs are imposing and gigantic yet unpretentious, songs which have been written to fill arenas and maybe even stadiums. As well as ones with joyous tones and uplifting positivity "…but we have to stop and move on". Story-telling lyrics open up a gateway of touching and beautiful moments during the show in the form of 'Gethsemane' from recent release Alarms in the Heart, partly recorded in Iceland and the romantic 'Weights and Measures' causing the hairs on the back of my neck to stand on end. They deliver one of the tenderest and earnest displays of the night.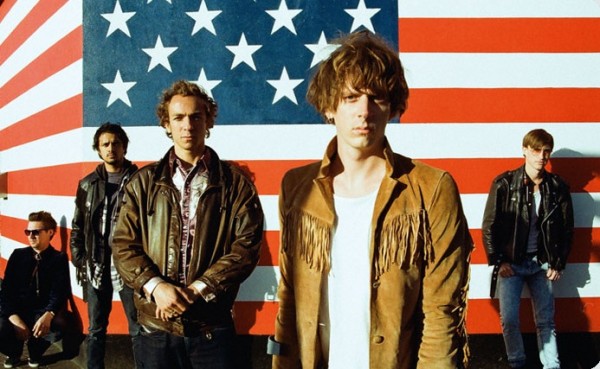 Having released their debut 7" 'Zoo Time' with Transgressive in 2005, Mystery Jets are hardened veterans of the label, preparing to emit their fifth studio album for 2015. This evening is exactly two years since the 'Jets played the Royal Festival Hall, which was the last gig they performed, as pointed out by guitarist William Rees. While this fact may be true it feels as if they never went away and I'm immediately reminded why I fell in love with them. On the pitch black stage each member is outlined by dim lighting as set opener 'Something Purer' is played out, which is an example of the band's talent for candid and unguarded song-writing. 'Serotonin' is exactly that elevating and ecstasy inducing, encouraging spectators to get out of the confines of their seats. While old favourites are played such as 'Alice Springs' and 'Young Love' where the group are joined on stage by Laura Marling accompanying them on vocal duties, in addition we are also treated to two new songs from the forthcoming album. They are both huge in sound, featuring lickings of 70s rock and roll splendour and thundering drums with a hint of Americana. This furthermore offers Blaine and co. with the opportunity to introduce Kai Fish's new replacement Jack Flanagan, who brings a refreshing new least of energy to group's live concert.
Lastly, headliners Johnny Flynn & The Sussex Wit tote their classic country folk charms on stage. A full seven-man band, including the frontman himself, consisting of gifted multi-instrumentalist musician casually swapping with one another every now and then. Thus underscoring the vital importance instrumentals have in the band, as an assortment of instruments extending from flutes, accordions, cello to guitar are played. What makes the act interesting to watch is the nature of Johnny's husky and aged tone, which seems unexpected from a man with such a baby face but adds to the quality of the performance; no less consisting of a concoction of honourable vocals and gravelly verbal climaxes. Plus unveiling his penchant for awkward stage chat which entices, whilst sending laughter throughout the audience. Dabbling in other genres Johnny's trumpet playing incorporates a folksy version of the blues, whilst another song integrates light Latino flavours. Notably as part of the nu-folk boom in 2005 which included other artists such as Mumford & Sons and Noah and the Whale, Laura Marling takes the stage again to perform their sweet duet 'The Water' which is a captivating view. '
Tinkle Me Pink' is the last song of the night and Johnny Flynn ensures it is finished in the best style inviting Mystery Jets back onstage, who are also supplemented by Marika Hackman and once more Marling for this immense extravaganza, as the Transgressive family unites forces and the majority of the hall gets up to sway in unison. It is a warming conclusion to what has been a night of great celebration and unforgettable achievements for a label which over a decade has been a stable platform for alternative music and only continues to get stronger. Happy 10th birthday Transgressive Records!
Lois Browne