Ebo Taylor – Live @ Rich Mix
aaamusic | On 15, Oct 2014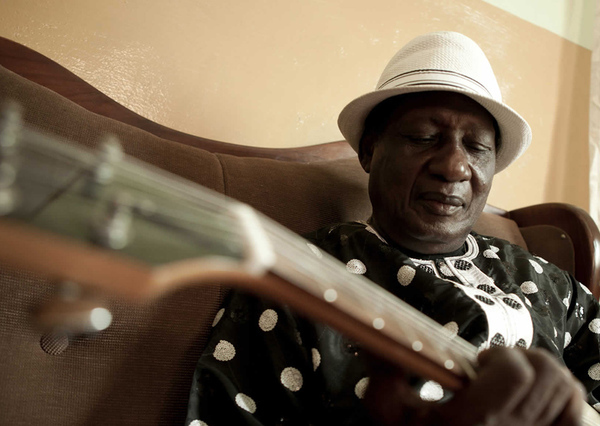 Ghanaian legend Ebo Taylor, singer songwriter, guitarist and band leader, has been well known in Ghana for six decades. He mixes traditional Ghanaian music with Afro-beat, highlife, jazz and funk and in the 1950s he was the front man to two of Ghana's biggest bands, Stargazers and the Broadway Dance Band. He's influenced by the innovator E.T. Mensah who merged West African music with American big band styles brought to Ghana during World War II.
At this Rich Mix evening the 'James Brown of Ghana' performed with his multi talented seven piece band. They create intensely focused and inventive music that has been received enthusiastically by audiences worldwide.
'Kwame' was a song of praise to Ghana's first president, Dr Kwame Nkrumah, member of the Organisation of African Unity and winner of the Lenin Peace Prize. The rhythmical Ghanaian song from the 1920s 'Yaa Amponsah' still sounded fresh and soulful, whilst the classic 'Heaven', well known for being sampled on Usher's 'She Don't Know', had a timeless charm.
The compelling and colourful 'Love and Death', first recorded in the 1980s, contained sensuous lyrics: "Brothers and sisters, lend me your ears / Listen to my story of love and death / On our wedding day she gave me a kiss / It was the kiss of death / Love and death walk hand in hand".
Ebo Taylor performs distinctive and personal music that's powerful, progressive and versatile. Since the turn of the century he's become increasingly popular with hip-hop producers internationally and this year he received a Gilles Peterson Worldwide Award for the 'Tropical Sound' genre.
Anthony Weightman