A CHAT WITH: ROAD TO HORIZON
aaamusic | On 31, Oct 2014

Road To Horizon are a five-piece metalcore band from Leeds, currently running around the UK to promote their newest EP Faultlines. Just before they got onstage at their recent date in Birmingham, AAA's Sean Shore sat down with the band and to talk about their latest release, their past and what the future holds for Road To Horizon.
Alright lads, thanks for meeting me today. First things first…even though you're only one day in, hows the tour going so far; how was your reception in Newcastle?
Yeah, it was really good; really busy. The venue was ace and we sounded good out front and everyone really seemed to enjoy it. It was a really good start to the tour and I hope it continues on like this but the sleeping arrangements were interesting with six of us in a van.
Your latest single 'Faultlines' has recently been released exclusively via Kerrang! and is available on Kerrang! TV. How was it seeing yourselves on the big screen and being released by Kerrang!?
It was pretty good because for me. I bought Kerrang! when I was a kid and every week buying Kerrang! from the newsagents was something I looked forward to. So actually getting the song onto Kerrang! TV was a massive thing for us and something that I wanted to do and its finally happened. It is amazing really and it's good exposure for us as well, so you can't go wrong.
Your EP, also titled Faultlines, came out on the 20th October. What was it like working with producer Lee Batiuk, whose also worked alongside While She Sleeps and Deaf Havana?
We've worked with Lee on EPs and singles before, so it was really easy as we already knew Lee… he's very professional and we know how good he is. Our expectations were high because of his past history with working with Deaf Havana and a few others and it turned out really well. It was really good to be working with someone of his calibre.
Staying on your the subject of your EP and it' single 'Faultlines', what were the influences?
It was a comment on society, so all the stuff going on in the world… people just walk past people on the streets and nobody seems to care…people want to hide behind their own lives so it's like a "faultline" in human nature, if that makes sense.
Thinking about the past six years since you formed as a band, what are your favourite memories of a live event you've played at?
Probably earlier this year: we played Norwich for the first time. We had been asked by fans to play Norwich for like a year or two, but we were never able to do it due to tour scheduling or venues not being available. We finally got a date there and it sold out – about 200 kids – and it was amazing for so many people to come just to see us; we didn't expect it at all. Crooked Ways Festival as well – we played there with Mallory Knox and Yashin and I got to sing with Yashin, which was awesome.
What bands would you say have influenced you?
Memphis May Fire and Bury Tomorrow would be the main ones, but there are so many, like Deaf Havana as well, especially with the clean vocals; it's where I draw my influence. Vocally and lyrically and in terms of harsh vocals, it would be Bury Tomorrow, Memphis May Fire and A Day To Remember.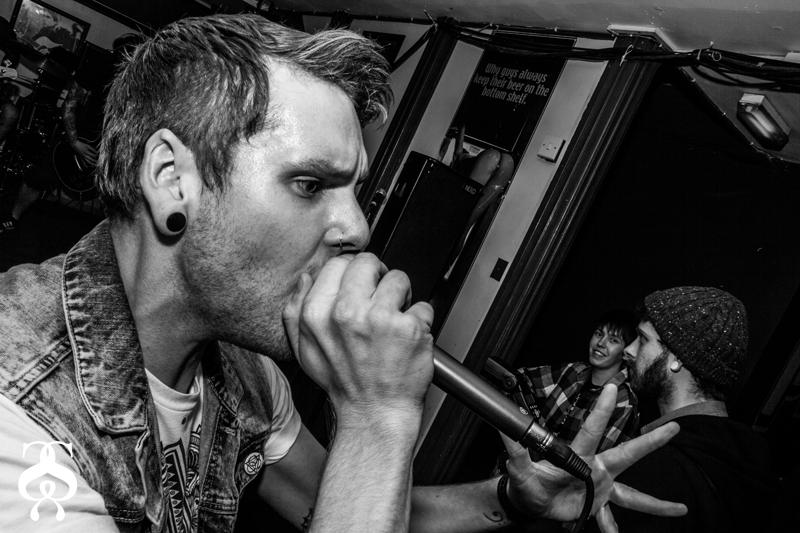 With the rise of things like Spotify, Facebook, etc, in the past few years, and because of the scope of where people can get their music from, do you think you've had to change the ways in which you've promoted yourselves since forming? If so do you think this has made it a lot harder for yourself and many other bands to succeed?
Yes definitely. Obviously Myspace was big for music and that died a death. Facebook kind of got on it but that's big for businesses and everyone is utilising the avenues from Facebook, so we're having to do a lot more back on the ground advertising. Before we sent out Facebook invites, but [because of] the amount that people now receive on a daily basis it would just pass them by, so we're going to go back to things like handing out flyers, pushing our own personal lives out – like attend more gigs and support the scene, because otherwise it's not fair for us to say it's going downhill if we aren't stood at the gigs. So we always stick around and watch the other bands and try get to as many shows as possible to get our name out there.
Spotify is good in ways , like I find a lot of bands that I wouldn't have gone out and spent my wage on and took a risk on – not like when I was younger. It pens a lot of avenues to different bands, its' easy for someone to find us. Rather than saying go on Bandcamp, everyone knows what Spotify is… and the EP is on there on Monday 20th.
Thinking about the future now, where does the future lie with Road To Horizon. What are your aspirations for yourselves as a band?
Definitely a lot more tours as we want to hit Europe next year; they've got a really good music scene out there. People genuinely go to the smaller shows there, whereas here you have to push really hard for everything and a lot of the venues are better. We're not saying anything about England, but we definitely want to take it out further afield. In regards to where we want to be in the long-term: mainly more tours and supporting bigger bands and then eventually getting on our own headline tour to bigger venues. Just to keep pushing ourselves to get out as much as possible – like over the past six years the progression we've made has been huge really in terms of how it's panned out for us, but just continue aiming higher really.
We also want to release an album, even though we've just released an EP, its only four tracks and we're eager to write some new stuff with influences from our broad scope of interests. It'd be nice to be able to break out from our usual, so we could do soft stuff. We're always saying we want to do acoustic things and messing around with electronic music to build up our set with things like that to keep it interesting.
Sean Shore