Soundcrash Announce Shigeto + Slugabed + DjRum + Anchorsong
aaamusic | On 22, Feb 2015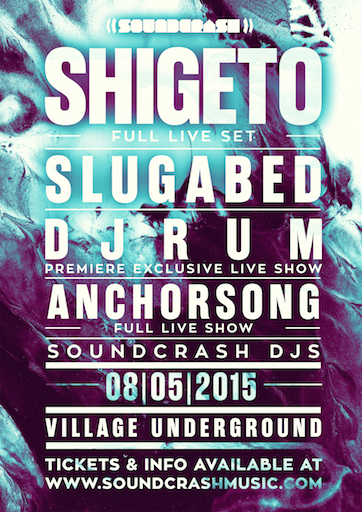 Four of the most promising and exciting musicians out there in the iconic east london warehouse, the Village Underground for one incredible all nighter of live production, fine beats and hypnotic vibes – you don't want to miss this!
We are very excited to welcome back to the Soundcrash stage Shigeto with his trippy, synth-scrambled and danceable dreamscapes. Beat-driven but given to richly textured sound design, rhythmically fractured but melodically sumptuous, Shigeto's music is a bridge between the past and present, bringing the artist face to face with a creative legacy that spans decades.
" Shigeto's performance was the most awe-inspiring because it showcased the most unique mixture of computerised production and human elements." –
Beatsperminute
Blending influences both classic and contemporary, from the outermost reaches of dubstep, hip hop and beyond, Slugabed creates music which is at once complex, deep, thoughtful and above all distinctive. It channels the energy of the best of today's bass
"Dive in and experience Slugabed's amazing imagination for yourself"
Mixmag
Dj Rum will play a really special and rare live set expect an hypnotic and deep mix of Jazz and Electronica influenced with a sprinkle of techno.
"Jaw-droppingly talented producer from London"
Mixmag
We are more than ready for what is set to be another spellbinding performance byAnchorsong. Originally from Tokyo and now based in London, Anchorsong (aka Masaaki Yoshida) has become globally recognised for his unique live shows which many people have described as "like watching a painter drawing on a white canvas".

"Anchorsong is absolute fire" 
Gilles Peterson