Tourist – Live @ Olso
aaamusic | On 18, Mar 2015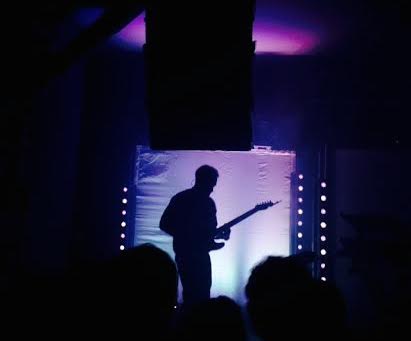 Thursday 12th March, London
With a few EPs – such as Tourist, Tonight and currently Patterns – already under his belt, Oslo plays host to Tourist, William Philips' electronic alter-ego. Not only has Philips shown his artistry as a gifted songwriter, having co-written Sam Smiths' single of 2014 'Stay With Me', he has established himself in the underground dance scene, receiving support from collective Majestic Casual and airplay from Annie Mac, as well as releasing a collection of remixes by artist such as Haim and Chvrches. This intimate show feels very overdue…
Bearcubs are the ideal duo to fill the support role for this evening's show, grasping my attention immediately with a sombre keyboard intro and subdued percussion. They produce melodious music with chilled out soulful lyrics, which are warming and romantic. Officially their first show as twosome, it is hard to believe as both members work in unison to present their computerised minimal beats, disjointed yet experimental rhythms that are guaranteed to get you moving. Closing their set with 'Paper Walls', it is an indication of their escalating progression on the horizon.
Sold out and amongst the midst of the smoky commune, the anticipation is rife as the audience waits for William Philips, the man behind Tourist to arrive on stage. With a full live band in tow, it is always a pleasure to see electronic music broadcasted with real instrumentation rather than just from a laptop; which more dance acts are beginning to realise isn't enough. Once the stage has been entered reverb sends vibrations into the air which trembles against your skin, as the bass creates tension the rise is euphoric as the electronic waves of 'Wait' ascends around room. Continuously increasing towards the climax of the song it teases you, never fully going over the edge but once it reaches approximately the four minute mark the break is worth it, as the flickering strobe lights sync in harmony with the music.
Humble and polite, Philips ensures the crowd knows how grateful he is for the turnout, thanking his fans for being present at his largest headline show yet. As well as highlighting how personal tonight's event is, with his studio just being a stone's throw away from the venue. Jerky guitar playing sets up the anodic basis of 'Trust In You', as drum claps are layered, creating a sanguine and quixotic mood. 'Stay' is beautifully executed, featuring spaced out hums, muted vocalisations and broken up drumming looped and threaded through one another creates contrast between the range in tempo. 'Illuminate' is the main highlight of the night for me as elevated levels and whirling electronica, takes over the assembly of bodies and it doesn't even seem to matter that Years And Years haven't been able to make an appearance. After a few slower tracks 'Patterns' incites clusters of the audience to erupt into dance once again, verification the funky guitars and heavy bass lines have taken control.
Tonight has been a tremendous feat evident not only from the cheering crowd, but the smile across the face of Tourist and I don't blame him. He sees the show out with a new track, which is also due out as his next single. The song contains the highest lyrical content of the evening, as a strong female voice is encased by empowering and anthemic electronica, with flecks of the ambient. You just know you are witnessing his breakthrough record, which could transport him to new heights of other electronic acts such as Disclosure. It's just a matter of time before other admirers of the dance genre catch on, because Tourist is here to make his mark.
Lois Browne