GoGo Penguin – Live @ Union Chapel
aaamusic | On 30, Mar 2015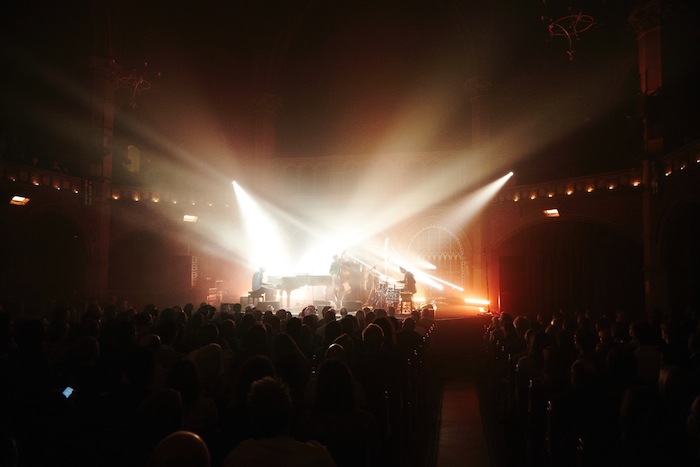 Friday 27th March, London
The stunning and critically acclaimed GoGo Penguin, from Manchester, currently comprises Chris Illingworth (piano), Nick Blacka (bass) and Rob Turner (drums). They're well known for their hurried break-beats, catchy piano melodies and strong basslines and their influences include Squarepusher, Aphex Twin, Brian Eno, Massive Attack and classical composers like Dubussy and Shostakovich.
GoGo Penguin share themes and ideas to blend jazz, rock, trip-hop, classical and electronica, with an emphasis on acoustic instrumentation. Their infectious debut album Fanfares in 2012 was followed by an intense and powerful v2.0 in 2014. This latter album, with its minimalist front cover, was named a Barclaycard Mercury Prize Album of the Year.
At this Union Chapel performance delicate 'Murmuration' grew slowly into a hot and colourful musical adventure, whilst 'One Percent' had explosive sharp twists and turns to its fast rhythm. Joyful 'Kamaloka', with scattered percussion, had great beauty and elegance and 'The Letter', recorded originally in the dark, captured a dramatic sense of mystery and restlessness.
The bustling 'To Drown In You', inventive in its simplicity, sparkled with energy whilst the chaotic and intricate 'Garden Dog BBQ' was absurd fun. Soulful encore 'Hopopono' flowed gently, taking the audience to some unknown imaginary place, warm and hypnotic.
Like the dynamic animal of the same name, GoGo Penguin are curious, independent, confident in large social gatherings and use original sounds to help identify a specific territory. They're constantly in search of fresh adventures in their barren landscape. Seriously though, if you haven't seen them live, you're likely to be impressed. They're an exciting and individual band, talented, creative and accessible.
Anthony Weightman
Check out our interview with GoGo Penguin here…