Slam Dunk 2016 – Festival Review + Photos
aaamusic | On 17, Jun 2016
Sunday 29th May, Birmingham 
Having attended past Slam Dunk Festival events, this year was a new adventure after finding the event the year prior to be, well, quite exhausting, as the site in my opinion was too spread out, but alas, this a new year, and a new experience, so on with the show…
As I stepped foot into the gigantic arena, my mind was immediately taken back to when I first attended the Give It A Name Festival, it had a similar environment from the stack of new and old bands of the now more varying dose of pop punk,  and more, to attendees adorned in their merchandise, of black, and maybe the odd colourful t-shirt, just with less back combed hair, and smeared eyeliner. The event logistically, whilst it wasn't a far cry away from my experience last year, it was somewhat easier to find yourself around. As I looked to see who was appearing first, I made my way to the main stage to catch one of best bands in the country right now (in my opinion).
Moose Blood have been on the up and up after releasing their debut record "I'll Keep You In Mind From Time to Time", which astounded fans, as their popularity exceeded even the band's expectations. They're now are on the cusp of releasing their yet to be release second record "Blush", expectations are high, but the band are ready to reach for the stars. Opening with their latest single "Honey", the band stand loud and proud, and the audience are loving it. There is something very reminiscent of Jimmy Eat World in Moose Blood, not just in the body of work, but how humble they are, it's very endearing, as the band let their music speak for itself. If this set is anything to go by, we could be seeing a future headliner in the future, mark my words.
Taking a break from the rock music, I took a walk to the acoustic stage to see what was coming from their speakers, and to my delight it was something quite nice, coming from a talented young girl Bethan Leadley. Whilst my time spent wasn't long enough to wet my appetite entirely, what I could hear was enough.
After a short rest from the rock, I took a walk to the Atlas stage where The Word Alive were about to take to the stage, well, after a delay, that seemed to drag, but when the band took to the stage there was a lot of excitement, but for this attendee, who enjoys heavy music just as much as the next, there was something quite un-interesting. Whilst my interest was perked when I heard one of their most recent offerings, "Dark Matter", after you've heard so many bands doing duel clean and screaming vocals, it's charm begins to wear off.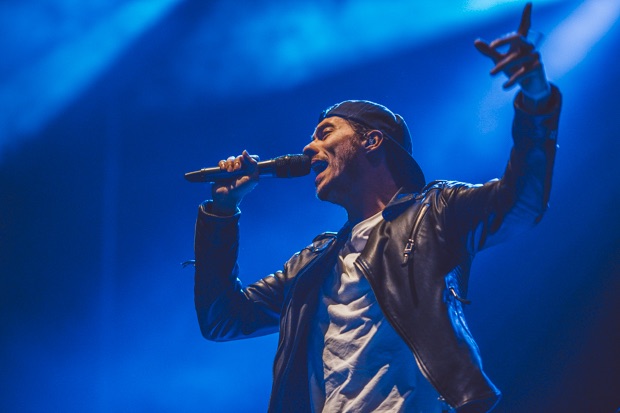 I dashed back over to the main stage just in time to catch Young Guns, who I hadn't seen in a live setting for at least 5 or so years, and in that time they have come a long way; creating a sound coming off their "Ones and Zeros" record that was huge, so my excitement to see them live was high, and I was not disappointed. Gustav, the vocalist is full of energy, never missing an opportunity to ask the crowd to use every muster of theirs. To watch an audience move and sing a long to music from a band that in many ways cross genres is impressive, and inspiring to see.
During a short break, of which I had planned to replenish myself, I stumbled upon the Kerrang Fresh Blood stage, and came across the band DEAD! Who a bit like Creeper, have been becoming a bit of an enigma if you will of the music scene, they don't necessarily fit into a genre, which makes them quite unique, to some that is. The band walked on to the stage just as the PA began to replay the words of a journalist quite literally slating the band, to which you would see this very band walking on a stage with more swagger than any hip hop artist. Angst, and pop were both in abundance, and you couldn't help but watch and enjoy it. Sure, it might not to be to everyone's taste, but I couldn't deny that I really enjoyed myself.
A short break, and Blood Youth hit the stage, who in literally a year, become a band you read and hear about constantly, from performing to crowds across the country, and in mainland Europe they have really hit the ground running, and they are definitely proving why they are mainstay in the British music scene. The crowd are loud, and lapping up every second of it, and the band loved it.
Now, as festivals go, you always without a doubt will see a band who were part of your early formative teens, who shaped what you would go on to listen to, and Yellowcard were one of those band. I remember buying "Ocean Avenue" back in 2004 from HMV after being blown away by their performance supporting Less Than Jake. Having spent many years listening to this record, learning the songs, and singing a long, this would be a moment I never wanted to forget. After a few minor stage hiccups, the band jumped right into the first track "Way Away", which kicked the crowd into full throttle. Hearing lyrics that are over a decade old, but yet sounded as refreshing today as they did back then had made my day. Even though as band quite openly admitted that some of the songs hadn't been performed live before, or at least in a long time you would think these songs were if anything as solid sounding as if they performed them every night.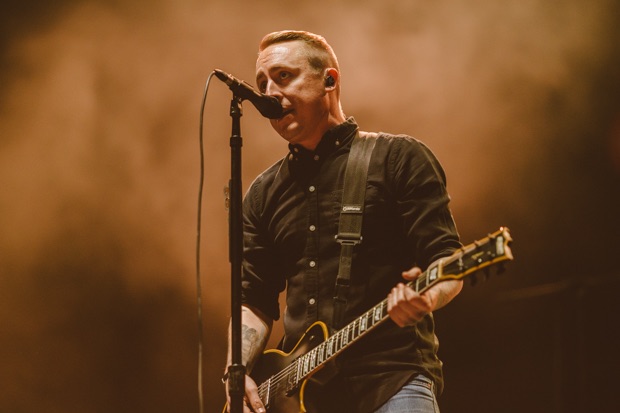 Strolling back to the acoustic stage I was very happy to see my friend Jack, who goes under the stage name Grumble Bee, a musical project that has become an evolution of his song writing. Having played a show with him some years ago, it's been fantastic to see him grow as a songwriter, and musician, and how people are beginning to gravitate towards what he's doing. I'm sure he'll go on to bigger things, watch this space.
Having seen Greywind perform on many occasions previously my excitement never wains, and every time I get to see them perform I am always blown away by Steph, the vocalist's abilities. I genuinely think this band are destined for big things, a statement you hear banded about by many people not just industry folk, but fans alike, but Greywind are different, and you only need to see them live to believe it.
Over at the Atlas stage Issues, a band that I had only recently been made aware of, so I was curious to see what I could make of this band in a live setting, and boy! They were fantastic. It was an amalgamation of pop hooks, reminiscent of Justin Timberlake thanks to Tyler Carter's wonderful vocals mixed with expertly written metal that's time signatures during my first listen I thought didn't mesh right away, but now after seeing them live it all made sense.
Back over at the main stage excitement was brewing for New Found Glory, a band that have always been a mainstay for me, but after watching them perform this time around my thoughts were challenged. Regrettably, my bias that is my growing dis-interest in pop punk may have played a part, but nevertheless, their performance was anything short of musicianship, besides that of their drummer Cyrus, whom arguably without, the band I feel would be far worse off. If anything it's largely down to Jordan's diminishing vocal ability, if any really, as he jumped up and dad running from one end of the stage to other you can maybe forgive him for some shortness of breath, but throughout his voice was giving way, and it was becoming all too apparent that they are a shell of their former shelves. This might be for better or worse to some fans consider the recent line up shift, but for this listener this performance has certainly altered my opinion of the band.
After a short break I made another journey back to the acoustic stage where Rob Lynch was performing. After having a short chat with him earlier on, reminiscing over sharing the stage together some years ago, to now where his music has taken him to new highs, all of which are well deserved. Rob is a charismatic man, putting his heart, and soul into his performance; you couldn't help but watch and admire him.
On to one most sought after acts that I had wanted to watch all day were about to appear on stage. The Starting Line, who for intensive purposes was part of a crop of pop punk that challenged the status quo of popular music, and became staples of genre, defining it, and bringing new audiences to it. As performances go, it was sublime, busting out hit after hit, particular some personal favourites, like "Making Love To The Camera, and "Are You Alone", all of which sounded as good as they did when I first heard them. The band seemed in good spirits, and as reactions go, song for song the crowd seemed to love it, even if the obvious closer "Best Of Me" gets the best reaction throughout their entire set. Just before ringing out the first notes, Kenny, the vocalist exclaims, 'the song where it all began', and this statement, whilst to some may seem ambitious, the song has been a testament to why pop punk has remained a mainstay, and why in big way, this very festival exists.
Between the rock, and the downtime, having an acoustic stage to enjoy something a bit lighter on the ears was god send, especially having someone as talented as Bryce Avary to supplement our ears with his sweet melodies and uplifting spirit which came in the form of old and new tracks, some which Bryce had decided on, other's chosen by the audience which he so graciously gave them the choice to decide. When watching Bryce his aurora is infectious, and has everyone smiling, just the way it should be.
Last, and by no means least I made the decision to watch The Story So Far over Panic! A decision I was happy with, having never cared too much for the latter, instead the lure of hearing songs about why breakup suck seemed somewhat more appealing this occasion. The band were on top form, even if this attendee could have done with a slight variation on the set list, each song hit the spot, including massive sing a longs, not least of all from particular crowd favourites from their debut "Under Soil and Dirt". Ending with their encore, "Mt. Diablo", watching everyone give it their all brought the day to a rousing end on a high.
Joe Sheridan