21 Albums For The 21st Century
aaamusic | On 23, Dec 2020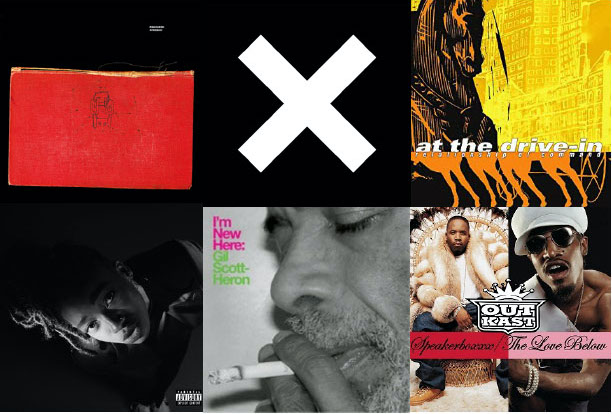 With 2021 around the corner, we felt it was apt to take a moment and reflect on some of the incredible bodies of work produced since the turn of the millennium. Consider this a timely update of our 15 Best Albums of the Last 15 Years feature from back at the end of 2015.
Incidentally, this year has also marked 15 years since the inception of our beloved little music website – that's right, AAA Music was launched back in 2005 – and although this year hasn't exactly been one for celebrating, we'd like to take this opportunity to thank all of our readers for their continued support, and all of the artists we've featured for their collaboration and endorsement. For many, music has been there to guide us through the turbulence of this year, this decade, this century, and it is the music that keeps us moving forward here at AAA Music. So with that, let's join our very own George Prince as he recounts the 21 Albums for the 21st Century…
At The Drive In – Relationship Of Command (2000)
Combining surging power with mind scrambling complexity, Relationship Of Command is a breathless barrage, growing in intensity with every track. There is a frantic desperation to this album, a sense that it needed to be made and that At The Drive In poured every piece of themselves into finally unleashing it onto an unsuspecting world. Magnificent.
Benjamin Clementine – At Least For Now (2015)
It's clear that Benjamin Clementine is a unique talent from the moment he begins to sing on his debut album. His rich voice, evoking memories of Nina Simone, leads an unpredictable line, whilst his song structures never cease to surprise. Such a bold statement from an artist who appears to burst with creativity.
Dillinger Four – Versus God (2000)
Taking fast, heavy, hardcore punk rock and thrashing it into something complex and completely absorbing is a rare skill, and one which Dillinger Four continue to pioneer on their second LP. Call and response vocals, switching shades of light and dark, socially conscious lyrics and drinking songs. Perfect.
Eliza Carthy – Big Machine (2017)
One of the finest voices in music, Eliza Carthy mustered a sensational band of no fewer than eleven musicians for this titanic album. Despite the size of the ensemble, the detail of their exquisite playing stands out, and Carthy's rich voice is carried to even greater heights by the superb musicianship of her band.
Fleet Foxes – Fleet Foxes (2008)
Sun soaked harmonies and pastoral joy are at the heart of Fleet Foxes' glorious debut. Soaring high above rolling landscapes, and evoking images of harvest festivals, it's impossible not to smile and to reflect their happy glow.
Gil Scott-Heron – I'm New Here (2010)
Heron's smoky voiced wisdom has never sounded more poignant as he speaks of a life all but shattered by tragedy and addiction. Despite the brooding production underlining his tales of loss, the message is one of hope: that a man can fall, yet return to create a piece of art that ranks amongst the finest in a remarkable career.
Janelle Monae – The Arch Android (2010)
A high camp concept album packed with everything from orchestral suites, to funk, to garage rock. It could so easily have been absurd, but instead it's brilliant and amidst the swirling instrumentals and spoken word tracks there are a number of bona-fide anthems.
Little Simz – Grey Area (2019)
Little Simz flies out into the ring on her third album, her lyrics carrying the might of a heavy-weight, balanced beautifully with candid confession and statements of vulnerability. Producer Inflo has created a varied palette, with acoustic backing tracks blending seamlessly with samples and no two songs sounding the same. The variety only adds to the excitement and power of the narrative.
Mbongwa Star – From Kinshasa (2015)
Coco Ngambali and Théo Ntsituvuidi emerged from the sensation that was Staff Benda Billi with a very different project. Mbongwa Star take the traditional rhythms of their home in DR Congo, and blend them with the contemporary beats of 21st century Kinshasa. Pulsating, intense and rippling with energy, this is a record hotwired with the energy of contemporary Africa.
Nadine Shah – Kitchen Sink (2020)
Cementing her place as one of the great songwriters of our time, Nadine Shah rises to new heights on Kitchen Sink. Injustice, inequality and those who profit from them are her targets, and with every perfectly observed lyric she sends them sprawling. Her voice is full of the strength and pride of her native north east of England, an underlying sense of humour only adds to the power of her serious message.
Nitin Sawhney – Onezero (2013)
Seamlessly blending traditions and styles from across the globe, Nitin Sawhney brings together an ensemble of remarkable talents: blissful instrumentals and soaring, intertwined vocals. The result is an album that transports the listener to a land that exists beyond borders, where music is the common language. And it is paradise.
NOFX – Wolves In Wolves' Clothing (2006)
Despite a successful career stretching back into the 80s, NOFX are still fuelled by a rage at the hypocrisy of an unjust world. Fat Mike has lost none of his ability to deliver staggeringly good lyrics, fitting perfectly into the complex melodies that make this band so exceptional. They've still got it.
Outkast – Speakerboxxx/The Love Below (2003)
Big Boi & Andre 3000 took a disc each on Outkast's double album and came up with two very different records. Big Boi's Speakerboxxx is a fresh, super cool piece of modern hip hop, whilst Andre 3000's The Love Below is a funked up pop epic of which Prince would have been proud.
Radiohead – Amnesiac (2001)
With every record, Radiohead somehow manage to redefine not only their own sound, but that of all contemporary music. On Amnesiac, they continue their electronic development with tracks that pick you up as violently as they knock you down. Thom Yorke's vocals are an island of unlikely beauty in a swirling sea of colour and intrigue.
Sam Lee – Old Wow (2020)
Sam Lee's rich voice is soaked in the history and the spirit of the wildnerness that he loves, and on his third LP he sounds more confident than ever. A rallying cry to save fast disappearing wildlife and their habits, Old Wow possesses a unique beauty which makes its stark message all the more powerful.
The Future Kings Of England – The Fate Of Old Mother Orvis (2007)
Tapping into the dense mythology of their home county of Suffolk, The Future Kings Of England's soundscapes capture the mysticism of a long lost age. Magic permeates the driving psychedelia, yet cannot outrun the looming sense of dread that builds to a bloody climax on the album's epic title track.
The Prodigy – Invaders Must Die (2009)
Kicking its way out of the speakers, Invaders Must Die is a hard as nails record, yet Liam Howlett has not lost his eye for a euphoric drop, built around perfectly selected samples. A bare knuckle reminder that The Prodigy have always been the mightiest electronic outfit out there.
The Streets – Original Pirate Material (2002)
Effortlessly reflecting the detail of day-to-day life, Mike Skinner's debut album as The Streets is a snap shot of a moment of youth. The euphoria of nights out with friends, the misery of lost love and loneliness, it's all here, with lyrics that dovetail with flawless production to give a spine tingling sense of excitement each time another of our deepest emotions is perfectly captured.
The Sword – Age Of Winters (2006)
The fuzz soaked march of album opener 'Celestial Crown' is an ear bleeding declaration of intent: The Sword has arrived, and they are unapologetically heavy. The riffs thrash with a wild intensity, and this album rocks with serious swagger, a hardened warrior striding fearlessly into Valhalla.
The xx – xx (2009)
Sparse and haunting, the debut album from The xx creates a space for beautiful inter-play between vocalists Romy Madley Croft and Oliver Slim. Subtle beats and a minimalist score support them to stunning effect.
The War On Drugs – Lost In The Dream (2014)
Scorching a glorious path of driving guitars, Lost In The Dream takes off and delivers a startling reminder that rock is alive and very, very well. There's no end of twists and turns and plenty of sublime details to savour. Superb.
George Prince