AAA PICKS: 15 Best Albums Of The Last 15 years
aaamusic | On 08, Jan 2016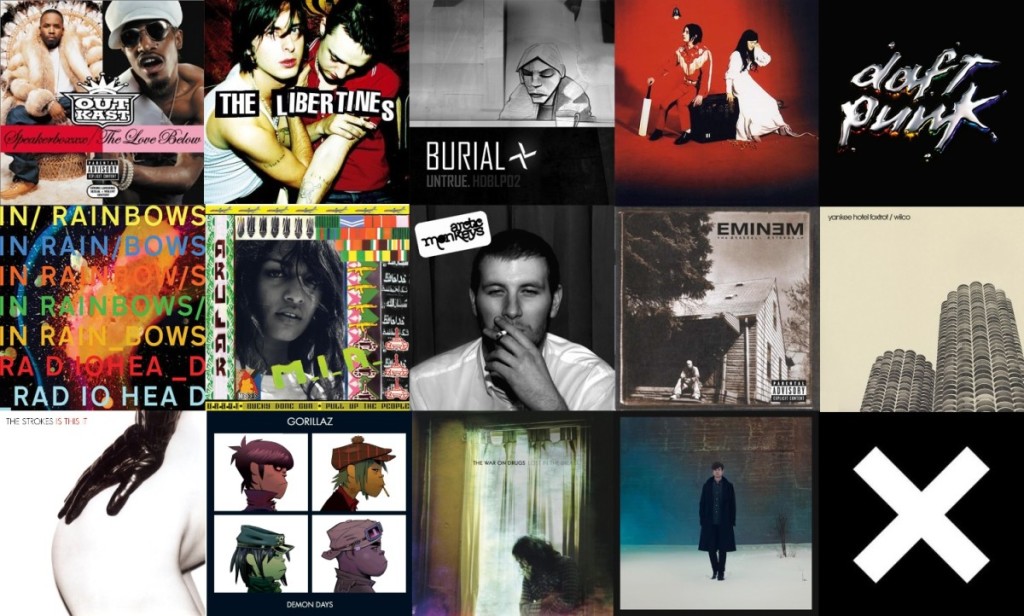 Lists. You love lists. We love lists. And since there definitely haven't been enough lists and you definitely aren't sick of reading lists, we figured we would make you a list. We're now 15 years into the 21st century, so we thought this was a good time to make a kind of special end-of-year feature about the best albums of the century so far…
To make it extra special, and totally intentionally (and not because Christmas got in the way), we decided to delay the feature until the start of this new year rather than publishing at the end of last year, like all those other end-of-year lists you've already read…and we also decided to totally intentionally include albums from the year 2000, even though that's not even technically in the 21st century (it's actually the final year of the 20th century, which we totally knew before starting this feature). Please join AAA Music's George, Lois, Ciaran, Marco, Janey and Craig as they each count down what they consider to be the 15 Best Albums Of The Last 16 years (because obviously the year 2000 isn't actually within the last 15 years. Which we also totally knew from the start, when naming this feature). The albums are listed in chronological order, FYI. Expect lots of Radiohead. Note to Editor: learn simple arithmetic!
George Prince's Picks
1) At The Drive In – Relationship Of Command (2000)
Combining surging power with mind scrambling complexity, Relationship Of Command is a breathless barrage, growing in intensity with every track. There is a frantic desperation to this album, a sense that it needed to be made and that At The Drive In poured every piece of themselves into finally unleashing it onto an unsuspecting world. Magnificent.
2) Dillinger Four – Versus God (2000)
Taking fast, heavy, hardcore punk rock and thrashing it into something complex and completely absorbing is a rare skill, and one which Dillinger Four continue to pioneer on their second LP. Call and response vocals, switching shades of light and dark, socially conscious lyrics and drinking songs. Perfect.
3) Radiohead – Amnesiac (2001)
With every record, Radiohead somehow manage to redefine not only their only sound, but that of all contemporary music. On Amnesiac, they continue their electronic development with tracks that pick you up as violently as they knock you down. Thom Yorke's vocals are an island of unlikely beauty in a swirling sea of colour and intrigue.
4) The Streets – Original Pirate Material (2002)
Effortlessly reflecting the detail of day-to-day life, Mike Skinner's debut album as The Streets is a snap shot of a moment of youth. The euphoria of nights out with friends, the misery of lost love and loneliness, it's all here, with lyrics that dovetail with flawless production to give a spine tingling sense of excitement each time another of our deepest emotions is perfectly captured.
5) Outkast – Speakerboxxx/The Love Below (2003)
Big Boi & Andre 3000 took a disc each on Outkast's double album and came up with two very different records. Big Boi's Speakerboxxx is a fresh, super cool piece of modern hip hop, whilst Andre 3000's The Love Below is a funked up pop epic of which Prince would have been proud.
6) NOFX – Wolves In Wolves' Clothing (2006)
Despite a successful career stretching back into the 80s, NOFX are still fueled by a rage at the hypocrisy of an unjust world. Fat Mike has lost none of his ability to deliver staggeringly good lyrics, fitting perfectly into the complex melodies that make this band so exceptional. They've still got it.
7) The Sword – Age Of Winters (2006)
The fuzz soaked march of album opener 'Celestial Crown' is an ear bleeding declaration of intent: The Sword have arrived, and they are unapologetically heavy. The riffs thrash with a wild intensity, yet this album rocks with serious swagger, a hardened warrior striding fearlessly into the unknown.
8) The Future Kings Of England – The Fate Of Old Mother Orvis (2007)
Tapping into the dense mythology of their home county of Suffolk, The Future Kings Of England's soundscapes capture the mysticism of a long lost age. Magic permeates the driving psychedelia, yet cannot outrun the looming sense of dread that builds to a bloody climax.
9) Fleet Foxes – Fleet Foxes (2008)
Sun soaked harmonies and pastoral joy are at the heart of Fleet Foxes' glorious debut. Soaring high above rolling landscapes, and evoking images of harvest festivals, it's impossible not to smile and to reflect their happy glow.
10) The xx – xx (2009)
Sparse and haunting, the debut album from The xx creates a space for beautiful inter-play between vocalists Romy Madley Croft and Oliver Slim. Subtle beats and a minimalist score support them to stunning effect.
11) The Prodigy – Invaders Must Die (2009)
Kicking its way out of your speakers, Invaders Must Die is a hard as nails record, yet Liam Howlett has not lost his eye for a euphoric drop, built around perfectly selected samples. A bare knuckle reminder that The Prodigy are still the mightiest electronic outfit out there.
12) Janelle Monae – The Arch Android (2010)
A high camp concept album packed with everything from orchestral suites to funk to garage rock. It could so easily have been absurd, but instead it's brilliant and amidst the surreal instrumentals there are a number of bona-fide anthems.
13) Gil Scott-Heron – I'm Here Now (2010)
Heron's smoky voiced wisdom has never sounded more poignant as he speaks of a life all but shattered by tragedy and addiction. Despite the brooding production underlining his tales of loss, the message is one of hope: that a man can fall, yet return to create a piece of art that ranks amongst the finest in a remarkable career.
14) The War On Drugs – Lost In The Dream (2014)
Scorching a glorious path of driving guitars, Lost In The Dream takes off and delivers a startling reminder that rock is alive and very, very well. There's no end of twists and turns and plenty of sublime details to savour. Superb.
15) Benjamin Clementine – At Least For Now (2015)
It's clear that Benjamin Clementine is a unique talent from the moment he begins to sing on his debut album. His rich voice, evoking memories of Nina Simone, leads an unpredictable line, whilst his song structures never cease to surprise. Such a bold statement from an artist who appears to burst with creativity.
Lois Browne's Picks
1) The Strokes – Is This It? (2001)
The epitome of cool, Julian Casablancas, Albert Hammond, Jr., Fabrizio Moretti, Nick Valensi and Nikolai Fraiture breathed an air of vitality into the indie scene, whilst proving that guitar led music was not dead.
2) N*E*R*D – In Search Of… (2002)
Truly defying genre boundaries Pharrell and co. brought together massive hip hop rhythms and intertwined rock melodies, to create a unique and defined sound, we would later come to associate with the Neptunes.
3) My Chemical Romance – Three Cheers For Sweet Revenge (2004)
Sailing the ship for the Emo sub-culture in the early 2000s, Three Cheers…offered up a plate of angst and was a fall back for a generation of the misunderstood and uniformed rebels.
4) Kings Of Leon – Aha Shake Heartbreak (2004)
Crammed with hit songs such as 'The Bucket', 'Four Kicks' and 'King of the Rodeo', which were all released as singles in the UK, demonstrated their strength of Southern rock, The Followill brothers (and cousin) still had long hair and moustaches too.
5) Arctic Monkeys – Whatever People Say I Am, That's What I'm Not (2006)
Sheffield "The Steel City" presented us to an awkward teenage quartet, who were raw and blunt. Yet were able to encompass the lyrical prowess, which has now catapulted the Monkeys to become one of the most established British bands.
6) M.I.A. – Kala (2007)
A mash-up of dance, world and hip hop M.I.A's, Kala was an anomaly in itself, but was refreshing and showed artistic growth from Arular (2005). Not forgetting lastly to mention the crisp production, courtesy of Diplo.
7) Klaxons – Myths of the Near Future (2007)
Nu-rave madness saw all things shiny and neon, become fashion staples and this was sound-tracked by Klaxons' debut which featured offensively loud glitches, electronic whirs, synths and synchronised screams.
8) Friendly Fires – Friendly Fires (2008)
The self-titled LP witnessed the trio consisting of: Ed Macfarlene, Edd Gibson and Jack Savidge putting their own stamp on disco and funk music and eventually led them to a nomination for the 2009 Mercury Prize.
9) Vampire Weekend – Vampire Weekend (2008)
The preppy New Yorkers used African influences and produced a record full of joy and pep and delivered us with 'A-Punk', one of the biggest floor-fillers of the year.
10) The xx – xx (2009)
Breaking ground, The xx stripped back music and introduced minimalism to a mass audience, as their songs of purity and innocence drove them out of the shadows into the light hesitantly.
11) Foals – Total Life Forever (2010)
Succeeding the expectations of those who only saw them as a math rock outfit, Total Life Forever opened the flood gates showcasing the group's talent to craft expressive records full of tension and sentiment.
12) Frank Ocean – Channel Orange (2012)
As one of the more silent background members in the Odd Future collective, Ocean's album captured us all with songs of the lovelorn and epic proportions and included features from Tyler, the Creator and Andre 3000.
13) James Blake – Overgrown (2013)
Poignant, moving and emotive are all descriptions that can all sit comfortably under Blake's second album. Overgrown's sincere tone presented us with one of his most sublime works to date.
14) Disclosure – Settle (2013)
The brothers not only shook up the dance scene, with their enigmatic and chart-topping songs but also demonstrated that house music need not be boring either. As they brought their live shows to crowds in the UK and internationally.
15) Slaves – Are You Satisfied? (2015)
Isaac Holman and Laurie Vincent cemented again this year why duos are badass. Their ability to write humorous songs about fearing the bigfoot in the forest ('Where's Your Car Debbie?') ranging to the gritty riotous proportions of tracks such as 'The Hunter', confirms punk is still alive and well.
Ciaran Steward's Picks
1) Gorillaz – Gorillaz (2001)
The start of a new millennium, kicking off with something very different indeed. Hard to believe that Albarn and co brought us 'Clint Eastwood' a whopping great 14 years ago and it hasn't aged a day since, thanks in no small part to Del the Funky Homosapien. Also, the Soulchild edit of 19-2000 that appears on the bonus edition is a catchy little blighter.
2) Red Hot Chili Peppers – By The Way (2002)
If you're not into their earlier, funkier side of things then this surely has to be RHCP's best album. While you've got classics such as 'By The Way' and 'Can't Stop' leading the line, the album's glory is made by the top quality tracks towards the end – in particular the beautiful closer Venice Queen.
3) The White Stripes – Elephant (2003)
While 'Seven Nation Army' still echoes around football stadiums worldwide, the real gem is the Dusty Springfield cover that really opened my eyes to Jack White's ability to turn whatever he touched to musical gold. Pretty sure they were also claiming to be brother and sister back at this time. That must have been weird…
4) Franz Ferdinand – Franz Ferdinand (2004)
11 years on and this lot remain one of my favourite bands with their jaunty riffs and Scottish sarcasm. FFS has been a revelation in itself but back when it began there was no better start to an album than hearing about a 17-year-old called Jacqueline. Oh, it's SO much better on holiday.
5) Maximo Park – A Certain Trigger (2005)
Paul Smith is still one of the nicest people I've ever met and his distinctive voice shines through brightest on the classic belter 'Apply Some Pressure'. The demo-esque feel of Limassol is also a highlight, along with the rapid-firing 'The Night I Lost My Head' which doesn't take long at all to dig its heels in.
6) Arctic Monkeys – Whatever People Say I Am, That's What I'm Not (2006)
I was 14, this album came out and was the best thing an indie kid could have asked for. It signalled the birth of every kid in Essex trying to sing in a Northern twang. Thankfully that didn't last, but the album did and is surely the most influential indie, guitar-led album of the century so far.
7) Radiohead – In Rainbows (2007)
Despite trying so hard to resist (and nearly turning to the excellent collaboration from Robert Plant and Alison Krauss), there's nothing from 2007 that quite compares to one of Thom Yorke and co's finest. Utterly irresistible.
8) The Last Shadow Puppets – The Age of the Understatement (2008)
Two musical masterminds combining – Liverpool and Sheffield coming together to make something that's far more than just an indie album. This album was just so perfectly constructed with no song outstaying its welcome and each of them filling my heart with faith in indie.
9) The xx – xx (2009)
This album did just so much for the lo-fi indie sound, plus Jamie xx hasn't exactly dropped the cracking nature of his output ever since. What a wonderfully coherent album that, unsurprisingly, won so many awards at the time.
10) Arcade Fire – The Suburbs (2010)
My personal favourite Arcade Fire album – the disenchantment with humanity and the running theme of the album have always struck a perfect chord for me. Remember when they did that thing where you type in where you live for the 'We Used To Wait' video and it used Google Maps? Technology, mate. Technology.
11) Tune-Yards – whokill (2011)
Merrill Garbus has one of the most wonderfully weird musical brains in the world and the raw energy present on her second album shows the talent of someone who simply doesn't think like the rest of us. She's streets ahead.
12) Django Django – Django Django (2012)
More off-kilter goodness as psych-indie combines with electronic mastery, pumping spots of bass and a homemade feel that immediately brought the Djangos closer to home. This was the start of something rather brilliant indeed.
13) The National – Trouble Will Find Me (2013)
Ignoring the mega-hits of AM and RAM, The National really hit their stride with this selection of corkers as 'Graceless' showed off just how insanely talented they are. What a voice. What an album.
14) The War On Drugs – Lost In The Dream (2014)
Picking up the psychedelic vibe almost half a century too late, the immense power of a slow-burner is taken to the extremes here as the band brought old and new together in a way that was both calming yet incredibly stimulating.
15) Hot Chip – Why Make Sense? (2015)
For me, this is Hot Chip finest hour and the album isn't short of an infectious tune. They're very much still at their peak as Alexis Taylor's inimitable voice reigns supreme while the electro-indie five-piece put together what is quite possibly the most 'live' sounding electronic studio album ever. Pure aural bliss from beginning to end.
Marco Canepari's Picks
1) Radiohead – Kid A (2000)
The most fitting music introduction to the XXI century. Sharp, airy and mercurial, Kid A showed the path to experimental rock.
2) Amadou & Mariam – Tje Ni Mousso (2000)
Not their most successful work, but the most representative. Tje Ni Mousso is the proof that West African sound is still an enlightened work in progress embracing all kind of foreign influences and bearing an invaluable music heritage.
3) Tinariwen – Radio Tisdas Sessions (2001)
Like an oasis in the desert, Radio Tisdas Sessionsis was an inspiring sanctuary for blues. It was an ode to the guitar in its rawest, instinctive and otherworldly expressions.
4) Outkast – Stankonia (2001)
The so-called black music found its compendium in this album, which also represented a standard for all the following Afro-American oriented releases.
5) Björk – Vespertine (2001)
One of Bjork's best albums is inevitably one of the best of the century so far. The Icelandic artist wears intimate and whispered clothes and explores wrinkles and folds of her soul.
6) Wilco – Yankee Foxtrot Hotel (2002)
Country music never sound so alternative, introspective and refined.
7) The Streets – A Grand Don't Come for Free (2004)
A day in the life of a geezer. Mike Skinner has always been a natural: he just had to sing and play his everyday life (which he has in common with millions of people) to produce a classic.
8) M.I.A. – Arular (2005)
Arular is the result of centuries of migrations, diasporas and national identities constructions, which is also a reflection of modern England.
9) Boris – Akuma No Uta (2005)
Boris can crush and lull you at the same time, they are able to torment and caress your ears at their willing. Drone, ambient, psychedelia, punk, blues and metal all together to create a distorted augmented music reality.
10) Ali Farka Touré – Savane (2006)
Savane is simply the testament of one of the greatest musicians. Some of the best blues you can listen to.
11) LCD Soundsystem – Sound of Silver (2007)
That's what 2000s Western dance music was and still is about.
12) Burial – Untrue (2007)
Burial detected and decoded the voice of the contemporary city.
13) TV On the Radio – Dear Science (2008)
Dear Science is about the sublime songwriting of its authors. It is the most accessible and positive album of TOTR and proves that pop-rock can be utterly imaginative and inspiring when there's some composing skills involved.
14) PJ Harvey – Let England Shake (2011)
They said that concept albums were outdated… PJ Harvey decided to revive and update the term destructuring, interpreting and rebuilding the war theme.
15) Criolo – Convoque Seu Buda (2014)
No music style can resume the contemporary state of affair of a country like rap and Brazilian rap is no exception. If you want to understand how the South American country works today, you can't do it without listening to its most expressive MC and its most eclectic album.
Janey Stride's Picks
1) Eminem – The Marshall Mathers LP (2000)
Just making the time period, this 2000 hit was Eminem's third album release. This list wouldn't be complete without an Eminem album and this is one his very best. The album won the Grammy for Best Rap Album and (until beaten by Adele) was the fastest-selling studio album in American music history.
2) Daft Punk – Discovery (2001)
Discovery is the second studio album from the French house duo. This album is weird and wonderful and has influenced many electronic artists since its release. Perfectly produced, this 80s influenced concept album is timeless.
3) The Libertines – The Libertines (2004)
Lyrically, this is my favourite album of the last 15 years. Pete Doherty is a poetic genius. The lyrics are raw and the music imperfect and (at times) messy. The album's flaws make it all the more of a wonderfully unique creation.
4) Kanye West – College Dropout (2004)
This has to be one of the best debut albums in existence. Kanye shook Hip-Hop up, lyrically turning his back on common-place topics prevalent in the genre. The normality of themes takes nothing away from their genius. The production is also top-notch, (as is the impressive line-up, featuring the likes of Jay-Z, Common, Twista and Talib Kweli).
5) Arcade Fire – Funeral (2004)
Another powerful debut: Arcade Fire's Grammy-nominated Funeral. This album is so euphoric. Powerful, hearty 'Wake Up' is my highlight and begs to be heard live.
6) Amy Winehouse – Back To Black (2006)
To the old-school music snobs who complain that music of-late ain't what it used to be: Back To Black. This album is a masterpiece; so much soul and evident pain, woven through perfectly produced tracks.
7) The Killers – Sam's Town (2006)
What were the last 15 years in music without The Killers? The Killers know how to create an atmosphere. Their songs build and build and explode into the most anthemic choruses. My favourite track on the album: When You Were Young has one of the most beautiful accompanying videos.
8) Radiohead – In Rainbows (2007)
Radiohead's seventh release is a beauty and was famously released by asking the customer to pay what they wanted. There's a feeling of grandeur in several of the slower songs and a clear electronic influence in the more upbeat tracks. Yorke's vocals are alluring, as ever.
9) Kanye West – 808s and Heartache (2008)
Arguably excessive… but I think Kanye warrants two albums in this list. This album is incredible, and the enormous evolution of his style from the College Dropout era is fascinating. Kanye makes auto-tune classy, an art. The tracks were constructed using a classic Roland TR-808 drum machine and the results are bloody great.
10) Taylor Swift – Speak Now (2010)
Taylor, whilst she was still residing in the Country genre. This album is timeless. Lyrically and (arguably) musically it's not overly complex, but its brilliance is in how relatable and listenable it is, whilst being so.
11) Kendrick Lamar – Good Kid, m.A.A.d City (2012)
A modern, rap classic and an album for every occasion. Like Kanye's College Dropout, it took its genre into a new era. Dr Dre's protégé is a flawless lyricist and the album is full of tracks that hold their own.
12) Chvrches – The Bones Of What You Believe (2013)
Masters of synth-pop, this album proves that just because your music is particularly poppy doesn't mean your music is simple. Chvrches have everything a great rock band has, in terms of musicality, but also the ability to write earworm pop hooks and brilliant lyrics. My favourite track is Under The Tide; it takes the album to another level and is something else in a live setting.
13) Foals – Holy Fire (2013)
Pure and simple: great indie. This album takes you everywhere between utter calm and absolute mania. Highlights for me include Inhaler and Late Night.
14) Beck – Morning Phase (2014)
2015 Grammy Album Of The Year winner, this album is my perfect weekend listen. Beck's 9th studio album transports you somewhere so chilled and out of the hectic everyday. Its mystical and musically sophisticated.
15) The War On Drugs – Lost In The Dream (2014)
Perfect Americana. I don't think this album is comparable to any other rock album within the last 15 years. It's so easy to get lost within this ethereal dreaminess.
Craig Doporto's Picks
1) Radiohead – Kid A (2000)
Dropping on the first year of this century, it can still be convincingly argued that the world would be a very different place without this album; not only did it mark an important turn in Radiohead's career that would set them up for future actions that would kick off significant developments in the music industry world-wide, but went on to influence musicians, songwriters and producers from almost every genre out there.
2) Outkast – Stankonia (2000)
Stankonia is a sensual, humorous witty, energetic experience that brings forth many ideas into a lengthy yet coherent LP with heaps of character. It is the southern flavour of hip hop at its peak.
3) Daft Punk – Discovery (2001)
A game changing album that can be pointed to as the main reason Daft Punk get held in such a high regard. Somehow they managed to make the most polished electronic music sound soulful and alive for the entire run time.
4) Björk – Vespertine (2001)
Vespertine is pure bliss and manages to sound enchanting no matter what speakers you use to play it.
5) The Mars Volta – De-Loused in the Comatorium (2003)
This album was innovative and everywhere at once. The pure excitement of the buzzing arrangements still manges to get this writer excited every time I give it a listen.
6) Animal Collective – Sung Tongs (2004)
There aren't many albums out there packed with the creativity and playfulness Panda Bear and Avery put into Sung Tongs while bearing an atmosphere this wonderful, wistful and dense.
7) Madvillain – Madvillainy (2004)
What a beautiful coming together of MC and producer. Never have two travelling lone wolfs completed each other with such immense creativity and flair as with Madlib and the Supervillain.
8) Gorillaz – Demon Days (2005)
The dark pop style of Gorillaz goes down with flying colours. Albarn has proven himself an expert at weaving eclectic influences and a mass of musicians (including a choir and Danger Mouse) into a wonderfully cohesive work.
9) Deerhunter – Microcastle (2008)
Superb songs with a charming arrangement fill Microcastle with a timeless brilliance. This entry could have easily been Halcyon Digest, but Micro features the song "Nothing Ever Happened" so we have a clear winner there.
10) Flying Lotus – Cosmogramma (2010)
Even when constructing the most cosmically dusty and smooth movements that expand on everything we though futuristic production could be, Flylo doesn't hold back from an explosively deranged opening four tracks to kick off one of the most inspiring and influential pieces of work to come out in electronic music this century.
11) Tame Impala – Innerspeaker (2010)
Lonerism would be the obvious choice for many people however it never brought the same sense of occupying another more surreal world in which more mystical things could occur at any moment. There is a more poignant beauty to it. Something that the themes of Lonerism aim for but don't quite nail in the same way.
12) Ariel Pink's Haunted Graffiti – Before Today (2010)
No one does what Ariel does quite like Ariel and this album is a testament to that. Nuff said.
13) Death Grips – The Money Store (2012)
This album chews you up on initial listens. Despite this, there is so much that brings one back for more until the true brilliance of it becomes abundantly clear. I personally had a lot of trouble choosing between this and Exmilitary but the latter is technically a mix-tape, so there you have it.
14) Kendrick Lamar – To Pimp A Butterfly (2015)
A most splendid cast of characters come together to create some of the most potently influenced and perfectly executed albums of the century to back up the very conscious and engaging words and performance supplied by Kendrick.
This is a personal favourite. There is some genius to Lapalux. This album shows just how honed his talent and vision has become. I'm almost a little convinced that he might be the unsung best producer out there right now.
Thanks to the AAA team for pulling this all together. Happy New Year!