Glenn Hughes announces autumn UK tour
aaamusic | On 22, Jul 2010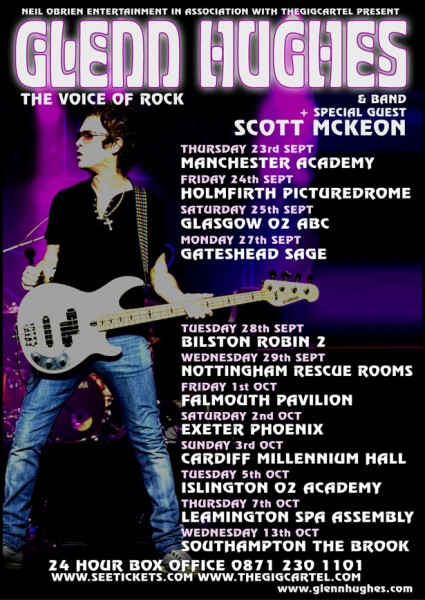 Iconic vocalist and bass guitarist, GLENN HUGHES, known to millions of hard rock fans as the undisputed "Voice of Rock" will embark on a 15-date UK tour in September.  Formerly the lead singer and bassist of Trapeze, Deep Purple and Black Sabbath, and the forthcoming hotly tipped rock supergroup Black Country Communion, Hughes blistering near-on two hour live extravaganza will consist of an unforgettable career retrospective.
"I'm proud of my heritage, and the UK fans have always been the most supportive and receptive to me and my music," says Hughes.  "I'm thrilled to embark on what's possibly the most extensive UK solo tour of my career. I've just made an album that I am extremely proud of with Black Country Communion, and until that band goes out on the road, I'm channeling all the power and energy from the BCC experience, into these dates. I'm a lean, mean rock machine."
Fans can expect a diverse selection of classicsongs from Trapeze, Deep Purple, Hughes Thrall and Glenn's solo albums, with an emphasis on performing some new, interesting selections, including some that have rarely/never been played live before.
A complete set list has not been determined as yet, but some songs have been decided upon, and they will really set the tongues wagging, feet stomping and bodies groovin'.
Hughes is known for his distinctive style that effortlessly blends the finest elements of hard rock, soul and funk. He's worked with everyone from Black Sabbath's Tony Iommi, the KLF, members of the Red Hot Chili Peppers and more recently with Jason Bonham and Joe Bonamassa for his new rock supergoup Black Country Communion.
He is hailed by millions as one of the last of the truly great British classic rock vocalists of all time. So much so, in fact, that Glenn has been asked to sing with Heaven and Hell at the High Voltage festival in London on Saturday July 24th, in a tribute to their front man, the late, great Ronnie James Dio. Lifelong friends, Ronnie often cited Glenn as his favourite male singer, so it is only fitting that the Voice of Rock will be singing in honour of the Voice of Metal.
In keeping with the tradition of the classic British hard rock vibe that he has focused on with Black Country Communion, Glenn's new solo touring band has a harder, more direct rock approach than previous incarnations.  The upcoming solo tour promises to be an exciting and powerful showcase for the Voice of Rock.
GLENN HUGHES
NATIONAL AUTUMN 2010 UK TOUR
24 HOUR BOX OFFICE: 0871 230 1101
Thursday 23rd September
Manchester Academy 3
Tickets: £20.00 / Box Office: 0871 230 1101
www.manchesteracademy.net
325 Oxford Road, Manchester M13 9PG
Friday 24th September
Holmfirth Picturedrome
Tickets: £20.00 / Box Office: 0871 230 1101
www.picturedrome.net
Market Walk, Holmefirth, W.Yorks HD9 7DA
Saturday 25th September
O2 ABC Glasgow
Tickets: £20.00 / Box Office: 0871 230 1101
www.o2abcglasgow.co.uk
300 Sauciehall Street, Glasgow G2 3JB
Monday 27th September
Gateshead Sage
Tickets: £20.00 / Box Office: 0871 230 1101
www.thesagegateshead.org
St Mary's Square, Gateshead Quays, NE8 2JR
Tuesday 28th September
Wolverhampton Robin
Tickets: £20.00 / Box Office: 0871 230 1101
www.therobin.co.uk
20-28 Mount Pleasant, Bilston WV14 7LJ
Wednesday 29th September
Nottingham Rescue Rooms
Tickets: £20.00 / Box Office: 0871 230 1101
www.rescuerooms.com
Masonic Place, Goldsmith Street NG1 5GG
Friday 1st October
Exeter Phoenix Arts Centre
Tickets: £20.00 / Box Office: 0871 230 1101
www.exeterphoenix.org.uk
Bradninch Place, Gandy Street, Exeter EX4 3LS
Saturday 2nd October
Falmouth Pavilion
Tickets: £20.00 / Box Office: 0871 230 1101
www.carrickleisureservices.org.uk
Melvill Road, Falmouth, Cornwall, TR11 4AR
Sunday 3rd October
Millennium Music Hall – Cardiff
Tickets: £20.00 / Box Office: 0871 230 1101
www.millenniummusichall.fatsoma.com
Millennium Plaza, Wood St, CF10 1LA
Tuesday 5th October
London O2 Academy Islington
Tickets: £20.00 / Box Office: 0871 230 1101
www.o2academyislington.co.uk
N1 Centre, 16 Parkfield Street, London N1 0PS
Wednesday 6th October
Reading Sub 89
Tickets: £20.00 / Box Office: 08444 77 1000
www.sub89.com
110-117 Friar Street, Reading, RG1 1EP
Thursday 7th October
Leamington Spa Assembly
Tickets: £20.00 / Box Office: 01926 523001
www.leamingtonassembly.com
Spencer Street, Leamington Spa, CV31 3NF
Saturday 9th October
Belfast Spring & Airbrake
Tickets: £20.00 / Box Office: 0844 847 2455
www.cdcleisure.net
17 Ormeau Avenue, Belfast BT2 8HS
Tuesday 12th October
Bristol The Fleece
Tickets: £20.00 / Box Office: 0870 44 44 400
www.thefleece.co.uk
12 St. Thomas Street, Bristol BS1 6JJ
Wednesday 13th October
Southampton The Brook
Tickets: £20.00 / Box Office: 023 8055 5366.
www.the-brook.com
466 Portswood Road, Portswood, Southampton