Orphan Boy:'A band should lock themselves away from the world'
aaamusic | On 09, Aug 2010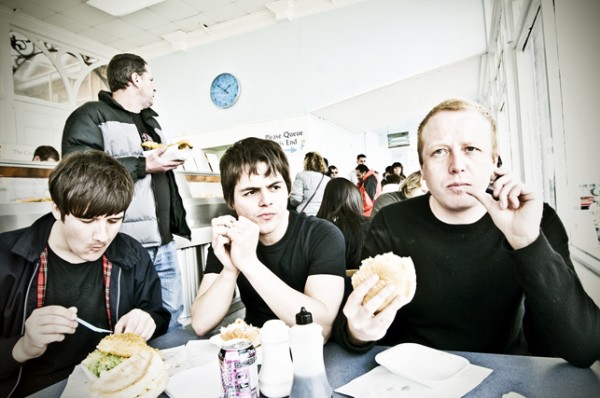 AAAmusic chats with Orphan Boy and discovers pretty interesting things…
AAAmusic: Tell us about the single 'Popsong': what is the idea behind it?
Oprhan Boy: The song existed in a previous incarnation which we came back to. This time round we simplified the music, so there's just this synth part going round and round over two chords and a great, tumbling drum beat. I was really chuffed with the melody, the way it subtly shifts around just three or four notes. And then there's the lyrics of course, about the doomed band and the shady industry kids they meet with.
AAAmusic: Can you tell us something about the creative process?
OB: It's quite laborious more than anything. I'll chip away with a chord and a few syllables until something sparks, or we'll jam along in the rehearsal room and build a track around bass and drums. I used to walk around Southern Cemetery in Manchester on my dinner-break, thinking up melodies and recording them on my voicemail. Smiffy would do the same with drum beats. The lyrics are the last thing I come to. Writing good lyrics is a real pain in the arse; there's just too many words out there.
AAAmusic: Which artists do you look up for inspiration?
OB: Well, we've all grown up listening to loads of bands and obviously have a lot of influences. But I think to be good band you have to look inwards rather than outwards for your inspiration, do you know what I mean? Rather than trying to emulate what someone else is doing, a band should lock themselves away from the world, get inside each others' heads and dig away at their potential.
AAAmusic: Any plans for a European tour soon?
OB: We'll have to see what opportunities arise after the album I guess. At present, I'm not sure our Fiesta would make it to Budapest.
AAAmusic: Tell us something about the album 'Passion, Pain & Loyalty': what has inspired it? Can you give us more insights on the concept?
OB: Well, without sounding pretentious, I guess there's the passion we have for making and playing this music, the pain of the struggle and the loyalty to the cause and those that support us. Of course, in an ideal world, these things would be the bare minimum expected from any decent band.
AAAmusic: What do you think of the illegal file sharing? Do you fear it can negatively impact your career, or else are you ok with it?
OB: I'm cool with it, though it's easy for me to say that of course. If there's less money in the music industry is that such a bad thing? Money saps the spirit out of everything; football is a good example. If there was no money to be made from making music then bands like The Feeling and Kaiser Chiefs wouldn't exist.
AAAmusic: Which artists among the contemporary ones do you like best? Which ones you think are overrated?
OB: I don't really follow music much these days. I'd imagine that pretty much all of the bands being talked about in the mainstream press are overrated. On our travels we've met a lot of great bands who've not yet had the breaks they deserve (National, The Heartbreaks, The Dandilions, Richard Dutton, It's A Buffalo, The Whiskycats, Frazer King, Little Comets, The Volga Boatmen). The music of these bands means more to me than anything I've heard on the radio in the last five years.
AAAmusic: If you could choose an artist with whom duet, who would you choose and why?
OB: Er, I'm gonna go for Tom Waits. Over the last few years he's slowly been edging past Joe Strummer as my musical hero. I'm not sure where I would fit in, mind.