SECRET GARDEN PARTY 2013 – Live Review
aaamusic | On 01, Aug 2013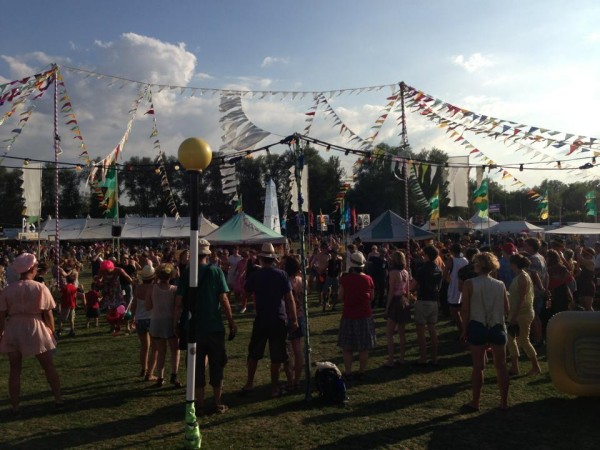 How secretive is Secret Garden Party? Looking around the 30,000 hipster-wannabe-hippies, the majority of which have perfected that bizarre, British festivalite ability to look both glamorously trendy and impossibly wrecked, it's blatant that the secret has been out in the open for sometime (circa 2009). This year, Freddie Fellowes' Cambridgeshire festival looks vastly more preened and polished than previous years – with enhanced stages, activities, and general quirkiness (for lack of a more appropriate word). However, the advancements in the professionalism of the Garden HQ are balanced out with increased magic and mystery – mainly in the form of special, secret guests and events that are far more extraordinary than anyone or anything that has ever previously descended upon this scenic site.
The programmed lineup was far from strong compared to other summer festivals, and arguably less mouth-watering than the last couple of SGPs. That being said, the Friday evening of the Great Stage (i.e. main stage) showcases three of the UK's most promising young bands – a well-received but underwhelming Bastille is followed by a thrilling but under-appreciated The Strypes, before Django Django pull out the most surprisingly accomplished headline show. Backed by an agreeable mixture of visuals and lights, the indie-pop band storm through cuts from last year's self-titled debut (the best indie album of 2012) with extended jams, accentuated electronics and unreal precision. Highlights are undoubtedly 'Default', 'WOR' and an exhilarating 'Silver Rays'. This set – their first ever festival headline show – even manages to surpass their sublime Glastonbury Park Stage performance.
Next up is Public Broadcast Servicing on the Where The Wilds Things Are stage – a stage built into around some fairy tale trees. They play a hypnotic mixture of post-rock and triphop, built around samples from old public information clips, and backed by some unnerving visuals. Post-PBS, the music becomes a bit of a blur, not because of the state of this reviewer (I am as professional as they come…most of the time), but because losing yourself to the freewheeling, night-time chaos that makes Secret Garden Party a truly individual event is irresistible. It doesn't (really) matter who you're watching when you're clambering across hay bales in the Collo-Silly-Um, raving on the floating Pagoda lake stage, or getting lost in the woodland of the Artful Badger area…
Saturday brings the serious heat, as well as the most seriously dedicated day to music. What better way to kick-start the day than by dancing on the lake to Fleetwood Mac samples and remixes, courtesy of Fleetmac Wood on the Pagoda. The main stage offers perfect, sunny afternoon music in the form of Willy Mason (more yawn-inducing than usual) and Lissie (ridiculously more rocking than usual – the best I've ever seen her, particularly the closing cover of 'Pursuit of Happiness'). Although secret main stage guests Dreadzone successfully bring the dub, they also bring the rain. And not just rain, but a torrential downpour that somehow instantly turns the festival into a mud-bath, just in time for 2manydjs to put in a live show that in many ways outshines the DJ/PA setup of headliners Faithless.
Breaking up the heavyweight dance duos is the now famous Big Burn – greatly bigger and…burn-ier (?) than ever before. The huge shipwreck that has thus far acted as both the festival/lake centrepiece and as a small stage (only reachable by boat) is exploded during a thrilling fire and firework show that lights up every inch of the vast lake, and lights up every pair of awestruck eyes. Only at SGP!
Suddenly the rumours start flying about all the special guest slots billed for the early hours, and the secrets start spilling. Lucky enough to be privy to confidential information, I decide to skip Pagoda sets by an unscheduled Simian Mobile Disco and Skream (as well as a secret Jarvis Cocker vs 2manydjs set so secret that no one even knows if it actually happened) in favour of the biggest special guest of the weekend: Chase & Status in the Collo-Silly-Um. With both members present (both Chase and Status), the small, hay formed amphitheatre is transformed into a raging rave, with the dance titans DJing the best of their fan-favourite hits – none of which are more engaging that 'Take Me Away'. A tremendous way to round off the night.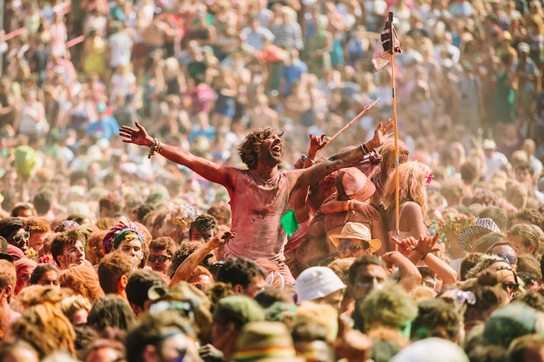 SGP Sundays have always been a bit more tranquil than the rest of the weekend, and this Sunday is no different. With the majority of the biggest acts having played on Friday and Saturday, today the Gardeners are free to explore in a leisurely fashion. It's all about the activities and events. So a scheduled paint fight brings the carnival vibes to the main stage, moments before David Rodigan brings the carnival music, with a mixture of reggae and electronic music going down particularly agreeably (except for his trademark, inane microphone chatter, with which I most definitely disagree with). Next the dance final pulls in an electric crowd at the Dance Off stage, where numerous finalists in outlandish attire perform the most jaw-dropping dance sequences in a boxing ring (FYI, the right guy won!). Then I just wander around the various outdoor, contemporary outside art installations and check out the numerous, performance theatre tents, happy to soak up the peculiar cultural aspects of Secret Garden Party.
In terms of music, the last planned thing I successfully see is a special, unannounced set at The Drop – a charming little dance stage – where Skream goes back-to-back with not only Disclosure, but also Totally Enormous Extinct Dinosaurs and Eats Everything. Reigning in the disco he's been so heavily DJing recently, Skream and chums smash out a perfect blend of accessible house and techno. It's a joy to see so many famous DJs having a laugh riffing off each other.
Regrettably, SGP 2013 ends on a bit of a downer, as Eddy Temple Morris' headliners of his Temple of Boom stage – Clean Bandit – are denied their show due to outrageous diva demands from Great Stage headliner Regina Spektor. The US songstress refuses to play unless the Temple of Boom stage is closed down for the duration of her performance (allegedly due to intrusive bass, but more likely because of worries of a reduced main stage crowd). What an unbelievable lack of respect for fellow musicians, and a gesture that is extremely at odds with the ethos of the festival. As Eddy Temple Morris rightly puts it: "She's wet the f**king bed". Out of protest, this reviewer boycotts Spektor, but it's reassuring to know that many Clean Bandit fans took their booing across from the Temple of Boom and directed it at Spektor for the duration of her set.
Alas, this was one negative event in a weekend bursting with warm positivity, from not only every grinning, ecstatic attendee, but also the unusually accommodating organisers. From the press people to the security, and the bar staff to the caterers, every special person who works so hard to make SGP something other than just-another-music-festival, or just-another-hippy-event, looked as gloriously happy as the glamorous, wrecked and glamorously wrecked punters. The secret of Secret Garden Party is how they can keep surprising us with something so special year after year.
Clive Paris Rozario