Low End Theory – Live @ Village Underground
aaamusic | On 23, Aug 2013
Friday 16th August, London
In my humble opinion, over the last couple of years Soundcrash have played an integral part in rekindling London's love for underground hiphop. With a combination of their powerful promo finesse and superior curation of eclectic beat-makers, DJs and rappers, their events have helped popularise "instrumental hiphop" in the UK, allowing foreign stars to penetrate our club scenes, and offering our promising producers and performers a stage to get some kind of footing. Tonight, however, represents their greatest achievement in the messy but burgeoning subgenre that is instrumental hiphop. It's been a long time coming, but L.A.'s Low End Theory – the single most important movement (and it is a movement) in modern instrumental hiphop – has finally descended upon London for a takeover of the Village Underground.
For those that don't know the history, Low End Theory began as a club night at L.A.'s The Airliner in 2006. Founded by Alpha Pup Records head honcho Daddy Kev, this weekly, Wendesday event was a natural evolution of an underground night called Sketchbook, which ran from 2004 until 2006, and provided a hub for likeminded producers to hang out. Low End Theory took this underground party scene to the next level, and despite the minuscule capacity of the venue (300 people), where it still resides, it has become one of the most influential powers in alternative hiphop culture. Quickly becoming less a "club night" and more a scene, Low End Theory helped launch the careers of Flying Lotus, The Gaslamp Killer, Nosaj Thing and Daedelus, and is the blood that runs through the whole of FlyLo's Brainfeeder label (which works closely with Daddy Kev's Alpha Pup, and through which many LET affiliates release their productions).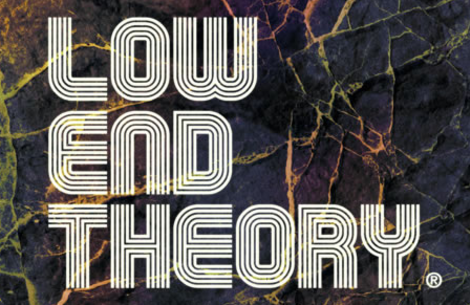 The bass-driven, hiphop sampling and cut-up beat music that Low End Theory has always showcased is now extremely popular, having been driven to global heights by those aforementioned producers.  But it was all started in L.A. by Daddy Kev and a group of DJ/MC friends, with the core of Kev, DJ Nobody, D-Styles (who joined later) and MC Nocando remaining LET residents to this day – and who are all here tonight. However, there are two other core members – perhaps the two best known to UK audiences – that need to be addressed; one sadly M.I.A., one triumphantly reunited.
Sadly not here tonight is LET superstar The Gaslamp Killer – the fifth and final resident – who was involved in a near-fatal scooter accident not long ago, resulting in the cancellation of all scheduled appearances. The more celebratory fact about tonight's lineup is that former LET resident Kutmah (who also founded Sketchbook) is back where has belongs, having been deported from the US in 2010 (not to mention held for two months in a detention centre) despite living Stateside since he was 12 (he was born in Brighton, and now resides in London).
As if the arrival of the Low End Theory residents and their reunification with Kutmah wasn't enough (and perhaps it wouldn't have been enough to pack on the sizeable Village Underground), Soundcrash opted to replace Gaslamp with one of the all-time hiphop greats – the controversial and mysterious rapper-producer DOOM (aka MF DOOM, half of Madvillain, Danger Doom and JJ DOOM) for a DJ set. But more on him later…
For the first hour or two of tonight the venue is somewhat lacking in people. D-Styles doesn't care though, opting to lay down the bass instead of what would've been the safe route of spinning chillout hiphop to warm up the sparse crowd. Aside from DOOM, there are no set times for tonight, and the Low End Theory crew play extended sets back-to-back all night. Once D-Styles has battered the now respectable crowd into submission with slabs of trap and dubstep-tinted, electronic meanderings, MC Nocando – the formidable, freestyling frontman of LET since its inception – arrives on stage to offer a gushing introduction for his exiled brother. Kutmah, like anyone who knows the history, looks unmistakably touched to be hitting the decks. Anyone who frequents Soundcrash or Tempo Clash events knows Kutmah's mixing skills – he is not labelled "The DJ's DJ" lightly. Actually going got the more cautious option, Kutmah selects fun but relaxed tunes – mixing lounge and oldschool hiphop with immersive electronica.
From here on out it's business as usual for the residents, as they come and go from the stage with little more than an occasional introduction or farewell from MC Nocando. The big man Daddy Kev, looking like any everyman in a white vest and bunched hair, shows up and gets on with the job. He doesn't need or want some huge crowd reception; he is happy with his relative anonymity, despite a criminal lack of recognition in the wider hiphop world. When (DJ) Nobody takes to the stage it's with a slightly bigger bang, but aside from a handful of hyping gestures, he remains as humble as the others. And, no word of a lie, when Kutmah reappears for his second set he is the best he has ever sounded.
Musically, all four DJs – Kev, D-Styles, Nobody and Kutmah – produce what transpires to be, at least for me personally, the most electrifying night out of 2013. It's always wicked to catch a Kutmah set, or hit up a Brainfeeder gig. However, seeing not one, not two, not three, but FOUR ridiculously gifted DJs and selectors perform all in one evening – DJs who very much among the best in the game – is a wondrous thing. All variations of what is loosely considered hiphop are covered. With the emphasis always on bass, the residents fuse the high-tech, electronic ambience of post-dubstep and witch-house with sample-led 80s and gangster rap (with occasional scratching); they fizz things up with contemporary trap beats; they mix in oldschool jazz and soul noodlings; hell, they even throw in the odd smidgen of bro-step, masking it with intelligence through near-mathematical layering. This is all done at a rapid-fire pace that is customary in L.A. hiphop DJing – something Gaslamp and Daedelus, in particular, have exported to our shores successfully.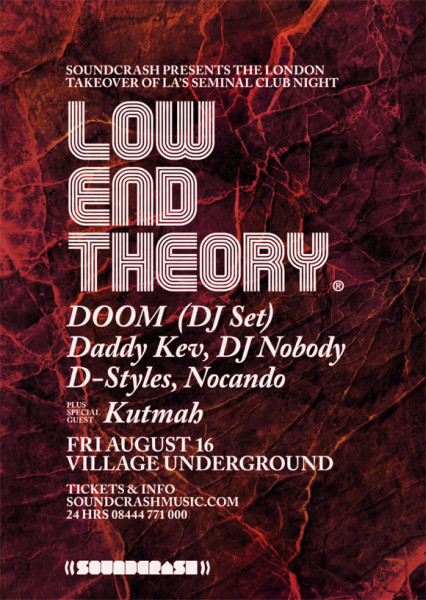 Despite the choppy, hectic nature of the music, the consistency in prowess and choice cuts allows for an almost trance-like feeling of content. In the midst of this assuring, musical ecstasy comes one unnerving, mind-f**k moment. And his name is DOOM. On paper, DOOM was almost too perfect for this event. Although he is New York affiliated, his work in hiphop has always been about finding that balance between retaining oldschool sentiment and progressing through experimentation; just like Low End Theory. His talent as a lyricist/rapper and producer is often marred by his taste for theatrics (his metal mask; his cartoonish fairy tales; multiple 'doppelgates', where he has sent imposters to perform in his place…). But his Madvillain work with Californian mega-producer Madlib represents some of the finest modern hiphop, particularly in terms of instrumentation.
Tonight, there was always the chance that his celebrity could overshadow the residents. This is not the case. Although seeing the masked DOOM in person (despite a couple of Twitter rumours, it really was him) is fascinating, his larger than life presence (he is actually quite large, physically) feels at odds with the low-key, community approach of Low End Theory. Any other night, his house-meets-hiphop set would probably go down a storm, but tonight, sandwiched between bass-driven LET sets, it's a bit of a vibe-killer. That and some dodgy mixing means that DOOM comes and goes without much in the way of love, and only makes Gaslamp's absence all the more noticeable. That said, props to DOOM for stepping in to offer Low End Theory support – there is compassion and respect hiding somewhere within his villainous persona.
Once that interestingly unsettling hour is done and dusted, the LET theory fellas pick up where they left off, unleashing warped basslines, glitchy beats and classy samples that just get better and better and BETTER. All hail the instrumental hiphop visionaries; the future of underground hiphop is upon us, London!
Clive Paris Rozario