CLANG BOOM STEAM – Clang Boom Steam
aaamusic | On 16, Sep 2013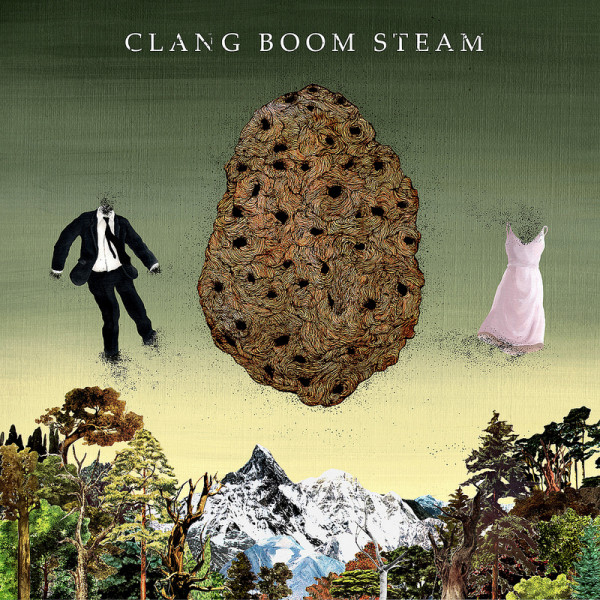 This riveting release from Clang Boom Steam combines enchanting melodies, dark twisted lyrics and grinding guitar and bass lines, simultaneously bringing together elements of melancholy and pure rock and roll culminating in an amalgamation of genres and styles that shines a refreshing light on today's music scene. The overall sound is somewhat sinister bringing to the forefront of the music a grungy grittiness that contains undertones of traditional Irish music which may suddenly shift with a guitar riff that will have you feeling like you are stranded in the Texas desert with the blistering sun on your skin. The sound of the album is defined by heavily distorted and raucous guitars, perforating drum patterns and gritty bass lines as well as the gravelly vocals of lead singer Garvan Cosgrove that is smooth yet sinister bearing resemblance to the great low range male vocals of the legendary Tom Waits and Mark Lanegan.
Opener 'Clan' is preceded by an onslaught or distorted fuzz that flows into a light guitar rhythm and a simple march like drum beat. The rugged vocals are delivered with such rawness and passion and the addition of an authentic Irish accent shining through ads to the patriotic deliverance of the songs message contrasted with the disturbing vocal cacophonies adding a distinct solitary desert ambiance to the track. Immediately, there is evidence of numerous genres with a bluesy contorted guitar solo bringing the song to a close. 'Worms' follows led by a grinding, pulsating guitar riff and penetrating percussion. The imagery presented is grotesque to say the least but is appropriate for the sleazy tone set: "Have those worms gotten fatter chewing on your grey matter leaving nothing but the shit behind". The song has a certain Queens of the Stone Age swagger with blues references and lyrical content that focuses on the darker side of life- a theme that is persistent throughout the album.
The smooth, expressive and enthralling vocals of Cosgrove shine through on 'Digging Up The Dead'; accompanied by a guitar riff that sets an alluring ambiance and a catchy bass line that sets a dark demeanour impeccably. This song displays beautiful song writing and instrumental intelligence and is one of many highlights on the album. Once again the sleazy vibe persists in 'Good Ship', with a provocative bass line and an offbeat guitar rhythm. A funky guitar solo can be heard mid way through with a clean sound that ironically adds to the seedy vibe of the track. Cosgrove's vocal performance is unnerving as he captures the essence of pirate captain singing: "We got ourselves a ship to sail the seas, we'll be calling at your port any day to satisfy our needs."
'Weird Bint' opens with a driving percussive rhythm and a pulsating bass line over which Cosgrove sings with immense intensity which is added to by the eerie vocal cacophonies. The song erupts in an anarchic chorus whose energy persists until the song comes to a close. 'Dirty Face', brings to the table the rockabilly vibe of the 1950s most notably heard in the opening guitar riff and alternating bass line. The song is energetic and upbeat yet contains a dark element present in the lyrics which are reminiscent of Johnny Cash as Cosgrove sings 'I've got three good reasons not to learn your name, my doctor says I've only got the drugs to blame', again focussing on the bleakness of life. A brain melting synergy of sound opens 'I Look Better In This Light'. The song is a robust mass of energy and impulse lasting for duration of 1:44.
Story telling is a vital part of Clang Boom Steam's musical process as they deliver picturesque imagery to rival that of Tom Waits which is evident at its best in 'Fort Saint Gabriel' which focuses on an intense love and heartache and the dismal side to love – "I thought of you just one last time… and I was no more". 'Fort Saint Gabriel' rivals the likes of Muse's 'Knights of Cydonia' in relevance to its epic deliverance and  is a triumphant close to an utterly epic album which affirms clang Boom Steam's stance in today's music scene and portrays the message that they are here to stay.
Shane O Neill