A CHAT WITH: MARIA MULDAUR
aaamusic | On 17, Oct 2013
Folk, blues and country singer Maria Muldaur formed an important part of the American folk music revival of the early 1960s. In 1974 she had much success with her hit song 'Midnight at the Oasis'. Interviewer Anthony Weightman chatted to her in San Francisco ahead of her forthcoming tour in the U.K. with Bill Wyman.
Anthony Weightman: Firstly, my best wishes to you on your forthcoming tour in the U.K. with Bill Wyman's Rhythm Kings. Would you like to say a few words about how you're feeling about this tour?
Maria Muldaur: Well I'm very excited about it. Of all The Stones I've been a Bill Wyman fan for years. I've a special appreciation for bass players, two of them having been major loves of my life. I like a good bass player. I was always a fan of his bass playing. I got to meet him back in the 80s. Doesn't that sound long ago! He invited me to be on a soundtrack he was producing for a Ryan O'Neal and Omar Sharif movie he was producing called Green Ice. I was astounded that Bill Wyman was calling me. But, apparently he was a fan and thought I was the right vocalist. So, that's when I first met him and had a very wonderful experience working with him. When I was touring with my Red Hot Bluesiana Band he and his wife came to see me in London and he emailed me a few days later and asked me if I'd like to be his guest artist. I was thrilled at the invitation and I just said 'twist my arm'. All the other musicians in the band are top-notch: Albert Lee, Georgie Fame, Beverley Skeete, Geraint Watkins, Graham Broad and Terry Taylor. They share my love of roots music. I'm familiar with what they do because I have many of their albums. I think it's going to be a great musical match. I'm very excited about it.
Anthony Weightman: I know your first major tour was opening for Steven Stills. Tonight Crosby Stills & Nash perform their debut album at the Royal Albert. It's a bit of a reviewers cliché, but to me some of their classics really are 'hauntingly beautiful'. Could I ask for your personal memories of Steven Stills?
Maria Muldaur: That was right after I'd recorded my first album for Warner Brothers. It had come out in the late fall of 1973. Much to everyone's surprise, mine included, it started getting a lot of response and in early 1974 they realised that 'Midnight at the Oasis' was their most requested tune and that they had a hit on their hands. So they put me out on the road opening for Steven St ills and his band Manassas. That was my first taste of rock and roll in the fast lane and that whole life style. But he's a very soulful performer. I really liked Steven Stills.  He had a great band and we all had a great time on that tour.
Anthony Weightman: Unlike many interviewers, I don't actually have any  'Midnight at the Oasis' questions for you.
Maria Muldaur: Thank you.
Anthony Weightman: Going back your early years when you were 15 or 16, I know you were left 'shattered' and 'heartbroken' by your mother refusing to let you sign a record deal, but you said that she did you a 'big favour.' Had she been more liberal, do you think that a young and relatively inexperienced girl would have been left very vulnerable? Would it all have ended in tears?
Maria Muldaur: Well, at the time I was just mortified and heartbroken but two very good things happened. Right after that episode there was a big interest in roots music going on in my back yard in Greenwich Village. I tuned into that music. That's been the main musical journey I've been on ever since. Exploring American roots music. It's been very good to me and for me. I put out my 40th album last year. The trajectory I ended up on turned out to be a lot more deep and sustaining and rewarding than a brief flirtation with a 'top of the pops'. I found out years later when I and my husband and partner at that time Geoff Muldaur moved to Woodstock in 1970. We ventured out as a duo project. We found ourselves in a band with a drummer called Billy Mundi, known as the drummer for Frank Zappa's Mothers Of Invention. He had been on a lot of those rock and roll bus tours with people like Annette Funicello and big groups of that time. He said to me 'I'll just say this. Your mother saved you'. Sometimes mother does know best. So, it turned out well on all fronts.
Anthony Weightman: In the past you've said that you're dismayed because we live in a world which seems to be hell bent on destroying itself. We seem to have 'lost our way' . Even a 'tiny skirmish can end up blowing up the world.'. Do you feel that we desperately need positive and optimistic songs to express our longing for peace?
Maria Muldaur: Absolutely, and towards that end I put out an album 4 years ago called Yes We Can and I formed the Women's Voices For Peace Choir. First I thought of making a protest album and then I remembered I didn't really like protest music as it existed in the early 60s, although I subscribed to the causes they were singing about. But the music itself was a little dreary. I decided to turn it into a pro peace album and enlisted the help of my soul sisters in music: Bonnie Raitt, Phoebe Snow, Odetta, Joan Baez and Jane Fonda. Even people who were not singers but who would be raising their voices for the cause of peace and social justice. In the late 60s and early 70s a lot of soul artists were putting out songs of social relevance, but musically it was much more appealing. Protest music you could dance to like Marvin Gaye tunes. I put my album out and it was very well received. People were very inspired. I think I should probably put another one out because things have only got worse since then.
Anthony Weightman: Writers of protest songs tend to be part of a dialogue which helps bring about political change  through a combined effort. If you go further and make a songwriter someone who's in control and at the forefront of a campaign, do you think that this sometimes just doesn't feel right? Do fans begin to feel a little uneasy and uncomfortable?
Maria Muldaur: No, because my fans are a very hip bunch of people. To be one of my fans you have to be at the forefront of hipness. I'm not exactly 'middle of the road' in my musical tastes either. I've never pursued music because of how popular it was, just how much it resonated with me. So, I find the people who tend to listen to me are receptive to what I have to say. The songs I chose were not very polemic about 'right' and 'wrong.' That's what I didn't like about the original protest music. But, I found songs which were more universal and more about pro peace as opposed to complaining about what was wrong. Just putting forward the vision of what's right and what a beautiful world this could be.
Anthony Weightman: You've said that no one you've invited to be on one of your records has ever turned you down. Is this because you tend to have a good chemistry with musicians you've worked with well in the past and instinctively know if something productive is likely to come out of it?
Maria Muldaur: Well yes, I think that's a good observation on your part. I never think of myself as the 'star.' I always treat my other musicians as fellow travellers, my brothers and sisters in music. I always express my appreciation if I go to a jazz gig and hear a sax player I really love, whether it's someone big and famous like Bill Wyman, or some obscure piano player. When I hear good music I'm very responsive to it. I've been blessed that other musicians respond to what I'm putting forward and that hopefully makes me a good musician. So, I've had the most amazing life of collaborations. Duets with Hoagy Carmichael, Aaron Neville, Bonnie Raitt, Dr. John……the list goes on. I've sung with Ralph Stanley, in my opinion one of the great American voices. I've sung with Levon Helm. It's just mutual respect and admiration for each others sound. I've produced almost all the albums I've made in the last 20 years, about 20. I kind of have a knack for calling on people because they're the best at what they do in that particular genre. I call them if they have their name on a song and if they're going to excel more than anyone else. I do that with every instrument involved. The results are usually pretty good. Mavis Staples is just amazing. Doc Watson, Benny Goodman, Ray Brown, Jerry Garcia. People from the whole spectrum of music.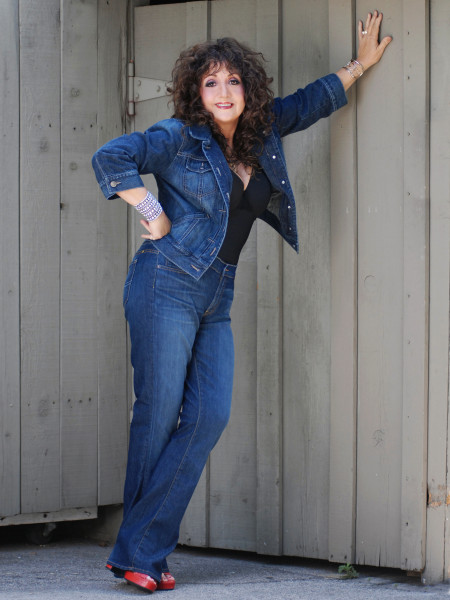 Anthony Weightman: Can you remember a gig which has been extremely demanding for you in terms of planning and preparation?
Maria Muldaur: Maybe the one I'm doing right now. I've just got the task of producing, singing and being musical director for a tribute to a fabulous new museum in Phoenix, Arizona called the Museum of Musical Instruments. They're having an exhibit called Women Who Rock. It's a tribute to the early pioneers of music. They asked me to spearhead the whole thing. We're doing a special tribute to Sister Rosetta and Memphis Minnie, two people who were an enormous influence on me. I called up Tracy Nelson and Marcia Ball and a wonderful woman guitar player called Del Rey who's unbelievably adept and well versed in both guitar styles. We're planning to put this production on next week, involving all these artists and picking the individual tunes.
Anthony Weightman: Could I ask what you feel about music award ceremonies? Are they just a public relations device or are they also a genuine opportunity to show appreciation towards a musician who's done well?
Maria Muldaur: I would say more the latter than the former. I've been nominated for six Grammy Awards and an album I did a year ago, First Came Memphis Minnie, will be my seventh. They used to have all these categories for ethnic music and now they've tried to lump them together. That narrows the playing field and the opportunity for people in less commercially popular but equally viable categories of music to be recognised.
But, to me, the awards I love and always support and go to every year are the Blues Music Awards in Memphis, Tennessee. That truly is a once a year gathering or tribe of blues musicians from all over the world. They come together to honour each other. We know it's not music that's climbing to the top of the pop charts, but it's music we love and it's wonderful to honour those who've excelled in that genre. It's OK that it's partly public relations, but it's nice that music that's less commercially popular is still equally honoured.
Anthony Weightman: Has there ever been one particular bit of advice that stands out as being the most important you've ever been given as a musician?
Maria Muldaur: Oh my goodness! When I was a young girl of 19 or 20 my musical friends David Grisman and John Sebastian and others had got together to form The Even Dozen Jug Band. Victoria Spivey, the great classic blues artist and contemporary of Bessie Smith, had survived the decades, migrated to New York, and was the first artist I knew savvy enough to have her own record label. She was talent scouting for her label. She was the first person to ever record Bob Dylan. She took me under her wing and gave me material suitable for my voice. She said 'Honey, when you get up there, it ain't enough to sound good, you got to look good too. Strut your stuff and have all eyes be on you. That's stage presence.' I took her to heart. She drummed that into my head. It was a very good piece of advice.
Anthony Weightman: You've said that you'd like to be singing when you utter your last breath. What would be a marvelous farewell song for you?
Maria Muldaur: I have to say you've really done your homework. This is a very well-informed interview. I think I would do 'It's A Blessing' which is an old southern spiritual that I heard on a field recording. Mississippi Fred McDowell played it on slide guitar. It's such a positive and simple song. I recorded it with Bonnie Raitt who learned slide guitar directly from Fred McDowell. It expresses gratitude for the life we've been given and how not to complain about little things. It's really all a blessing. Many years from now I'll consider that I've lived a good life.
Author: Anthony Weightman
Maria Muldaur will be touring the UK in support of Bill Wyman's 'Rhythm Kings Tour' from Monday 28th October. Click here to see dates…