AAA Music Approved: Lindi Ortega
aaamusic | On 25, Oct 2013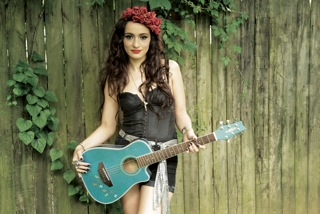 Who are you and where are you from?
I am Lindi Ortega and I am from Toronto Canada and currently reside in Nashville Tennessee.
What inspired you to get into music?
My dad was a bass player in a Latin band when I was a kid. We always had musical instruments in our basement – a microphone, a PA system, guitars, a piano. So when I was little I used to go down to the basement and play with everything. It was like a treasure trove. That's when I first started experimenting with singing and making music.
What have you done?
I have released three records with Last Gang Entertainment. I've appeared on the show Nashville and had three songs placed. I did two tours with punk veterans Social Distortion. I did a duet with Tim Armstrong of Rancid Fame. I've toured like a mad woman for three years and have no plans to slow down.
What are you like live?
I think my live show is the best representation of me. Performing is my favorite part of being a musician. I love to sing! I think the live show is fun, quirky, and full of energy! I play with incredible musicians!
What makes you different? 
First of all I don't know many other females that dress like Johnny Cash meets Wonder Woman. I think my music is an eclectic mix of old timey country, rockabilly, outlaw country and blues. I also write about things that are a little off the cuff. Like my song 'Lived and Died Alone', which speaks of digging up the bodies of lonely dead people and posthumously serenading them with a love song.
Physical vs Downloading vs Streaming…How do you listen to music?
I prefer buying vinyl records. But in a pinch I'll download a song from an online music provider if there is something I absolutely must have and I'm out on the road sans record player. Sometimes I stream record previews to see if its something I'd like to add to my collection.
What have you been listening to?
I usually like a lot of old classic music from all genres. But lately I've been listening to a band from Atlanta called Ponderosa, my friend from LA and current touring partner Brett Detar, and my Canadian friends Matt Mays and Corb Lund.
What are your aspirations for the future?
I only hope to continue making music and touring, maybe go to some places I've never been. Do some collaborations. And, in a perfect world, I'd love to open for Willie Nelson.
Questions answered by: Lindi Ortega…