MARIKA HACKMAN – Cinnamon
aaamusic | On 15, Nov 2013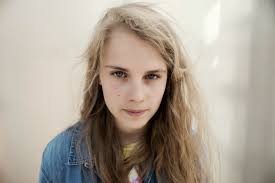 'Cinnamon' is the first single off Marika Hackman's Sugar Blind EP. The opening chords sound like the beginning to an old school rock song. However, what follows is the unique, angelic yet powerful tone to Marika's voice which, when mixed with the eerie lyrics, gives the song its legs.
At times the lyrics don't make any sense to me, sometimes feeling as though she has paired two lines simply because they happen to rhyme. The mix of the almost threatening percussion in the track and the icy tones to Marika's voice make this song an interesting listen, musically.
To get some background I listened to more of her music, which includes backing tracks not dissimilar to Avalanche City. The more upbeat backing tracks make her voice sound completely different, giving it more of a positive and chirpy feel. The variability between Marika Hackman's songs is exciting, helping me to appreciate 'Cinnamon' more and at times her lyrics and style remind me of Florence and the Machine's 'Never let me go'.
The song is nice, pretty even. However, I listen to it and immediately forget it. The contrasts are different and exciting between her voice and the music but there's nothing there to grip me to the song and want to hear it over and over again.
It builds and then all the instruments come in together… but it didn't feel like it ended satisfactorially. After the build up it just fades and it takes me a while to realize that that's all there is. I look forward to hearing her music develop.
Rachael Pilkington