Medeski Martin & Wood – Live @ Ronnie Scott's
aaamusic | On 19, Nov 2013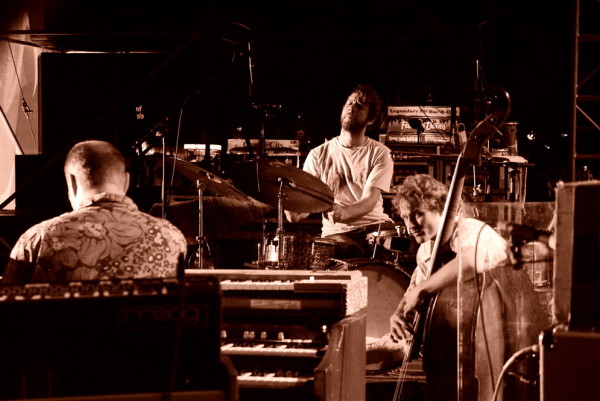 Saturday November 16th, London
Medeski Martin & Wood have been making matchless music together for 23 years. Since the trio came together in New York, they've managed to become one of those rare entities in contemporary jazz – something of a crossover success. Not that John Medeski (piano/keys/organ), Billy Martin (drums/percussion) or Chris Wood (double bass/bass guitar) care for this kind of compliment; they never strived to push the boundaries of jazz. In fact, they would almost certainly argue that they never intended to be a jazz band in the first place, at least not a conventional one.
MMW are rightly credited with helping jazz find new fans; fans previously concerned with only various types of rock music. By adding elements of funk and blues, and firmly focusing any free jazz experimenting into or out of accessible grooves, the band have been able to dip their toes into what is loosely known as avant-garde rock (or art-rock, or art-noise, or something equally meaningless), acquainting fans of forward-thinking rock bands like Radiohead with a form of jazz they could comprehend. In my opinion, over the past 10-15 years, Medeski Martin & Wood have been at the forefront of popularising jazz-rock fusion in the mainstream, in the same way Flying Lotus has been so influential in promoting jazz out into international electronic music.
It's hard to believe that the trio had never headlined London's prestigious Ronnie Scott's until this weekend. These multiple shows (split across Friday and Saturday), which are part of EFG London Jazz Festival, are unusually intimate for Medeski Martin & Wood, who are veterans of festival main stages and outdoor venues.
Having never seen the band perform before, I wasn't entirely sure what kind of set to expect; MMW are renowned for doing improvisation-only shows, as well as acoustic gigs (which have been recorded in the past). However, tonight the Ronnie Scott's audience is treated to a sublime blend of all the many ingredients that make this band so special. There are organ-heavy record tracks delivered with Medeski rocking out on his Hammond and Wood bringing the funk – perhaps the band's most popular characteristic – on his bass guitar. There are more conventional jazz segments, where Medeski utilises his piano and Wood picks up his double bass, the instrument he looks most at home with. These are propelled by Martin's solid, snare-favouring drums, which are never overtly ostentatious; he often prefers to create intricate soundscapes using a respectable collection of bells, chimes and shakers. And, of course, there are moments of inspired improv, where a restrained beat will become increasingly more off-kilter until it breaks down, either into truly captivating free jazz or an unconventional solo – Wood's otherworldly double bass solo is hands down the best I've ever seen.
The band end with an acoustic jazz-funk outro, with each of the band aligning at the front of the stage in front of their instruments – Medeski with a melodica, Martin on his double bass and Wood in a trance-like dance tapping inventively on a tambourine. It's a smile-inducing end that garners considerable hand claps from the audience. The endless use of the term 'avant-garde' has resulted in something of an assumption that Medeski Martin & Wood are uber-serious artistes, both uncompromising and withdrawn, whereas in fact they are a group of amiable mates striving to hit that fine line between entertainment and personal artistic satisfaction. With both band and audience looking elated after the encore, it's fair to say that they hit that line tonight.
 Clive Paris Rozario