Contextual Trio – Live @ The Centre Culturel de Serbie
aaamusic | On 25, Nov 2013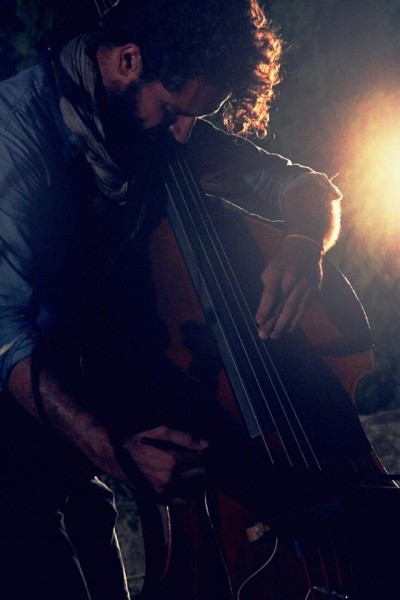 Wednesday 20th November, Paris
In the little crowded room on the first floor of the Cultural Centre of Serbia, the concert of NY-based multicultural Contextual Trio took place. Petros Klampanis is the leader, composer, arranger and bassist of the formation, and released a first album Contextual in 2011; tenor saxophonist Sylvain Rifflet is Django of Gold in the category "new talent" in 2008, and composes for his own albums (Alphabet in 2012); and trumpeter Andreas Polyzogopoulos of the European Orchestra of European youth jazz,  and was involved in more than 40 CDs, has been a member since 2010.
They started with 'Blue Cave', written by Petros in Amsterdam in 2007, with the double bass creating a dreamy mood. This slow-paced, poised first track offered a nice trumpet solo and Q/A between the trumpet and the saxophone near the end. It was followed by 'Q', written by Sylvain and presenting a well-mastered saxophone solo; the overall track stood on the same airy and experimental tones as previously. Then they played a calm and double bass-based 'Lilly's Promenade', before finally presenting themselves quickly.
They continued with 'Barbas', a song written by Andreas, where the double bass started alone in the introduction. The trumpet playing with an echo effect added to the oriental, desert-like mood of the song. The saxophone seemed to have a reed that was too dry though, resulting in a sound that was not always very clear and round. Next, on 'Thalassaki', inspired from Greek islands' traditional songs, the double bass was amazingly played for percussion on the instrument's box and on the chords with each hand. The fifth track 'Minor Dispute' offered another impressive double bass performance, with a solo where Petros played and sang in a perfectly accorded way.
Finally they ended on 'Mingum', where the trumpet played a mastered solo, as well as the saxophone, with an enjoyable harmonious accompaniment by the double bass. The attentive audience then burst into happy applause, before getting to know the members of the band who convivially stayed to share a drink with their enthusiastic public.
Marguerite Gallorini