Vans Warped Tour 2013 – Live @ Alexandra Palace (Sunday)
aaamusic | On 25, Nov 2013
This slideshow requires JavaScript.
Sunday 17th November, London
We Are The Ocean ★★★★★ (East Stage) There doesn't seem to be a lot of anticipation for WATO this weekend like there used to be and they have an unfortunate delay  in coming onstage after Watsky took a suicide dive off the lighting rig; everyone in the venue thought he was dead but somehow he survived with minor injuries. The band are consistently similar with all their performances and don't really bring anything to the day. 'Trouble' grabs you in a little, and 'The Waiting Room' is the possible highlight of the set, and that is not really a stand out point to talk about because it's an older song which has been given a new vibe to it. This band are no longer Hardcore in my opinion, they are more Post-Punk these days so I think they have alienated old fans but gathered a new type of fan because they keep playing bigger venues.
Hatebreed ★★★★★ (West Stage) for me are one of the highlights of the day. Their brand of Hardcore / Metalcore from the streets gives a nice contrast from some of the other bands on the bill. The brilliant 'Live For This' really kicks the band into action and the pit is really good fun but the highlight of the set for me is when they play a song for mine and their recently departed friend Mick Deth of the band Eighteen Visions, which is really nice and something he would have loved and makes the band's performance one of the best of the day.
A Day To Remember ★★★★★ (Jagermeister Stage) are surprise guests today at the London leg of the Vans Warped tour. They were added to the bill at the last minute to perform four songs live on the Jagermeister stage. Their songs really work accoustic as they run through 'City of Ocala', 'Right Back At It Again', 'All Signs Point To Lauderdale' and a crowd exciting version of 'All I Want' – singer Jeremy McKinnon vocals sound really great and the Vans audience love every minute of it. I do start to wonder when did this band get so big… they had to close off the room because it was over capacity and everyone in attendance wanted to watch their set.
While She Sleeps ★★★★★ (West Stage) are getting more brutal by the day and even more pounding, giving 'The North stands for Nothing' a more intense feel to it. Lawrence "Loz" Taylor screams out every word of this song violently and you wonder why so many girls like a band that are so heavy. This band is also doing really well over seas, flying the British flag with pride as they play over their and gradually joining the likes of Bring me the Horizon as our best exports. 'Crows' for me is the best track today showing their older material is the best the band has produced.
Sonic Boom Six ★★★★★ (Jagermeister Stage) are another nice addition to the bill with singer Laila Khan wearing a tight skeleton suit that looks really cool under the light. They mix up Ska with Punk and Rockabilly in a package of fun and a lively stage performance. If you want a skank and a jump around this is a band that you can't miss and they give a good contrast to a bill that has a lot of similar sounding acts on the bill – also the two vocalist thing really works.
Cytota ★★★★★ (Kerrang Stage) are young and keen to impress after supporting the likes of Finch and Rise To Remain. They have been growing in stature as they go, and ability as the years go on, and their debut EP The Prosecutor was quite impressive. This is a band that are not quite there yet, but it in a few years you will hear about them loads.
Coheed And Cambria ★★★★★  (East Stage) for me fall a little short today and all about Claudio Sanchez hair which seems to dominate the performance because it's all you can see. They don't launch into action straight away; it actually takes to the third song for them to really even do anything interesting and that is some great fingering on the guitar by Claudio. They mix up Post Punk and Emo with Progressive Rock in a way that probably sounds so much better on record than in a festival environment.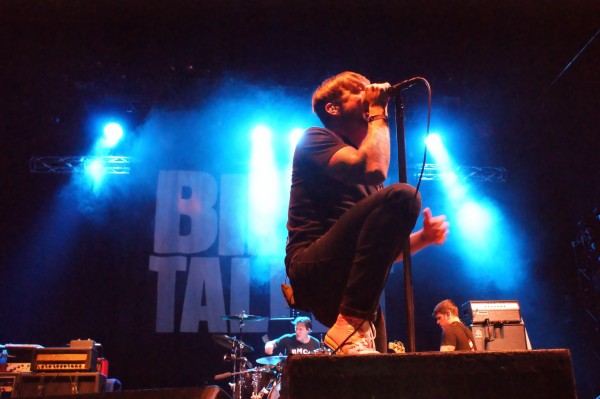 Billy Talent ★★★★★ (West Stage) played yesterday on the exact same stage and the exact same side, but today is a real different – they have learnt from their performance yesterday and fixed all the problems they had. They play one different today, 'Turn Your Back' which replaces 'Line and Stinker', but you do wonder why they chose to leave out 'The Ex', which for me is one of the band's best songs. Singer Benjamin Kowalewicz has a great stage presence and goes crazy for every song and you can understand why so many people like them. They are fun, energetic and really know how to Punk it up… but this is new Punk,  this is not Punk how it used to be. I will check out Billy Talent for sure in the future because their show was really enjoyable.
Yellowcard ★★★★★ (Jagermeister Stage) also played yesterday on the East Stage stage so this is their second perfomance at the festival. Today, though, I manage to catch their set, which apparently is the exact same songs as they played the day before, so you wonder why they needed to do it again. It is really good though and they play great songs like 'Breathing' and set opener 'Way Away', which are songs that are a must for any fan of this Pop Punk band. They have great yellow bright lights for their performance on a stage that has been red all day. So it makes them really stand out and enlightens us to a great performance that was well worth checking out. They are a band that really know their art and how to play their songs to make them sound like they do on the record.
Rise Against ★★★★★ (East Stage) are the only band this weekend to play both sides of the main stage. Opening with a different song for the second day of the Vans Warped Tour, 'Collapse (Post-Amerika)' is a great contrast from the day before and starts off a set that is even better than yesterday. 'Survive' really is the highlight today of a Post-Punk / Post-Hardcore and impresses. The set, though, is still a little flat for my liking and they don't really hit their full potential – this is a band that should really stand out and they just don't but it is a good set by the band.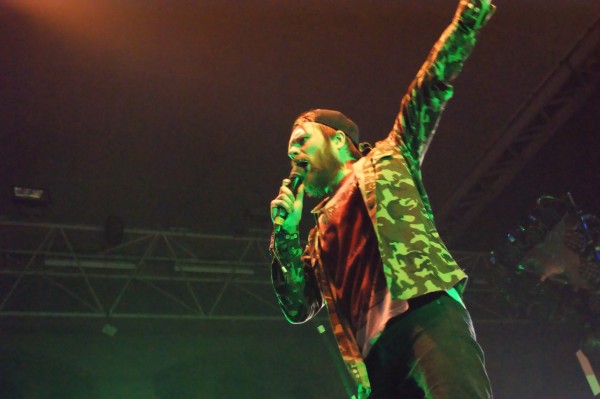 Enter Shikari ★★★★★ (West Stage) open with an amazing alternative version of 'System…/…Meltdown', which really starts the set off with style. They then break into 'Sorry You'tr Not S Winner', which goes down really well. The kids seem to really love this band, but I just can't get it myself. They mix up Dub-Step and Nu-Metal well in a really, well-polished performance that is a great way of ending the main stage action at the London leg of the Vans Warped Tour. The room is over capacity and people not already in it had to miss out on their performance, which had a spectacular encore of 'Solidarity' and 'Zzzonked' – both really are crazy in this live atmosphere.
Flogging Molly ★★★★★ (Jagermeister Stage) bring the Irish connection to the Jagermeister stage, but I am sure they would rather have a Guinness than a Jagermeister. This is a good steady set by the band and the crowd go crazy for them with loads of Irish flags being carried by members of the audience. They run through a set of some of their most popular material including 'The Kilburn High Road', which is funny because I am always walking down it, and closing number 'Seven Deadly Sins', where everyone sings every word and screams for more.
Check out our review of Day One of Warped Tour: Saturday…
Words: Ays Kura and Dan Devour
Photos: Dan Devour