Prince – Live @ Electric Ballroom
aaamusic | On 06, Feb 2014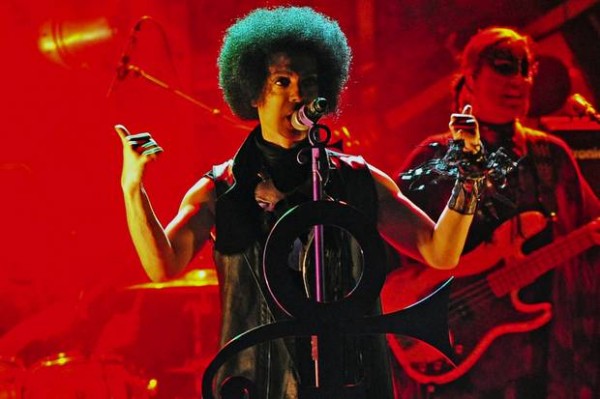 Wednesday 5th February, London
As a life time Prince fan I was so excited about his new collaboration with the lovely 3rdEyeGirl. When I found out that he was playing in Camden at the Electric Ballroom, after just missing the warm up show there the night before – I knew Prince was playing a selection of shows in London, but nobody knows when and where so you really have to be on your guard – I raced down to catch the show and joined the queue to wait the seven and a half hours until the doors opened,  in order to finally see one of my childhood heroes. After about four hours I got a little bit worried about getting in because no barriers had been put up and people were just randomly turning up and walking into the queue. It got to an hour before the show and the queue had gone from two deep in front of me to five or even six deep. So now we were all worried about getting in and there still were no barriers and the lack of security doing anything about this was really worrying. The doors finally open and they decide to move the queue – there is a manic, massive running crush with people pushing people over and people's phones and belongings getting broken. Yes, Prince fever is here and the Ballroom does not know what to do about it!
For the lucky ones that got in they are delighted by an amazing show like nothing else by Prince and 3rdEyeGirl; literally looking on in disbelief has they run through tricky songs and guitar licks with ease. Opening with a redux version of the classic hit 'Let's Go Crazy' – one of his most popular songs from the Purple Rain album – we know we are in for the time of ours life and are so close to the man himself. The venue is meant to be sold out, with everyone paying just £10 to get in, but there is a lot of space that seems to be unoccupied and one does wonder what is going on. Prince even says: "Let's let some of the people from outside in!". It must be gutting for the die-hard Prince fans waiting outside who only just heard about the show, because they are so close to getting in but not managing to; also, some people missed out because of the crush. They do get a chance for the second show though later on so they do not totally miss out. 3rdEyeGirl break into songs from their hotly tipped album PlectrumElectrum with Prince on vocals and they are a really tight unit. The title track sound marvelous in this live atmosphere as does something really special; one of my favourite new tracks 'FixYourLifeUp', and the funky jam and guitar explosion that happened before both of these songs.
Recently, Prince has been looking and sounding more like Hendrix in places, but Prince is a star in his own right and always puts a spin on things and as he plays Blues and Funk mixed up with 70s Soul, Rock and even Pop. You just wonder at his genius and the way he can add new licks and elements to songs that he has never played to make them sound different night after night, like when he ends with 'Chaos and Disorder' and adds in licks from 'Live for Love' – it just makes it really different and keeps the listener/watcher interested from start to finish. Like in the brilliant 'Stratus', which he includes the 'Sailors Horn Pipe' in. I was just totally blown away by the way he presents himself on stage and knows the right time to do every movement. I think 3rdEyeGirl guitar Donna Grantis has really learned from her mentor and her guitar work is of someone past her years; I have never seen a girl play like this before, it is just simply breathtaking and I have to say I have now a little crush – she is a bit of a stunner too. Also, she has really cool hair half-shaved and half long; this look is really in now and her dress sense is also unique – tight trousers and a jacket that looks like it has been specially made. All the band stand out on their own right with both Hannah "Ford" Welton and Ida Nielsen keeping in time and not playing a note wrong, which must be tricky when working with someone like Prince who can go on a tangent.
They let in the people who were waiting outside for the second show and a few people from the first that had queued up again; a lucky few who there was space for. Again, there looks like there is space in the venue for more people with the back of the room quite empty, so I think it must have been under-sold. I have seen this venue a lot more packed than this. They start off the same as the last set, but this seems to be a more relaxed affair with more hits in it. These hits include a magnificent version of 'Crimson and Clover' and in the first encore a funky version of 'Play That Funky Music' with Prince on the bass, before he sits down on the piano to play a short but amazing version of 'Purple Rain'. All the lights in the venue go on and they shut the bar and everyone thinks this is the end of the show; people are starting to leave, but Prince comes back on fifteen minutes later and plays 'Stratus / The Sailors Horn Pipe' and a hit montage including mega hits 'When Doves Cry', 'Sign O the Times', 'Hot Thing', 'Glamorous Life', 'I Would Die 4 U' and closer 'My Tiny Little Mind Is Blown'. I would strongly advise you to go see Prince and 3rdEyeGirl while they are playing their London stint. You will not be disappointed – it was one of the most stunning gigs I have ever seen and Prince's afro is a must-see. No wonder he never made it to Ronnie Scott's for the rumoured third show, because he had put everything into these special performances.
Dan Devour