THE USED – Cry
aaamusic | On 03, Mar 2014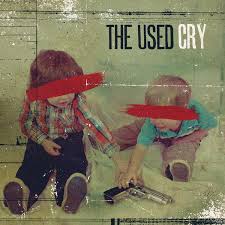 The Used are a band from Utah in the States and have been in circulation since 2001. They are most famously known for the hit song 'The Taste Of Ink', back in the emo/ nu metal era of the early noughties. The Used have vocalist Bert McCracken leading their songs, with his unique style and their alternative rock sound.
The Used are continuously putting out records and are going to be touring the USA with Taking Back Sunday, as co-headliners, this spring.
The first single from new album Imaginary Enemy is 'Cry'. This is a song, which is far away from the early 2000s cry-hard songs, and has lot heavier guitar work, although the lyrics do still coincide with their usual image.
I will admit: I did not know the band were still going in this decade, however it is a pleasant surprise to hear them, and is a good start to their new album's appeal.
The song 'Cry' continues on with its eerily echoing lyrics from the lead, and raw, yet almost funky guitars and a good chorus chant of: "I'm never gonna make you say goodbye". The song is a strong and attention-grabbing one from the offset and makes you hit repeat as soon as it is ended. The standard screams are also included, as not to be missed by the earlier fans.
The Used have quite a surprisingly great lead single in 'Cry' and the album, Imaginary Enemy, which is out early April on Hopeless Records, is set to probably be their best to date.
Samantha Panasuik