INME – The Destinations
aaamusic | On 09, May 2014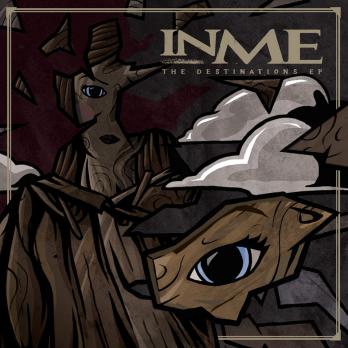 Essex-based rock band InMe have released a four-track EP titled 'The Destinations', which shows the band stepping back slightly from their foray into metal and returning to a rock oriented sound.
InMe is the main project of Centiment members Gazz Marlow, Greg McPherson and of course, his brother, Dave McPherson. Not to forget long-standing drummer Si Taylor, who has been with the band from the beginning.
Those of you who are familiar with Dave McPherson's solo project may recognise some melodies, lyrics and riffs from his The Good People Movement: 365 project last year – most recognisably the chorus to 'Anthemusa' and the majority of 'Beached Whales'. 'Anthemusa' also contains enchanting and mystical sounding guitars reminiscent of their most recent album, The Pride.
Opening song 'Pelorus Jack'  is straight in with vocals before any instruments, which is uncommon. A strong first track though; it's pretty non-stop, Dave's vocals pausing only a few times. This is also my favourite track of the four, 'Driftwood Figurines' being my second favourite, as it carries a Daydream Anonymous sound about it. It's a slower, almost anthem-like song with deep and passionate lyrics. Definitely a track I'd like to see on their setlist next week.
The best word to describe this EP is 'melodic'. The riffs are melodic. The singing is melodic. The solos are melodic. The bass lines are melodic. If drum patterns could be melodic, this is what they would sound like. As good as this may sound, it doesn't make it the best InMe release. However, it is their best (and only) EP.
As with every InMe release, The Destinations is a bit different from the older material, but it still sounds 100% like InMe. Dave's voice is strong as ever, though it was disappointing to not hear any screams (all screamed out from Centiment, perhaps). Gazz and Dave are still fitting complicated lead patterns into simple-sounding riffs. Greg's bass playing is just as technical and unique as it always has been. Si is still adding flourishes and technicality to basic drum beats. I just feel this EP was a little rushed and released just to keep us fans happy until the triple album comes out. If its job was to whet our appetites for the triple album, its done its job.
Jake Parker 
Check out Jake's interview with Dave McPherson here…
Catch InMe on 'The Destinations' UK Tour (support from The Red Paintings + Oxygen Thief) this month.