AAA Music Approved: SYKES
aaamusic | On 10, Jul 2014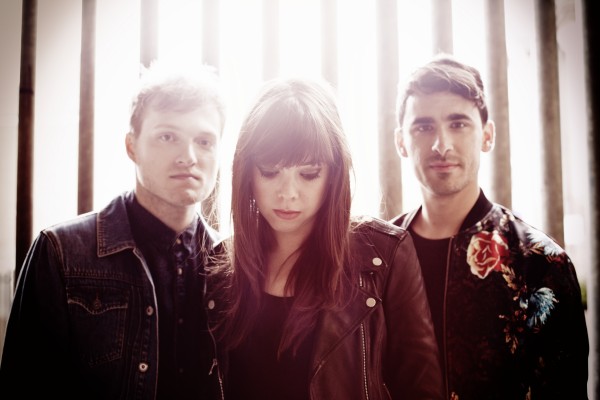 AAAmusic: Who are you and where are you from?
Julia: We are a three-piece female fronted band called SYKES.  The guys are from London, and I'm half Brazilian half English but grew up in Spain – bit of a mix!  We all met at Uni and formed this line up when we left and moved to London.
AAAmusic: What inspired you to get into music?
Kris: We have a pretty eclectic mix of favourite genres within the band, but I guess we all just love music that makes you feel good…whether that's indie, pop, rap, hip hop.  Our influences range from Michael Jackson, to Eminem, to Radiohead – so we enjoy experimenting a little too.
AAAmusic: What have you done?
Will: We're really proud of this up and coming EP.  We have released EPs in the past, just sort of putting them out there and testing the waters, but Gold Dust EP is really what we feel represents us as a band.
AAAmusic: What are you like live?
Julia: We love playing live, it's pretty much the roots of the band and it's what we enjoy doing most.  Being able to connect with a live crowd is what we do it for, and we've been lucky enough to do some exciting gigs supporting the likes of The Wombats, American Hi-Fi, Ryan Keen, and playing at iconic festivals such as Glastonbury, Bestival, Isle Of Wight and Vans Warped Tour.
AAAmusic: What makes you different?
Kristian: That's always a tricky question, for us it's all about the music and how it makes other people feel.  We find that people connect with our songs, lyrics and melodies and love our live show. I think we all have approachable personalities and that probably translates through the music and our shows.
AAAmusic: Physical vs Downloading vs Streaming…How do you listen to music?
Will: I personally love the old school way – there's nothing like playing a vinyl.  But obviously that's not convenient for a band like ours, so distributing platforms such as iTunes and Spotify have revolutionised the way unsigned bands like us can be heard – it's great and it's allowed us to achieve loads by ourselves!
AAAmusic: What have you been listening to?
Julia: There are loads of new bands that we've all been listening to, so much amazing new music out there! Personally I've been listening to Twenty One Pilots (Vessel) and Paolo Nutini's new album (Caustic Love) on repeat!
AAAmusic: What are your aspirations for the future?
Kris: We'd obviously love to push this project as much as we can, and tour as many countries as physically possible! In the near future we'd like to release an album we're proud of and most importantly, continue to write songs!
Questions answered by: of SYKES…
The band's single 'Gold Dust' is out 14th July and they headline The Bedford in London tonight (10th July)…