WARD THOMAS – From Where We Stand
aaamusic | On 19, Aug 2014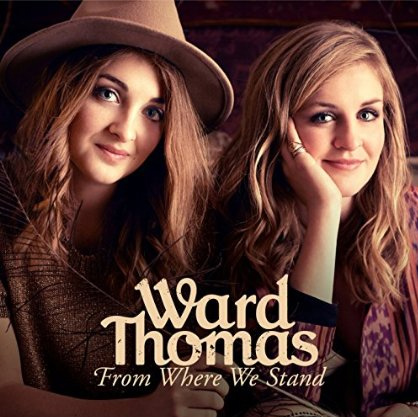 Duo Ward Thomas, twin sisters Lizzie and Catherine Ward Thomas, come from a rural farm in Hampshire in the UK. They grew up listening to inspiring country music by the Dixie Chicks, Johnny Cash, Alison Krauss and Carrie Underwood.
Their debut album From Where We Stand, released on 21st July, 2014 on WTW Music, was recorded in Nashville and helped by Bobby Blazier (drums), Dan Dugmore (pedal steel) and Chris Rodriquez (guitar). It's an American style country album written extremely well by these two highly energetic sisters with fine voices.
With the powerful and uplifting guitar opener 'Push For The Stride' they philosophise  about chasing dreams, whilst the fast beat of a honky tonk piano joins them on 'Town Called Ugley'. In 'Wasted Words' excellent close harmonies mix with steel, fiddle and mandolin, and the charming ballad 'From Where I Stand' tells movingly about their parents' divorce. There's also a fresh and  impressive cover of 'Caledonia' by Scottish folk artist Dougie MacLean.
Ward Thomas write stunning and original music in their own distinctive and individual style. There's diversity to the mood and texture of their songs, but mostly they're catchy, vibrant and upbeat. They create playful and passionate country sounds with a quality that will probably be admired by country fans on the opposite side of the Atlantic.
Anthony Weightman