Jon Hopkins – Live @ The Royal Festival Hall
aaamusic | On 22, Sep 2014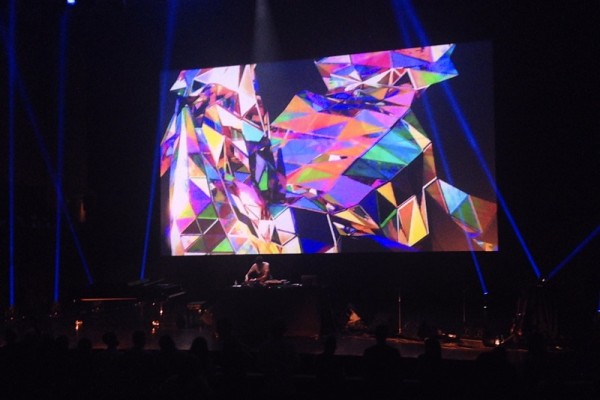 Friday 19th September, London
I didn't know what to expect, having never been to see a contemporary performance at The Royal Festival Hall.  It's fair to say, I was blown away.
Jon Hopkins had an impressive introduction to the world of music.  He played keys for Imogen Heap during her 1998 tour, has been heavily involved in the writing and production for number of Coldplay albums, as well as contributing to Brian Eno's Another Day On Earth and producing for Natalie Imbruglia, David Holmes and The Pierces. 
On top of this, Jon Hopkins wrote the soundtrack for British Sci-Fi film Monsters, for which he was nominated for an Ivor Novello Award for Best Original Score.  He collaborated with Brian Eno for The Lovely Bones soundtrack and was solely responsible for the score for 2013 film How I Live Now.  He produced the track 'Midnight' for Coldplay, which is by far the best track on their most recent album, Ghost Stories.  Most recently, his album Immunity was nominated for the 2013 Mercury Prize, as was his collaboration with King Creosote on Diamond Mine in 2011; quite an impressive back catalogue to say the least.
The set began with an explosion of experimental dubstep; no, not the Skrillex kind, the dark, ethereal, chest-rumbling kind comparable to the pre-2000 dubstep, before EDM obsessed youngsters got their greasy hands all over it.  The track was supported by a fascinating visual representation of the music, a feature that really locked in the audience (after the slightly distracted vibe support act Blanck Mass had to contend with).
I was amazed from the outset at how quickly Hopkins was able to switch between high-energy electronica to pure ambiance.  The variation between electronic and acoustic sounds is also not something you hear very often; the transitions between the two were impeccable.  I was really pleased to hear him play on the beautiful concert grand, which delicately resonated throughout the venue.
For a performer who didn't say a word, he was so charismatic.  A lot of DJ/producers who I've seen in the past have their heads stuck in their mixers and find it difficult to communicate with the audience.  Often it's excused for lack of a microphone, but Hopkins was open and receptive which made his flawless performance truly entertaining.
After a number of immersive tracks, Hopkins brought it up notch with one of my favorite Immunity tracks, 'Open Eyed Signal'.   Gradually members of the audience stood up to dance along.  I thought it was a bit odd at first considering the setting, but eventually the entirety of the packed out venue were on their feet. Even though I was on my own, I felt a sense of unity and liberty (slightly cheesy, but true).  I can't imagine what it must have felt like as a performer to trigger such a powerful response from the crowd.  I hadn't envisaged my evening ending up as it did; there was even the odd shirt off!
Jon Hopkins' music features numerous soundscape style samples, with homemade effects; the likes of Tristram Carey and Karlheinz Stockhausen, who were the original pioneers of electronic music, would have been particularly proud.  I wish they had lived to see Hopkins at his prime.
All in all, a fantastic show. Jon Hopkins' style is certainly not for everyone but if you're in to ambient-electronica, techno or just want to broaden your musical horizons, have a listen.  And if you ever get the opportunity, I'd fully advise to experience it live. I never thought I'd have had so much fun on my own!
Check out our review of Jon Hopkins performing at KOKO last year…