Anchorsong + Clap! Clap! – Live @ Oslo
aaamusic | On 26, Nov 2014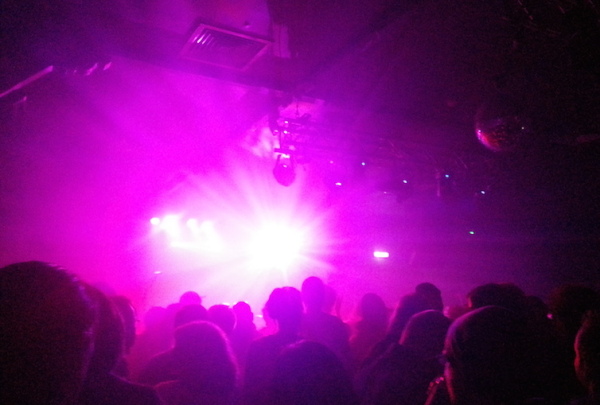 Friday 21st November, London
Anchorsong has been an AAA favourite for some time, ever since we first encountered him supporting Portico Quartet at KOKO in early 2013…
At the time, the Tokyo-born Masaaki Yoshida was living in London, but he has since returned back to Japan. The fact that he now has to commute over for his increasingly rare Soundcrash shows only makes them all the more special. After numerous support slots (Portico, Daedelus, Shigeto), tonight's show at Hackney's Oslo marks the first time I've encountered him as a headliner.
First up, however, is AAA's new favourite: Italian producer Clap! Clap!, real name C. Crisci. I've been listening to his debut album, Tayi Bebba released on Black Acre, on repeat. The bass-heavy beats move between trap, dubstep, UK bass and LA instrumental hip hop, but are all laced with world music samples, tribal percussion and, most crucially, African rhythms. No wonder it's been picked up and championed by Gilles Peterson, right? Clap! Clap! hasn't played too much in London, but this will change in 2015, believe me.
Tonight, C. Crisci is a joy to behold, raving erratically behind his decks like a heavy-footed Gaslamp Killer – jumping, headbanging and throwing his hands in the air. For the majority of the set, he selects the most bass-driven numbers from Tayi Bebba, opting for an unexpected party vibe, which as wicked as it is (it is a Friday evening after all), results in the loss of many of the more complex and subtle intricacies in his productions. He occasionally deviates from the barrage of bass, meandering through dancehall and industrial, tribal techno, but for the most part this is a wonderfully wobbly set.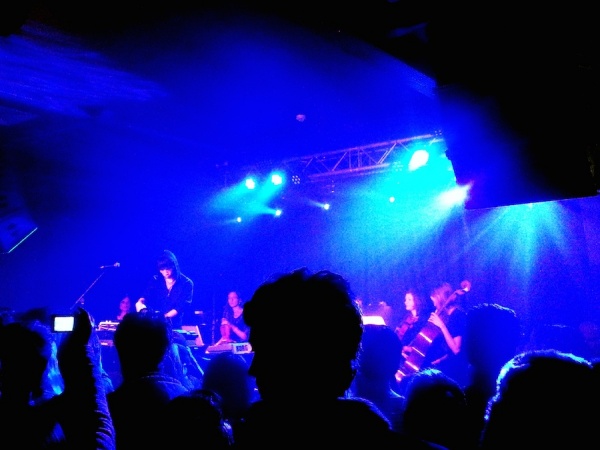 It was a real pleasure to see Anchorsong hanging out in the crowd, bobbing along to his "new favourite artist" Clap! Clap!, being recognised and greeted by his growing London fanbase. Onstage, Yoshida is such a sweet presence, grinning, bowing and constantly taking to the mic to thank the audience in his endearing broken English. Unsurprisingly, for this headline show, he has bought his trademark string quartet, but unlike past shows, the strings players contribute to every track tonight. I've always been a sucker for electronic music with live strings, but Anchorsong's use of them doesn't feel in any way contrived; he uses them to extenuate the orchestral nature of his productions, adding moments of drama here and flourishes of serenity there.
With no laptop in sight, Anchorsong uses programming equipment and a keyboard to create all the music live, producing one layer at a time, then looping it. He programmes all the drum parts as if playing the piano, calmly and cooling, occasionally looking behind him to conduct the string quartet. Considering he has a new EP – the afro-influenced house of the Mawa EP – to promote, he is very generous in the airing of his better-known material. The dramatic 'Split', ambient 'Plum Rain' and personal favourite 'Darkrum', with its funky backbone, all get performed. The strings are perhaps best utilised on the intense, orchestral 'Devil's Clap', which is surely his best production to date – stabbing strings, emotive piano, liquid drum'n'bass and tumbling drums all join to create something incredibly memorable. Don't be a stranger Anchorsong.
Clive Paris Rozario